Onyx Path Thursday at Gen Con 2015: featuring V20 Dark Ages
Classic World of Darkness, Press Releases, Vampire: The Masquerade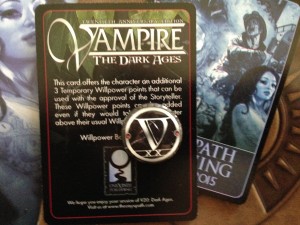 Thursday at Gen Con 2015 in beautiful Indianapolis!
If you come by our booth at 1103 in the convention center, we are giving away a V20 Dark Ages collectible pin, and a card that you can use as a Willpower bonus during your game! We're only giving these out today, and will have different pins and cards for the rest of the con.
Thrilled to say that we managed to rush a small number of the V20 Dark Ages physical books here to the con and they'll be for sale at the booth! We weren't sure we could get them here for the show – but we did! (These are not the Deluxe V20 DAs from the Kickstarter as those are just at press now, and besides, we wouldn't sell a Kickstarted book at Gen Con before the backers got theirs).
We also have prototype decks and rules for the Prince's Gambit, Justin Achilli's casual game of Vampire: the Masquerade politics and paranoia. Keep an eye out around the convention, particularly in the evenings, as we'll be loaning the decks and rules out to our demo friends and you ...3 COMMENTS