Onyx Paths, Stuffy Dolls, and Gen Con Indy. [Monday Meeting Notes]
Monday Meeting, News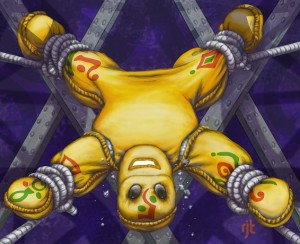 Shocking to see Magic: the Gathering card art in our header? That was pretty much the surprise I had the first time someone hunted me down asking if I'd sign one of the cards that I had done the art for. And then several years ago, I was surprised again that folks found me with Onyx Path and had stacks of cards to sign.
So this year, I'm going with it.
Anybody who has any of the Magic cards I illustrated, please come by the booth and I'd love to sign them. All of our booth team know to expect some Magic fans looking for me, so don't be shy. Here's two maps showing where Onyx Path booth #1103 is:
The thing is, for a lot of years with my freelance illustration work on Magic, and Doomtown, and Netrunner, and lots of other card games and even some RPG books outside of WW, most folks didn't really connect that illustrator me with the me art directing for White Wolf.
But now, just like we're doing the 20th Anniversary Editions of cWoD games, I myself am a classic ...81 COMMENTS