$6 Worth of Presidents' Day: The Day After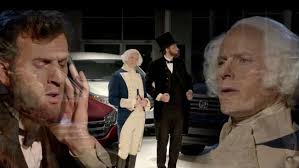 In the interest of respect for our American Presidents who were awesomely both born on the same Monday in February, I didn't post our Monday Meeting blog yesterday, and am instead choosing to use it to shill to you now, on Tuesday. Because if the Presidents can sell you stuff, so must I.
First off, if you haven't backed our Deluxe Anarchs Unbound Kickstarter yet, and want to, here's a reminder that we are down to 63 hours to go. https://www.kickstarter.com/projects/200664283/deluxe-anarchs-unbound
One reason you might want to back AU, and another thing I'm going to pitch you, is that the backers of the Deluxe Anarchs Unbound KS get first exposure to something we're pretty excited to be able to offer folks: Onyx Path T-shirts! In the case of Anarchs Unbound, backers get an opportunity to get an exclusive AU shirt at a discount at our new "store" on RedBubble. They are an electronic PoD storefront that we're going to be using for T-shirts (to start)- in many ways like the way DTRPG is our book PoD partner.
But this Anarchs shirt is just the start. Our intention is to continue to ramp up our offerings on the site as time goes by- and we'll be announcing new shirts as they are activated- and because these are PoD, the only limit to what we can do is their capabilities and CCP's approval for WW images. The PoD aspect is really what enables us to start doing the shirts again because we don't have to risk anything but design time and once a shirt design is up there folks can order them at will without Onyx Path having to print, warehouse, and ship them. We're already considering retro Clan Shirts, V20 Clan Shirts, Clan symbol shirts, Ron Spencer's W20 full page pieces as Tribe shirts, Blood and Smoke, Mummy and Demon shirts, Scion cover shirts, Retro Trinity Order shirts…the list just goes on. I know Mirthful Mike has some shirts he always wanted to do from back in the day that PoD gives us the luxury of creating now, so expect some surprises, too.
And we're taking requests- just let us know here, or on the forums or FB or twitter, the shirts you'd love to be able to get, and we'll consider it.
As you might imagine, most of my talk with Eddy was going over the T-shirt license from CCP and making sure we all were good with the approvals, etc. A small bit of legalese, but worth making sure we were both on the same page with. This led to discussing Onyx Path having more access to the WW social media venues still administered by CCP, and it looks like we'll be more hooked into those pages now. Which will be a big help in continuing to get the word out about Onyx and what we're doing (as well as CCP's other licensed partners like our blood cousins, By Night Studios).
By Night Studios also came up as I was explaining to Eddy that behind the scenes, Onyx and By Night have combined our forces in the search for reliable Kickstarter shipping fulfillers. I am determined to find the right fulfillment service for what we do with our Kickstarters so that backers actually get their packages in a timely and undamaged manner, as are By Night, so this is a great way to pool resources, because while we do have some different needs when it comes to shipping, we can cast a wider net if we work together.
And now, some Updates that you might find somewhat fulfilling:
– Blood and Smoke: The Strix Chronicle (VtR) Both the PoD and the PDF are available on sale on DTRPG! B&S Screen PDF is in for approval and the B&S Condition Cards are on sale at DTRPG, too.
– Mummy the Curse – Cursed Necropolis DC is in editing.
– Exalted 3rd Edition:  While John hunkers down to rewrite the Charms chapter he is also changing some of the ways he's been doing these to enable more to get finished, the rest of the team is working on a couple of EX3 chapters that continue to be finalized for Editing. On the Charms: Athletics Charms overhaul for movement and feats of strength completed, and we are on to the next Ability as planned. The overhauled rules have been sent to playtesters for playtesting. Phase 2 playtesting (complete social engine + all social Charms) is ready to go, but we've delayed rolling it out for a few days to give people time to digest the movement overhaul without splitting their attention too many ways. Have had some sick writers this week slowing other matters down a bit, so not quite up on other projections from last week. Currently doing final Merit overhauls to bring them in line with planned Bureaucracy Charms.
Trying for this week: the "example of character creation" stuff for Chapter Three is going to be sent to editing, since there is finally enough of a body of completed Charms to do that section.
Zub's EX3 Comic and both  EX3 novels are being worked on. Exploration of a theme continues for the EX3 Music Suites– so far we've heard sketches for Dragon Blooded, Exigent, and Infernal. Heard another pass at the DB, but with more of an Asian set of instruments.
– V20 Hunters Hunted 2:  US/Canadian missing packages being gone through case by case. International packages being re-sent this week. Of Predators and Prey: The HH2 Fiction Anthology PDF/electronic is on sale at DTRPG:  http://rpg.drivethrustuff.com/product/124845/Of-Predators-and-Prey-The-Hunters-Hunted-II-Anthology PoD proof is in my hands today, need to look through.
– V20 Anarchs Unbound Kickstarter is almost over- see above! C'mon by and check it out- we've got the full text available, a vid of Justin going over the layout proof so you can see what it's going to look like inside, and each week Justin answers backer questions on just about any topic. https://www.kickstarter.com/projects/200664283/deluxe-anarchs-unbound
– Deluxe Werewolf 20th Anniversary Edition: As with HH2, US/Canadian missing packages being gone through case by case. International packages being re-sent this week. The Heavy Metal Deluxe W20 is slowly being assembled after several bad starts with the ink density on the metal covers- bad density= flaking, scratching, peeling. Mike Lee has a new batch of chapters of the W20 "Houses of the Moon" novel for Bill to review. Jess Hartley has the White Howlers Tribe Book in red-lining. W20 Wyld West patch writing is in editing and is being art directed.
– Mage the Ascension 20th Anniversary Edition has Phil on the very last sections of the book. Reviewing full pages in b&w first from Mike Kaluta. Five pieces of the Traditions two-page spread art have been approved by CCP. Finishing the Deluxe M20 Kickstarter KS page, the KS video is being created with Phil's dramatic voiceover, and we hope to submit to KS after the end of the week.
– W20 Changing Breeds  PDF and PoD versions are on sale at DTRPG! Deluxe files are with the printer- proofs were shown to backers and are back with the printer. The Changing Breeds Fiction Anthology is in progress with second drafts.
– W20 Book of the Wyrm is in layout. A couple of additional art pieces still coming in including a Ron Spencer full page piece! One of our artists was in a car wreck, and so we may need to reassign.
– V20 Rites of the Blood: is ready for layout, but layout is not yet ready for it, art finals rolling in.
– Under the Darkening Sky (classic Dark Ages): PDF is available on DTRPG. This was one of those books that was in progress right as the Dark Ages line ended, so show your support for that bygone and beloved setting and let us know you want more! Headed to PoD creation and updated PDF.
– Trinity Continuum: New System ideas continue being hammered out. Most of the Aeon setting material is in. Logo discussion has started. We're looking at starting some preliminary blog posts.
– Scion: New Systems discussion continue. Both Scion and the TC above are now moving into active mode for 2014. Contracts and art notes out for the Scion: Origins cover.
– Demon: The Descent: We delivered the Demon PDF to KS backers before the end of December, and the backer PDF has been updated and the PoD version is awaiting PoD approval. Now to create the traditional printing files. The Demon: Ready Made Characters set is in editing and the artist is working.
– Hunter: Mortal Remains: Art coming in and going in for approval to CCP, and is in layout.
– Book of the Deceived (MtC): Redlines.
– nWoD: Dark Eras: Writers are writing.
– V20 Dark Ages: Scribes are scribing 2nd Drafts. David Hill has recently moved to a new country and is still acclimating, more info once he is settled in.
– DtD Players Guide: Flowers Of Hell?: In editing and being art directed.
– V20: Ghouls: Writing continues.
– V20 Red List: In final draft stage.
– The Making of the Art of Children of the Revolution: Out to backers who pledged for it. Creating PoD files to go with PDF for sale on DTRPG.
– W20: The Umbra: First drafts being written.
Reason to Drink: I have cleared my driveway an average of every other day since the new year. I hear it might rain, and if so, gonna have a drink before it turns to snow.