Now on Kickstarter: Changeling: The Lost 2nd Edition!
Changeling: The Lost, Press Releases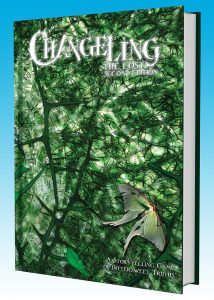 Now on Kickstarter: Changeling: The Lost 2nd Edition Prestige Edition! A Storytelling Game of Bittersweet Truths.
Changeling: The Lost began in 2007, and amassed some of the most passionate fans the Chronicles of Darkness has ever known. Now, it's reborn in its second edition, which tells new tales and builds on lessons learned in the past ten years. We're jumping back into the brambles, and letting the scar tissue from last time protect us.

This Kickstarter is designed to enable us to create a prestige hardcover edition designed to match the look and feel of our other Chronicles of Darkness core rulebooks such as Vampire: The Requiem, Werewolf: The Forsaken, or Mage: The Awakening…

We want to create an 8.5″ x 11″ hardcover with a beautifully designed, symbolic cover image printed on a metallic under layer, and featuring an emboss/deboss of the logo. We estimate the book to be more than 300 pages, with a two-color interior and endpapers on high quality paper stock.
Join our motley crew as we bring Changeling back from the Hedge on Kickstarter!