All Kindsa Drakulas [Monday Meeting Notes]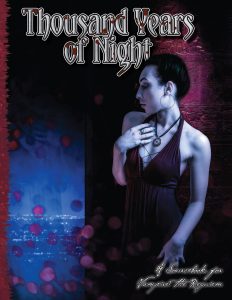 Justin Achilli used to stumble around the old WW office as a character mumbling and shouting about all the Drakulas. Might be two l's and/or two k's in there. Maybe a g. I honestly couldn't tell you, but all I could hear is him yelling about them this week as I thought about our meeting today.
Of course, as per the cover featured in the art above, we're thrilled to be able to put the latest Vampire: The Requiem 2nd Edition supplement, Thousand Years of Night, on sale on DriveThru this Wednesday. First the Advance PDF, and after we get any notes back from purchasers, we'll make an errata pass and get an updated final version of the PDF up, and get the physical copy PoD on sale too.
If you've been following, this was one of the first ideas for a VtR supplement that Rollickin' Rose pitched to me as VtR developer, and it felt the pressure exerted by her expanding duties here at Onyx Path. It just got bogged down as Rose stepped up to cover crisis after crisis as Development Producer. As much as Rose loves VtR, and boy does she, she didn't hesitate long after realizing that she needed help in bringing this book to fruition.
We were incredibly lucky that Dynamic Danielle Lauzon could take over as VtR2 developer, and we hope you are as thrilled by her work with this book as we all are! (You can find more details in the BLURBS! section, below)
The other Vampire bit of news has been last week's release of the V5 pre-Alpha playtest packet by White Wolf. To say that there are a lot of opinions about this very, very early look at a few systems and some suggestions of the setting they work within, would be like saying the sea sure has a lot of water in it.
The reason I bring it up here, is that part of the "packet" is a survey for folks to let WW know what they think of the pre-Alpha playtest, and, for me, the survey is really the biggest point for releasing the whole thing at all. If you look at the specific questions, you can see the emphasis on how the Hunger and Compulsion rules both work and feel in play. Same thing for the scenario, drawn from Enlightenment in Blood and the innovative End of the Line larp in Berlin during the recent convention there.
And then there is the section for additional comments, which I know is where a lot of folks are going to shine. Or at least, you really could shine there, because this is your best chance to help the gang at White Wolf really understand your thoughts about this very first thing that they have produced to start the process – and it is a process – of creating the newest edition of Vampire: The Masquerade.
Here's the link to their blog: https://blog.white-wolf.com/2017/06/15/v5-pre-alpha-the-curtain-rises/
I'm telling you, it's an amazing opportunity, and these surveys are going right to their very small team. If the Hunger mechanic sounds awesome, letting them know now gives it the best chance to survive the next iterations, and I believe there will be lots of those, and into the final published V5. If the writing style or subject matter works for your VtM, or doesn't, then let them know that so they understand how their efforts are impacting you and the game and setting you love.
Now, I'm not going to suggest the obvious: that you compose your comments with the idea that an obscenity-laced, all caps, message filled with invective might not be the most effective way to hold and keep the WW gang's attention. I'm not going to speak for them, and I have no idea how they react to such things, but I always hear from all those consumer advice advocates that polite and to the point is what tends to work best.
I've found that to be the case; your mileage may vary.
A few followup bits of info garnered from today's meeting that you might be interested in:
We're expecting to get the Prince's Gambit card game KS BackerKit site up this week.
We're also expecting to close down the Pugmire KS BackerKit site this week or the next.
LisaT tell me that she counted up the freelancers paid the first half of the month at she paid 42 excellent creators, which she tells me is average for a two-week period. For anyone wondering at the extent of that part of our business.
Expect the third Dragon Blooded charms excerpt to go up this week from our new EX3 developers, Eric Minton and Robert Vance. And we're looking at getting the next monthly releases for our two ongoing EX3 books out before the end of the month too – just need some WW approvals.
We've received some ideas for Dark Eras 2 from our project developers, and Rose, Mighty Matt McElroy, and I, will be discussing those this week in terms of how we're structuring the book and Kickstarter this time. I had earlier compiled and shared all the suggestions for Dark Eras from our DE1 backers, and BOY there were a lot of great ideas there. We want to do this Dark Eras 2 Kickstarter before much longer so that it doesn't smash into Gen Con prep.
And I'll leave you with this, the return of the brilliant and idiosyncratic artist John Cobb to Wraith:
And now you can get these books in the Barnes and Noble Nook store too!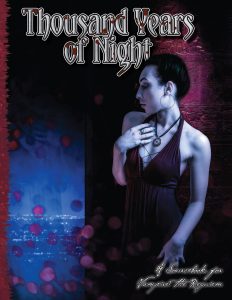 What dark secrets do the eldest vampires hold? Find out in Thousand Years of Night for Vampire: The Requiem! Advance PDF version available this Wednesday on DriveThruRPG.com.
You may think that with a multitude of people coming, going, dying and running away, we'd be tired, done, or ready to give up.
Instead, I find myself restless, looking for the next thing. 
There's always a next thing, and I for one am not yet ready to die.
– Elder Kincaid, Daeva Crone
This book includes:
• Detailed instructions on creating elder vampires, including how to base chronicles around them
• A look into the lives of elders, how they spend their nights, who they work with, and why including their roles in both their clans and covenants
• New Devotions, Merits, and Rituals for elder vampires
• The kinds of creatures that pose a threat to elder vampires, including Inamorata, Lamia, Sons of Phobos, a new elder conspiracy, and more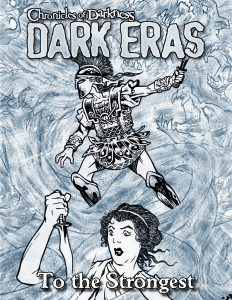 From the massive Chronicles of Darkness: Dark Eras main book, we have pulled this single chapter, Dark Eras: To The Strongest (Mage Death of Alexander 330-320 BCE). In the rise and fall of Alexander the Great's Empire, armies marched and cultures clashed. In the birth pangs of Hellenistic civilization, Awakened sorcerers all over the ancient world met, fought, and joined together. In the chaos of Alexander's assassination and the wars that followed, Cults became Orders amid conflicts still burning in the present day.
http://www.drivethrurpg.com/product/208162/Dark-Eras-To-the-Strongest-Mage-the-Awakening
On sale in PDF and physical copy PoD versions on DTRPG!
From the massive Chronicles of Darkness: Dark Eras main book, we have pulled this single chapter, Dark Eras: The Wolf and the Raven (Werewolf and Geist Vikings 700-1100). The Viking expansion across Europe comes at a pivotal time in history, as new faiths rose to challenge the old and new ways threatened to sweep ancient tradition aside. The Forsaken sail with raiders and explorers, seeking new lands to claim and new spirits to conquer, while Sin-Eaters walk the battlefields bringing the honored dead to their final rewards. The world grows larger and more dangerous by the day, but there are great rewards for those brave enough to fight for them.
On sale in PDF and physical copy PoD versions on DTRPG! http://www.drivethrurpg.com/product/210621/Dark-Eras-The-Wolf-and-the-Raven-Werewolf-the-Forsaken-Geist-the-SinEaters