Buon Giorno, Parli L'Inglese? And Stuff-y. [Monday Meeting Notes]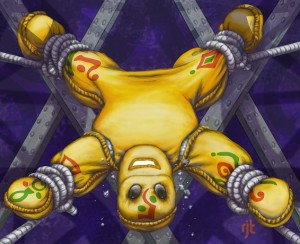 Usually, this blog is for the sort of info and ruminations useful to our tabletop RPG community. After all, that is what Onyx Path Publishing currently publishes. Makes sense.
But, this is one of those times I'm going to indulgently write a bit about a different part of my life, yet one that has enriched and informed my years as art and creative director for White Wolf and now Onyx Path.
I started in this business as an illustrator inspired by Frank Frazetta, the Brothers Hildebrand, Barry Windsor Smith, Mike Kaluta, Berni Wrightson, John Buscema, Gene Colan, and a slew of others from fantasy book covers and comic books. Caravaggio and Bernini were my fine arts touchstones, and both were very involved in the storytelling and drama of their handling of their subjects. My illustrations for White Wolf Magazine led to art directing and then to being the ultimate visual authority for all of WW's projects.
WW was what would be called a start-up these days, but at the time we only knew that we "worked hard and played hard". And boy did we work hard. Vampire: the Masquerade 2nd Edition was our first book to be totally laid out in Pagemaker, which enabled us to output every page to film and send those films to the printer. This gave us unprecedented quality control as we weren't relying on the printer to add in shots of the illustrations and we could look on each film to be sure everything was where we wanted it. But in order to get it to press on time, Chris McDonough and I worked around the clock for over a week outputting films 24 hours a day and spelling each other so we could get some sleep.
My point being, there was not a lot of time for me to push my illustration career.
Yet I still managed some art in the early WW books. Sometimes we needed art because of an artist not being able to get us all their pieces on time, sometimes just because I read a section and wanted to keep my hand in illustrating it. And I still had a few outside clients I would spend weekends working for.
The most fortunate of these was Wizards of the Coast, first for Lisa Stevens, who I got to be friends with in the really early WW days (Fun fact: we were born at almost the same time/day/year at different sides of the US), and then with Jesper Myrfors as art director. I did logos, interior art, covers, and this weird idea they had that they needed small pieces of art to go on cards for. A trading card game? I had never heard of such a thing nor could I see how people would get into it, but I sure liked the idea of doing art that went on cards. I had done a whole tarot research thing, and a further one on the evolution of playing card imagery, so YES! I was in.
So, you see, it was just luck and the power of saying YES.
Here's one of the original pieces from that first Magic the Gathering set, Wall of Ice: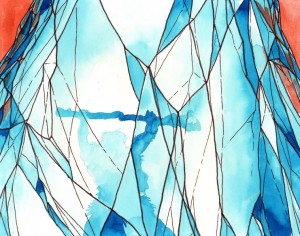 I had told Jesper that I was into it, but only if I could play around with washes of pretty intense color and set that off with thick and thin lines like stained glass. Just a technical experiment I wanted to play with. Never thought it would become a thing.
But it did. And then, as the game became an astronomical success story, the art and the artists became something almost none of us had ever experienced. Autographs and card signings. Being flown out to conventions and having the creatures they had basically made up in the visuals become these iconic images. The little guy pictured at the start of this blog from the Black Vise card was dubbed the "Stuffy Doll" by the Magic fans, not me, and became a fan favorite. Jesper started to ask me to work him in to other pieces.
I was at a convention and as I was talking to an artist signing cards at the WOTC booth, I caught a flash of orange/yellow through the crowd. I talked some more and caught the same flash of color, but closer this time. The crowd parted and out came a six-foot walking version of Mr Stuffy ambling towards me. WOTC had had a costume created and here was my creation wandering around! I heard later that it was an incredibly hot costume and so it could only come out gamboling once in a while. I felt bad for the guy in the suit, but he was always great to see. Here's another Stuffy Doll piece from back in the day: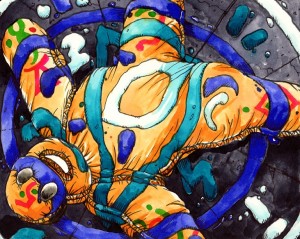 Yet, with all the stuff going on for the artists, I never got all that involved because there was just so much to do with White Wolf.
Until now.
Time passed. The art directors came and went at WOTC, and their needs and tastes changed and I did fewer and fewer pieces for them until one day I realized I hadn't done art for them for years. A shame, but there were Revised editions and Exalted to publish. And then at a Gen Con a few years ago, a guy asked if he could talk with me about how I liked being a Classic Magic Artist. I had never heard the term before. I wasn't sure I liked it.
But then, I talked to the fans. They were so excited to talk to one of the original artists.
And that made all the difference.
I realized that the art is out there. It simply is in existence and just like 20 years ago, folks like it. That is pretty cool, and speaks to the difference of viewpoint when you heads-down are making all these things. Magic card art, art bibles for new game worlds, deciding which images go on the Onyx Path booth banner, figuring out the W20 Shattered Dreams deluxe cover treatment; all these things are created in their moment but inhabit a continuum together of all the visuals I've ever done.
On a creative level, there is every chance that the artistic decisions I made and learned from for my Magic card art influenced and informed my choices for every piece of art I've made since then. That's just how it works.
So now, this body of work allows me to work with Mirthful Mike Chaney on these amazing game visuals for lines I helped create 20+ years ago AND on brand new lines like Pugmire that will reap the benefit of all those previous pieces of art and the decisions that went into creating them.
And it opens the door to invitations to travel with my wife to places like freakin' Milan to sign the Magic cards I did the art for.
Which is where I'll be for a little more than a week. Hopefully my signing arm won't fall off. Fast Eddy Webb has promised to write the Monday Meeting Notes next week, and Impish Ian, Rollickin' Rose, and Mirthful Mike will all be handling the day to day operations. So things are in the best hands I can imagine, and our projects will move forward.
All because I said YES.
(And so we don't leave this blog on too much of an inspirational note, here's the loathsome Wall of Flesh):
_______________________________________________________________________________________________________________________
And now, the BLURBS!
HEY! keep an eye out while I'm gone for the special blogs we'll be doing every day to celebrate October: it's Our Month of Darkness. Look for snippets from various projects and notes from the developers on why they bits are their favorites and what went into them, as well as special sales. These will happen all October leading up to Halloween – because you know that's our favorite holiday!
Mage: the Ascension 20th Anniversary Edition PDF & Standard and Premium PoD physical book editions are NOW AVAILABLE on DTRPG! http://www.drivethrurpg.com/product/149562/Mage-the-Ascension-20th-Anniversary-Edition
Vampire 20th Anniversary Edition: The Dark Ages is NOW available in PDF and PoD versions at DriveThruRPG.com! This massive full color tome is part of the V20 line but does not require V20 to play and enjoy.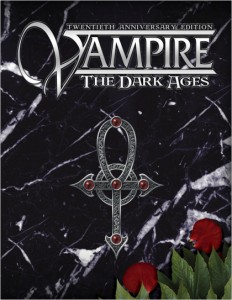 The Pugmire Pamphlet we had available at Gen Con is now ready for PDF download. Read about the world of Pugmire from the enthusiastic and optimistic pen of Princess Yosha Pug, as well as notes from the gruff and worldly hunter Pan Daschund: http://www.drivethrurpg.com/product/153518/Pugmire-Gen-Con-Brochure
The sixth and final Pugmire poster for now, Spike Mutt, is on the loose now as a free PDF or $.99 physical poster, suitable for framing: http://www.drivethrurpg.com/product/150845/Spike-Mutt-Pugmire-Poster-6
The fifth Pugmire poster, Pan Dachshund, is ready now as a free PDF or $.99 physical poster, suitable for framing: http://www.drivethrurpg.com/product/150844/Pan-Dachshund-Pugmire-Poster-5
The fourth Pugmire poster, Jack Rat-Terrier, is on-sale now as a free PDF or $.99 physical poster, suitable for framing: http://www.drivethrurpg.com/product/150944/Jack-RatTerrier-Pugmire-Poster-4
The third Pugmire poster, Sgt. Leo Bulldog, is available NOW as a free PDF or $.99 physical poster, suitable for framing: http://www.drivethrurpg.com/product/150843/Sgt-Leo-Bulldog-Pugmire-Poster-3
The second poster, Princess Yosha Pug, is available now: http://www.drivethrurpg.com/product/149750/Princess-Yosha-Pug-Pugmire-Poster-2
And the first poster, Sister Picassa Collie, is here: http://www.drivethrurpg.com/product/148516/Sister-Picassa-Collie-Pugmire-Poster-1
Start spreading the Code of Man!
Dread Names, Red List for V20 is now on sale! This collection of the most dangerous Kindred ever called Anathema is available in both PDF and hardcover PoD versions: http://www.drivethrurpg.com/product/150381/V20-Dread-Names-Red-List
CONVENTIONS!
We're finalizing plans for a big Onyx Path presence at Mid Winter Con again this year this January in Milwaukee. Big blurb when that is all worked out.
I'll be at Ovino in Milan, Italy signing Magic the Gathering cards on October 2-4, so any of our community in the area that wants to stop by and say "Ciao", I'd love to see you. http://www.ovinotournament.com/
————————————————————————————————————————————————————————————
And now, the new project status updates!:
DEVELOPMENT STATUS FROM ROLLICKING ROSE (projects in bold have changed status since last week):
First Draft (The first phase of a project that is about the work being done by writers, not dev prep)
M20 Book of Secrets (Mage: the Ascension 20th Anniversary Edition)
Exalted 3rd Novel by Matt Forbeck (Exalted 3rd Edition)
CtL anthology (Changeling: the Lost 2nd Edition)
Changeling: the Dreaming 20th Anniversary Edition
Beast Fiction Anthology (Beast: the Primordial)
Cavaliers of Mars
Signs of Sorcery (Mage: the Awakening Second Edition)
Redlines
Mummy Fiction Anthology (Mummy: the Curse)
Wraith: the Oblivion 20th Anniversary Edition
Cursed Necropolis: Rio (Mummy: the Curse)
Beckett's Jyhad Diary (Vampire: the Masquerade 20th Anniversary Edition)
Changeling: the Lost 2nd Edition, featuring the Huntsmen Chronicle (Changeling: the Lost 2nd Edition)- In Open Development
WtF The Pack (Werewolf: the Forsaken 2nd Edition)
VtM Lore of the Bloodlines (Vampire: the Masquerade 20th Anniversary Edition)
WtA Kinfolk (Werewolf: the Apocalypse 20th Anniversary Edition)
Dark Eras Companion (nWod Dark Eras)
V20 Ready Made Characters (Vampire: the Masquerade 20th Anniversary Edition)
Beast Ready Made Characters (Beast: the Primordial)
Second Draft
Arms of the Chosen (Exalted 3rd Edition)
Secrets of the Covenants (Vampire: The Requiem 2nd Edition)
The Realm (Exalted 3rd Edition)
Dragon-Blooded (Exalted 3rd Edition)
Development
StoryPath System Rules (Base rules set for Scion and the Trinity Continuum)
Scarred Lands Player's Guide: Ghelspad (Scarred Lands 2nd Edition)
W20 Changing Ways (Werewolf: the Apocalypse 20th Anniversary Edition)
nWoD Hurt Locker (World of Darkness 2nd Edition)
M20 Anthology (Mage: the Ascension 20th Anniversary Edition)
Dark Eras Expansions (nWod Dark Eras)
Pugmire Early Access
Editing
V20 Ghouls (Vampire: the Masquerade 20th Anniversary Edition)
V20 Black Hand: Guide to the Tal'Mahe'Ra (Vampire: the Masquerade 20th Anniversary Edition)
W20 Shattered Dreams (Werewolf: the Apocalypse 20th Anniversary Edition)
Promethean: the Created 2nd Edition, featuring the Firestorm Chronicle (Promethean: the Created)
Mage: the Awakening  2nd Edition, featuring the Fallen World Chronicle (Mage: the Awakening)
W20 Pentex Employee Indoctrination Handbook (Werewolf: the Apocalypse 20th Anniversary Edition)
Post-Editing Development:
ART DIRECTION FROM MIRTHFUL MIKE:
In Art Direction
V20 Ghouls – Awaiting text.
Tal Me Rah – Sketches still coming in, some finals arriving.

W20 Shattered Dreams – Still waiting on a couple of pieces from Jeffe. Some glitches with the KS interface have slowed this KS down. Still working on it, but with Rich gone the KS will probably be delayed into October.
V20 Lore of the Clans – Gaydos continuing to work on them.
Demon STG –  Fulls in. Sketches for everything else in.
Mage: the Awakening Second – Art in progress.
Promethean: the Created Second – Contracting.


In Layout
Lore of the Clans – working.
Dreams of Avarice – working.

NWoD 2 – working.
Beast: The Primordial –

Corrections done… doing some more tweaks and sending off for 2nd proof.
Proofing
M20 How Do You Do That ?!? – Corrections to proof being made, and Pg XXs.
Ex 3 Anthology – Awaiting updated text file.

Ex 3 core book – RichT here: Page XX page numbers from the Devs sent to Maria. No idea how long it will take for her to input these into an almost 700 pg book. It took me three 12 hours days to do the ones for V20, and we didn't have as many. After she's done we submit the whole corrected PDF to CCP again to show we hit their needed correx. And then the backer PDF gets sent out…
At Press
V20DA – Rolling along. Screen proofs signed off on.
M20 – PoD up finally.
M20 Screen– Signed off on.
Special- projects on hold until an external factor is resolved
Dark Eras
Wraith 20  
Pentex Employee Indoctrination Manual
---
TODAY'S REASON TO DRINK: Salut!