Character Creation: Exalted 3rd Edition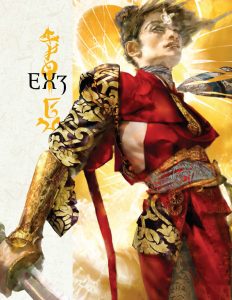 Onyx Path is pleased to kick off a new series about creating characters for the game lines we've published. Today, Bill Bodden dives into Exalted 3rd Edition. If you're itching to try Exalted, check out Bill's new character!
To me, Exalted 3rd Edition is about larger-than- life characters: heroes who serve their gods as pawns in the never-ending struggles and intrigue that punctuate creation. The struggle may be heroic or nefarious, but in the end all that matters is fame and glory. The Exalted are characters who were either created to be heroes or were born of heroes so the gifts for performing extraordinary deeds are contained within them.
After reading through the examples, I decided I wanted to come up with an Exalted character to play in an upcoming game. First, I browsed through the introduction and flavor text in the Exalted 3rd Edition rulebook to get a better idea of the setting. In an interesting twist, the default character type in the core book is the Solar Exalted. In the game's backstory, the Solars were mostly killed off by the Dragon-Blooded. Solars were cursed ages ago by enemies they defeated. Subsequently — and over many, many years — many of the Solars began to grow drunk with power or go mad, and so the Dragon-Blooded Exalts — and others — went to war and defeated the Solars. It's this background into which new Solars step, and the air of suspicion and mistrust surrounding Solars makes for a challenging environment.
To start creating my character, I flipped to page 120.
Step One: Character Concept and Caste
The Dawn Caste are, first and foremost, warriors, and I want to kick some butt in this upcoming game, so I settled on the Dawn Caste, summarized on page 139. They highly favor martial skills, so hopefully I can pick out things that will mesh well together. I decided on the name Ayesha for my character. I've chosen "Child of Lightning" as her sobriquet, so I need to make sure she's fast!
Step Two: Select Attributes
My Dawn Caste Solar is very clearly a fighter, so I've ranked Ayesha's Attributes accordingly. Physical is primary, Social is secondary, and Mental is tertiary. Checking in at the Character Creation Summary on page 127, I see that I have eight, six, and four dots respectively to spend in these three attribute groupings — plus the default dot in each.
The heroic nature of the setting gives me plenty of dots to play with, so only her Perception and Intelligence — at two each — are at average levels for a normal human. Ayesha is going to be a combat specialist, and her above average Dexterity should help her in combat.
I want more Perception than Ayesha currently has, and for that I need to dip into my Bonus Points pool. Another dot of Perception — one of Ayesha's tertiary attributes — will cost me four Bonus Points. Ayesha now has three dots of Perception. I also spend three points to give Ayesha another dot to Strength, which is one of her Primary Attributes so it costs a little less. After buying up these two attributes, I still have eight Bonus Points left.
The breakdown of Ayesha's Attributes now looks like this: Strength 4, Dexterity 4, Stamina 4, Charisma 3, Manipulation 3, Appearance 3, Perception 3, Intelligence 2, Wits 3.
Step Three: Abilities
Next, I select Abilities which are sorted into two groups for ease of reference: Caste Abilities and Favored Abilities. My Dawn Solar's Caste entitles her to pick five from Archery, Awareness, Braw/Martial Arts, Dodge, Melee, Resistance, Thrown, and War. Since she's a warrior, but also Dexterity-minded, I choose Archery, Awareness, Brawl, Dodge, and Melee.
For Ayesha's Favored Abilities, I choose Athletics, Medicine, Ride, Socialize, and Stealth. Next, I need to choose one of Ayesha's Caste Abilities as her Supernal Ability — that's the one thing she does best, the thing that her legends are based on. If I want her to be a speedy, nimble warrior I'd have to go with Melee, but the limitation here is that I can't have an Ability higher than three without spending Bonus Points.
I have 28 dots to spend, and no default dots to rely on this time. The final score looks like this: Archery 3, Athletics 2, Awareness 3, Brawl 3, Dodge 3, Medicine 2, Melee 3, Ride 1, Socialize 2, and Stealth 3. I also take Integrity 1, Presence 1, and Resistance 1 to round out the Abilities.
I'm also allotted four Specialties. Specialties are things that give you an extra die to roll for that skill when the specialized conditions are at work, and they are open-ended. There's no list to pick my Specialties from, so I'll need to come up with something that compliments Ayesha's existing Abilities without being too broad. To compliment her Abilities, Ayesha's Specialties will go into Archery (long-range shot), Melee (swords), Awareness (ambush), and Stealth (reconnaissance).
I want Ayesha's Abilities to be better than what she has currently, so I'm going to spend a few Bonus Points here to bulk up her rules. First, I'm putting another dot in Archery, which will cost me one Bonus Point. I also put another point in Melee to lift that Ability to four, and an additional point in Resistance, for a total of two more Bonus Points spent.
My total point spend at this stage, which includes adding a dot to two Attributes, is now 11 out of 15. Not bad! I've spent more than two-thirds of my Bonus Points, so I'm going to be a bit more cautious going forward.
Step Four: Merits
I have 10 dots' worth of Merits to acquire, and I've decided to use these to work in Ayesha's backstory. Ayesha has been a fighter all her life, and she's well-acquainted with commoners. I am leaning toward creating a character who champions their causes whenever and wherever she can.
I check the Merits' listing on pgs. 157-58 and, after further reading, I invest the first three dots in Manse 3 — which also gives me Demense 2 and Hearthstone 2 for free.
Exalted Healing is free, so I take it and laugh heartily. The rest of Ayesha's Merits look like this: Danger Sense 3, Fast Reflexes 3, and Language (Low Realm) 1.
That adds up to my 10 starting points in Merits.
Step Five: Charms
Charms are immensely cool: they offer a fantastic way to customize your character, provide a great handle for describing action in-game to help build excitement, and they can allow the Exalt to do some amazing things. The list starts on page 250 and runs for some 175 pages. It's long, but it's worth it to read through them all.
That said, there are a LOT of Charms. Choosing 15 seemed daunting to me at first, but the more I read about them, the more excited I became. My choices became more difficult because there were so many great options and I wanted them all!
I finally settled on these:
Wise Arrow (Archery)
Phantom Arrow Technique (Archery)
Graceful Crane Stance (Athletics)
Sensory Acuity Prana (Awareness)
Surprise Anticipation Method (Awareness)
Fists of Iron Technique (Brawl)
Reed in the Wind (Dodge)
Reflex Sidestep Technique (Dodge)
Flawless Diagnosis Technique (Medicine)
Excellent Strike (Melee)
Call the Blade (Melee)
Ox-Body Technique (Resistance)
Master Horseman's Techniques (Ride)
Perfect Shadow Stillness (Stealth)
Blinding Battle Feint (Stealth)
You may find that some Charms will be appealing enough to make you want to re-arrange your Attribute and Ability scores to take better advantage of what they offer, and the guidance offered in the book encourages this!
Step Six: Intimacies and Limit Trigger
Intimacies are the things that the Exalt cares deeply about, from her personal moral code to her dearest friends, right on down to her bitterest enemies and deepest hatreds. I must choose four for Ayesha, but could choose more if I wish. From time to time these Intimacies may be eliminated as things change in-game, so having more isn't a bad thing. It helps clarify my character's motivation, and gives the Storyteller more tools to introduce new plots and intrigues.
After reflecting on what I've got so far, I decided that Ayesha's defining Intimacy is that she loves children and will do anything in her power to protect the innocent from harm. Her Major Intimacy is that she cares for creation and hates to see it plundered greedily and wastefully. Her Positive Intimacy is that she does what she can to lift her teammates' spirits, and her Negative Intimacy is that she despises The Wyld and the Chaos it represents.
Limit "is a measure of stress, self-doubt, and instability" within each Solar, and the closer they get to their Limit, the more endanger they are. Intimacies, which I've just defined above, work hand-in- hand with Limit. When a character knowingly acts against one of her Intimacies, there is a chance for that character to gain points toward her Limit. Limit Triggers, then, are the event that may cause a Solar to go over the edge, activating the curse laid upon their kind by the enemies of the gods whom the Solars had defeated.
I decided that an appropriate Limit Trigger for Ayesha, would be when she's humiliated by friends and allies. Once she has accumulated 10 Limit Points, she will suffer a break; its timing and effects will be at the Storyteller's discretion.
Step Seven: Bonus Points
Remember all those bonus points I already spent? I have a total of 15 bonus points to spend per page 124. The downside is that bonus points work like experience points, in that most bonuses are more expensive to buy than during character creation. I plan to give Ayesha extra Willpower dots — because who can't use more Willpower, right? I've already spent 11, so I only have four left. Four Bonus Points is enough to by Ayesha two more dots of Willpower, so that works out great, and brings me up to 15.
Step Eight: Finishing Touches
Ayesha's Willpower starts at five dots. I increased that to seven dots by spending bonus points from the previous step. I can also/instead spend experience points later to buy more Willpower.
I need to have seven health levels available, and the character sheet provided on page 635 will make keeping track of that easier.
Essence Rating of all starting characters is one. That will increase, slowly, with time and experience. Essence is the spiritual/supernatural power Exalts use to perform miraculous feats. Peripheral Essence is the easiest to tap into, as it lies on the surface. Personal Essence represents an Exalt's spirit. Ayesha's Personal Essence Pool contains 13 Essence motes. Her Peripheral Essence Pool holds 33 Essence motes. Essence does replenish itself over short periods of time, so spending it usually isn't an issue.
Now, Ayesha is a fully, fleshed out character who's ready to play! I still need to work out details like her starting equipment and review her rules with my Storyteller. Additionally, my party should work on aspects of their relationships to one another, how they're inter-connected, and where their loyalties lie.
Interested in Exalted? You can check out the Exalted 3rd Edition rulebook, the Tomb of Dreams Exalted 3rd Edition Jumpstart, or visit our latest Kickstarter for the Dragon-Blooded: What Fire Has Wrought supplement for more information about what we're up to!