Everybody Was Fighting! [Monday Meeting Notes]
Well, not literally fighting, but it was such a busy week with so many things happening!
Multiple KS messages and PDFs and Exalted 3rd Edition's backer PDF all going out the door, coordinating the delivery of the Deluxe V20 Dark Ages books and screens to the shipper (if you are a backer you are going to go nuts over how gorgeous this Deluxe is!), and then attending Illux Con Thursday thru Saturday!
And we started the Deluxe W20 Shattered Dreams KS (see below). That's a full-page piece of properly chaotic battlefield art from one of the Wars of Rage depicted in the book, above.
And this week looks just as crazy, OK maybe a little less, but certainly there's a lot happening this last dark slide into Halloween.
Speaking of Halloween, I hope you are all enjoying the Month of Nightmares daily doses of darkness we've been blogging where our creators are talking a bit about the projects they've done for Onyx. One of the reasons we decided to do this was to show the range of things we are working on.
Another was to highlight October over on DriveThruRPG and connect up with their Halloween sales over there. From today until November 1st, we've got the Mummy: the Curse core, the Mage Translation Guide, Darkening Sky for Dark Ages, and all the PDFs for the Demon: the Fallen, Hunter: the Reckoning, and Orpheus lines all on sale. This sale also sees the return of DTRPG's Trick or Treat Jack O'Lanterns scattered throughout their site. Click on one to get one or the other. We've contributed some treats to the mix and look out for the October 31st, Halloween, blog post for an additional special treat for all of you to cap off the month!
In other matters, here is your monthly dose of "What the heck is Onyx Path?" pontification from yours truly, interviewed by the insightful Robert Beasley for our friends at Gamerati: http://gamerati.com/interview-richard-thomas-onyx-path-publishing/ What a fine figure of a man I am. Or at least something like a Stark of Winterfell in that photo, I'm told.
Illux Con, which is a major and important convention for genre illustrators was essentially down the road in Allentown, PA last week, so I stopped in to look at all the amazing art. I wanted to get new contacts for us for illustrators, but also to enjoy chatting with fellow artists. I finally got a chance to meet renowned artist Rick Berry and was introduced to him by Maria Cabardo as he is working on the final art for the EX3 PDF/PoD cover. Maria also got me into a conversation with Julie Bell, the legendary Boris Vallejo's wife and co-creator, and a legend in her own right.
One of our industry's legends, Liz Danforth, was a delight to hang out with, as was classic Magic artist and all-around good guy Jeff Menges, and we commiserated over many things as well as the way some projects can take so much longer than planned, but are worth it in the end. Liz was just coming off of two and a half years working on the Deluxe Tunnels and Trolls, a Kickstarted version of one of the classic RPGs to come out after D&D.
For those of you who have followed our stuff over the years, I chatted with Mr. William O'Connor and the Steve Prescott over new possibilities for working with us, as well as White Wolf/CCP alumnae Priscilla Kim who is rocketing forward as an illustrator. You'll see her illustrations in the upcoming Mage: the Awakening 2nd Edition and I'm sure more gorgeous work is to come.
The best part, for me, besides fans buying me Captains and Cokes, was having dinner with Drew Tucker. I have art directed Drew for over 20 years but we had never met until last week, and he was as gracious and funny as he had always been over the phone. One of my favorite parts of starting Onyx Path has been the ability to work again with these amazing artists who have grown so much as visual creators since the "early days". They used to snail mail me their sketches, is what I'm saying, although when Drew discovered sending sketches over fax machines was possible, I would find some pretty freaky faxes waiting for me in the mornings.
Came out of the con with about a dozen new artists' web site addy's for Mirthful Mike to check out, so with the old friends we bring in the new as well. And so it goes.
---
BLURBS!
KICKSTARTER!
The Deluxe W20 Shattered Dreams Kickstarter went live on Thursday, and the response has been great for this very special supplement detailing the multiple eras of the Wars of Rage as well as how to use the War in a modern Chronicle.
We're over 85% of the way to our funding goal!
For this W20 Kickstarter we've added Achievements to our usual mix of Rewards and Stretch Goals, with the idea that you can participate to unlock some rewards that aren't part of the fund raising per se. So, come pledge and send us pics of you howling at the moon or holding your pet rat(kin)!
PROMOTION!
The LAST WEEK! for our special blogs every day this month to celebrate October as the Month of Nightmares. Look for more snippets from various projects and notes from the developers on why they bits are their favorites and what went into them, as well as special sales. These will happen all October leading up to Halloween – because you know that's our favorite holiday!
ON SALE!
Mage: the Ascension 20th Anniversary Edition PDF & Standard and Premium PoD physical book editions are NOW AVAILABLE on DTRPG! http://www.drivethrurpg.com/product/149562/Mage-the-Ascension-20th-Anniversary-Edition
Vampire 20th Anniversary Edition: The Dark Ages is NOW available in PDF and PoD versions at DriveThruRPG.com! This massive full color tome is part of the V20 line but does not require V20 to play and enjoy.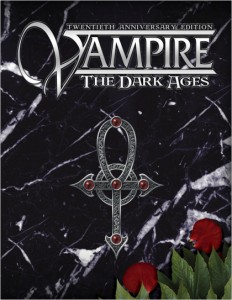 The Pugmire Pamphlet we had available at Gen Con is now ready for PDF download. Read about the world of Pugmire from the enthusiastic and optimistic pen of Princess Yosha Pug, as well as notes from the gruff and worldly hunter Pan Daschund: http://www.drivethrurpg.com/product/153518/Pugmire-Gen-Con-Brochure
There are also six Pugmire posters available as free PDFs or $.99 physical posters, suitable for framing:
Start spreading the Code of Man!
CONVENTIONS!
We're one of the Contributing Sponsors at Midwinter Con this year this January in Milwaukee! RichT, Fast Eddy Webb, and Newlywed Neall Raemonn Price will be there at our booth as well as running demo games of Scion and Pugmire. We're still working out panel concepts with the MidWinter gang, but expect at least one session where we ask for your feedback for Vampire 4th Edition. In the meantime, check out the show here: http://www.midwintergamingconvention.com/
---
And now, the new project status updates!
DEVELOPMENT STATUS FROM ROLLICKING ROSE (projects in bold have changed status since last week):
First Draft (The first phase of a project that is about the work being done by writers, not dev prep)
M20 Book of Secrets (Mage: the Ascension 20th Anniversary Edition)
Exalted 3rd Novel by Matt Forbeck (Exalted 3rd Edition)
CtL anthology (Changeling: the Lost 2nd Edition)
Changeling: the Dreaming 20th Anniversary Edition
Cavaliers of Mars
Signs of Sorcery (Mage: the Awakening Second Edition)
Night Horrors: Conquering Heroes (Beast: the Primordial)
Redlines
Mummy Fiction Anthology (Mummy: the Curse)
Wraith: the Oblivion 20th Anniversary Edition
Beckett's Jyhad Diary (Vampire: the Masquerade 20th Anniversary Edition)
Changeling: the Lost 2nd Edition, featuring the Huntsmen Chronicle (Changeling: the Lost 2nd Edition)- In Open Development
WtA Kinfolk (Werewolf: the Apocalypse 20th Anniversary Edition)
V20 Ready Made Characters (Vampire: the Masquerade 20th Anniversary Edition)
Beast Fiction Anthology (Beast: the Primordial)
Second Draft
Arms of the Chosen (Exalted 3rd Edition)
The Realm (Exalted 3rd Edition)
Dragon-Blooded (Exalted 3rd Edition)
Beast Ready Made Characters (Beast: the Primordial)
Dark Eras Companion (nWod Dark Eras)
WtF The Pack (Werewolf: the Forsaken 2nd Edition)
Development
StoryPath System Rules (Base rules set for Scion and the Trinity Continuum)
Scarred Lands Player's Guide: Ghelspad (Scarred Lands 2nd Edition)
W20 Changing Ways (Werewolf: the Apocalypse 20th Anniversary Edition)
nWoD Hurt Locker (World of Darkness 2nd Edition)
VtM Lore of the Bloodlines (Vampire: the Masquerade 20th Anniversary Edition)
Editing
V20 Ghouls (Vampire: the Masquerade 20th Anniversary Edition)
V20 Black Hand: Guide to the Tal'Mahe'Ra (Vampire: the Masquerade 20th Anniversary Edition)
W20 Shattered Dreams (Werewolf: the Apocalypse 20th Anniversary Edition)
Promethean: the Created 2nd Edition, featuring the Firestorm Chronicle (Promethean: the Created)
W20 Pentex Employee Indoctrination Handbook (Werewolf: the Apocalypse 20th Anniversary Edition)
Dark Eras Expansions (nWod Dark Eras)
Secrets of the Covenants (Vampire: The Requiem 2nd Edition)
M20 Anthology (Mage: the Ascension 20th Anniversary Edition)
Post-Editing Development:
Mage: the Awakening  2nd Edition, featuring the Fallen World Chronicle (Mage: the Awakening)
Pugmire Early Access
Cursed Necropolis: Rio (Mummy: the Curse)
ART DIRECTION FROM MIRTHFUL MIKE:
In Art Direction
V20 Ghouls – Awaiting text.
W20 Shattered Dreams – KS underway.
Mage: the Awakening Second – Art in progress.
Promethean: the Created Second – Sketches coming in… slowly but surely.

Scarred Lands PG – contracting.
Dark Eras – Sorting through the artnotes and figuring out the art buy and if the previous chapters need additional artwork.
In Layout
Dreams of Avarice – working.
Demon STG –  Starting layout sometime this week.
Guide to the Black Hand – Starting layout this week.
NWoD 2 – Working on Prologue and corrections.
NWoD 2 Cards – Starting once I get NWoD 2 in proofing.
Proofing
M20 How Do You Do That ?!? – Errata continues.
Ex 3 Anthology – Awaiting updated text file.

V20 Lore of the Clans – Errata continues.
Beast: The Primordial –

Releasing this week to backers.

Ex 3 core book – From RichT: Backer PDF out, errata being compiled from the "Contact Me" link next to my picture on the KS page, and only from that link. If you want us to pay attention to any fixes needed, you simply have to post that way: Twitter, FB, the KS comments, we just can't collate all of that. Lots of commentary everywhere, and special thanks to all of the folks who have already sent us errata! Although, please read the Updates so you know that we already know about the text under Fog Shark and the like so you don't need to tell us about the things I already mentioned in that Update. SPECIAL SPECIAL THANKS to all of you who took the time to write in and tell us that this was a beautiful book! That means so much to us, particularly since we have noted that you folks, for the first time we've ever done a book, are writing in numbers that outpace the negative comments we've received. That and you are just amazingly supportive!
At Press
V20DA – At shipper, awaiting screens, then shipping soon to backers.
M20 – Interior proof signed off on, awaiting cover proofs.
Special- projects on hold in the art and production area until an external factor is resolved
Dark Eras – Expanded text from the KS has to get through the dev stages above.
Wraith 20 – Can't go further until art notes come in, still being developed by Rich Dansky.
Pentex Employee Indoctrination Manual – Some added and amended text needs to come in.
---
TODAY'S REASON TO DRINK: Happy 50th sweetie!