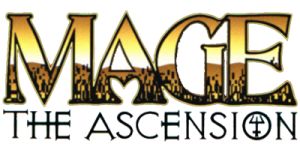 Reality is a lie invented by a technocratic enemy who has written history to its liking. The truth is magic. The universe can be crafted with a simple working of your will. Mages have taught this truth throughout the ages, but the proponents of technology have crushed the mystic masters. Join the last stand in the war for reality.
Mage: The Ascension places you in the midst of supernatural intrigues and inner struggles. The more secrets you learn, the more important your wisdom and power become. Mage drags spirituality and metaphysics screaming through the streets of a postmodern nightmare.
The Council of Nine Mystic Traditions
Mages safeguard the world in an alliance of sorcerers and mystics. Believing in the power of human choice and the need for wonder, they fight to save the last remnants of magic in a world increasingly ruled by technology. They are the Nine Traditions, a council of mages who unite their different visions in one grand alliance. Ultimately, they safeguard the vision of Ascension: the potential for any human to move beyond this world, to true enlightenment and infinity.
Read more about the Traditions
The Technocratic Union
The Technocracy rules the powers of reason and efficiency. This Union of enlightened scientists and philosophers seeks to bring order to the world: a perfect world under its careful guidance. The Technocracy's science holds no room for magic. Its world would stifle creativity, chance and wonder in exchange for perfect security. Some in the Union hope to protect humanity from the dangers of the supernatural, while others hate that which they cannot fathom. Through super-science and social manipulation the Technocracy stamps out magic in favor of a controlled world. Six billion humans become numbers and resources to the enlightened scientists whose goals are so grandiose that they have lost sight of the individual.
Read more about the Conventions
Purchase
Buy Mage: The Ascension Revised Edition products from White Wolf on DriveThruRPG
See Also: