Gen (Pros and) Cons [Monday Meeting Notes]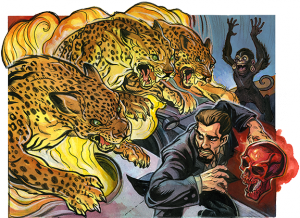 Hi, everybody!
It's good to be back after a week away post-Gen Con. So I'm going to tell you a little bit of what went on there, from my point-of-view, of course, but I'm also going to intersperse some quotes from some of our Onyx Path folks who were there helping us.
Of course, the first big thing we announced there was that we're publishing Chicago By Night for Vampire 5th Edition!
We actually did feel kinda bad that we couldn't tell you about it sooner, in that we do try and keep our inner workings pretty transparent for all of you. This was one of those times where the nature of working with White Wolf on this made it impossible to reveal it until the con. Their efforts and emphasis had to be on getting V5 out as promised, so we put our efforts towards getting V5 Chicago By Night written.
And as you see it mysteriously appear already in Redlines in the Progress Report below, you'll realize we've been rolling on this for a while. Right now, we expect to have the text ready for editing in time to have a Kickstarter for it in October.
Kind of a fitting month, actually.
One of that Kickstarter's goals will be to get this traditionally printed and into stores, where it can join V5 on the shelves. So, that's a cool thing for us to try out with a WoD book, and we're looking forward to how that will work out.
"It's so refreshing to interact with fans in person and hear about all the games that excite you! Every one of our games got some love in conversations I had with you folks, and that was awesome to see. Thanks especially to all those Changeling: The Lost fans who came to chat with me. :)" – Meghan Fitzgerald
Like I mentioned in a previous blog, our booth was across the aisle from White Wolf's this year, and they, of course, were selling Vampire 5th Edition like fanged and bloody hotcakes. Or maybe just "bloodcakes".
Besides V5 Chicago By Night, they announced several other projects from other licensing partners, including V5 Makeup, which was a huge hit with some of the folks I talked with. Others, who seemed to have missed WW's whole "we're going to license all sorts of things for all sorts of fans" stated intentions, felt like this "cheapened" V5.
Back in the day at WW, we licensed out VtM zippos and license plates. Action figures. Just sayin'.
The gang at the WW booth were also fantastic at directing the throng buying V5 over to our booth where Mighty Matt McElroy had arranged that entire side of our booth with our 20th Anniversary WoD books on display. That worked really well, and further illustrated how the current team from WW are both gracious and fun to be next to for many, many, hours!
"I really enjoyed talking to fans about Pugmire, Monarchies of Mau, Fetch Quest, and Dystopia Rising: Evolution! I love watching people have fun around a table, and this year I got to see that directly, which is always wonderful. I just wish I had more time to talk to everyone and do everything!" – Eddy Webb
Our demo tables in the booth were really well attended, particularly on Saturday, and we were really glad to be able to walk folks through different games. I think this is even more important with games like Fetch Quest which is very much a card game, or They Came From Beneath the Sea! which adds a bunch of fun extras to the base Storypath System in order to create an "enhanced" TTRPG experience. It really helps to play through them a bit.
We're used to getting gasps and excitement with a lot of our demos, it's great to hear that both of these two games also had demo players laughing, as well.
We shared our booth with our friends from Eschaton Media, the Dystopia Rising creators, and not only were they great booth-mates who really helped make booth tear-down a breeze, but we were able to trade some fantastic ideas about rewards and stretch goals for our Dystopia Rising: Evolution RPG Kickstarter coming up next week. We think fans of our RPGs and fans of their previous DR projects like the LARP are going to find this Kickstarter pretty interesting!
We were also able to talk about the challenges of running a "franchise" business model for their LARPs, which is similar to licensing each venue out (as opposed to the "fan club" method used by old WW), and how they continue to evolve that system.
Since I am always trying to find ways for Onyx Path to evolve and improve, it is really good to be able to compare notes with folks who are also able to clearly look at how they did things in the past and actively try and improve on them. Maybe more on that at a later time.
"It's always wonderful to interact directly with our fans and customers. I found myself answering a whole load of questions about They Came From Beneath The Sea! and V5: Chicago By Night, but also being able to just chat away about all our other games and roleplayer experiences is a joy. I had the chance to run several games, including They Came From, Pugmire, and Wraith 20 at the booth, and even Werewolf: The Forsaken in the hotel bar! In all, I had a fantastic, busy convention." – Matthew Dawkins
We also announced our latest license, Legend Lore, based on the comic book world of "The Realm" and "Legend Lore" from Caliber Comics. The system is going to be D&D 5e based, and we're sorry if an early press release said something different, but there is one key aspect of Legend Lore that we think will make it a very unique game.
The primary setting plot point is that the protagonists are people from our world transported to the fantasy world of Legend Lore. Now this is a pretty common trope in the fantasy fiction genre, but less so for TTRPGs. And pretty much the basis for that translation that I've seen in other games was to look at things like your Strength stat and ask how many weights you can bench press, or your real world IQ translated between 3 and 18.
We're not doing it that way. More on how we are doing it as the book begins to be previewed. We're also keenly aware of not minimizing anyone's real-world challenges and disabilities. More on that too, in the months to come.
"As always, fans are why we do this Con, whether it was meeting fans of our stuff for the first time, making new ones out of interested folks, or seeing old friends after yet another year." – Neall Raemonn Price
Our "What's Up With Onyx Path?" panels went really well (although I had to miss most of the second one on Saturday), with some really excellent Q&A after the big points announcements. That was where we could delve deeper into the specific projects folks in the audience wanted to hear about. Both the "Freelancing for Onyx Path" panel and the "Developer Bootcamp" were super well attended and folks seemed really engaged.
Dixie, Matthew, and Eddy recorded both the "What's Up With Onyx Path?" panels and edited them together into a semi-coherent whole that went up on the Onyx Pathcast last Friday. As always, you can hear them on PodBean or your favorite podcast venue.
They had to edit them, though. Even though we didn't have whole swathes of the recording drowned out by trains like in previous years, we still had some outside noise break through, and I'm sure I talked away from the mic plenty of times!
"It's always such an amazing feeling to get to interact with new and old fans, as well as my peers in the gaming industry I don't get to see often. I love how excited everyone was! Thank you to everyone who stopped by the booth to chat or say hello." – Dixie Cochran
Like every year, there's never enough time to talk with everyone on a business level – nevermind all the friends and members of our community who want to chat and catch up. Like last year in particular, I think you'll be seeing some amazing results from a bunch of the meetings and chats I did have as the year progresses. But there's not a lot of details I can share.
In general, I talked with several translation partners about pretty much all of our game lines, sat down to hear a bunch of pitches for new games or licenses, discussed our upcoming art needs with several of the illustrators in attendance there. I had a very quick but very focused meeting with Jaunty James Bell, our Kickstarter Concierge in order to be sure that he was still loving his job. He is.
I counseled way too many creators with Imposter Syndrome, a different depressed artist, and let an old and dear friend know that I was going to be a grandparent like she has been for a few years already. "Any tips?"
I was sitting in the Indy airport finishing my last blazing shrimp cocktail and wondering how that thing we had planned for for so long could have gone by so fast. It is just so packed with sights and conversations and games and late nights and early mornings.
It's Gen Con, baby!
Here's a handy link list from Impish Ian Watson, who set up the blog last week. Thanks, Ian, and also to Matthew Dawkins who wrote the texty part.
Check them out and see the proof of our motto:
Many Worlds, One Path!
BLURBS!
KICKSTARTER:
Our next Kickstarter will be for Dystopia Rising: Evolution starting on Wednesday the 22nd at 2pm EDT.
ELECTRONIC GAMING: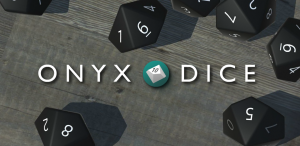 As we find ways to enable our community to more easily play our games, the Onyx Dice Rolling App is now live! Our dev team has been doing updates since we launched based on the excellent use-case comments by our community, and this thing is both rolling and rocking!
Here are the links for the Apple and Android versions:
http://theappstore.site/app/1296692067/onyx-dice
https://play.google.com/store/apps/details?id=com.onyxpathpublishing.onyxdice&hl=en
Three different screenshots, above.
ON AMAZON AND BARNES & NOBLE:
You can now read our fiction from the comfort and convenience of your Kindle (from Amazon) and Nook (from Barnes & Noble).
If you enjoy these or any other of our books, please help us by writing reviews on the site of the sales venue you bought it from. Reviews really, really help us with getting folks interested in our amazing fiction!
Our selection includes these fiction books:
OUR SALES PARTNERS:
We're working with Studio2 to get Pugmire out into stores, as well as to individuals through their online store. You can pick up the traditionally printed main book, the Screen, and the official Pugmire dice through our friends there!
https://studio2publishing.com/search?q=pugmire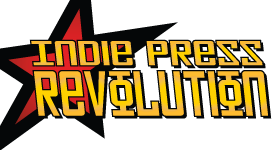 Looking for our Deluxe or Prestige Edition books? Try this link! http://www.indiepressrevolution.com/xcart/Onyx-Path-Publishing/
Here's the link to the press release we put out about how Onyx Path is now selling through Indie Press Revolution: http://theonyxpath.com/press-release-onyx-path-limited-editions-now-available-through-indie-press-revolution/
And you can now order Pugmire: the book, the screen, and the dice! http://www.indiepressrevolution.com/xcart/manufacturers.php?manufacturerid=296
SPECIAL W20 and M20 SALE! Huge savings on our Deluxe printing overruns until 8/31!
https://www.indiepressrevolution.com/xcart/Deals-and-Specials/
DRIVETHRURPG.COM: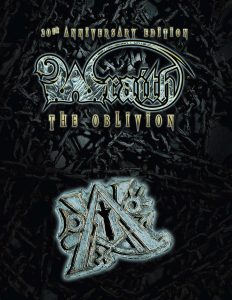 This Wednesday, we will release a series of Wraith: The Oblivion Journals on RedBubble!

CONVENTIONS!
From Fast Eddy Webb, we have these:
If you are going and want to meet up, let us know!
---
And now, the new project status updates!
DEVELOPMENT STATUS FROM FAST EDDY WEBB (projects in bold have changed status since last week):

First Draft (The first phase of a project that is about the work being done by writers, not dev prep)
M20 Book of the Fallen (Mage: the Ascension 20th Anniversary Edition)

C20 Novel (Jackie Cassada) (Changeling: the Dreaming 20th Anniversary Edition)

M20 The Technocracy Reloaded (Mage: the Ascension 20th Anniversary Edition)
M20 Victorian Mage (Mage: the Ascension 20th Anniversary Edition)
Trinity Continuum: Aberrant core (Trinity Continuum: Aberrant)
Tales of Excellent Cats (Monarchies of Mau)
Scion Companion: Mysteries of the World (Scion 2nd Edition)
City of the Towered Tombs (Cavaliers of Mars)
Night Horrors: Nameless and Accursed (Mage: the Awakening Second Edition)
Heirs to the Shogunate (Exalted 3rd Edition)
Witch-Queen of the Shadowed Citadel (Cavaliers of Mars)
Redlines
Deviant: The Renegades (Deviant: The Renegades)
Spilled Blood (Vampire: The Requiem 2nd Edition)

CofD Dark Eras 2

(Chronicles of Darkness)
Changeling: The Lost 2nd Companion (Changeling: The Lost 2nd)
V5 Chicago By Night (Vampire: The Masquerade)
Second Draft
WoD Ghost Hunters (World of Darkness)
Tales of Good Dogs – Pugmire Fiction Anthology (Pugmire)
Aeon Aexpansion (Trinity Continuum: Aeon)
C20 Players' Guide (

Changeling: the Dreaming 20th Anniversary Edition

)
In Media Res (Trinity Continuum: Core)
Changeling: The Lost 2nd Jumpstart (Changeling: The Lost 2nd)
Wr20 Book of Oblivion (Wraith: The Oblivion

20th Anniversary Edition

)
Lunars: Fangs at the Gate (Exalted 3rd Edition)
Adventures for Curious Cats (Monarchies of Mau)
Development
Signs of Sorcery (Mage: the Awakening Second Edition)

Hunter: the Vigil 2e core (Hunter: the Vigil 2nd Edition)

Fetch Quest (Pugmire)

CofD Contagion Chronicle

(Chronicles of Darkness)
Dystopia Rising: Evolution (Dystopia Rising: Evolution)
Night Horrors: Shunned by the Moon (Werewolf: The Forsaken 2nd Edition)
Manuscript Approval:
Editing:
They Came From Beneath the Sea! Rulebook (TCFBtS!)
Dog and Cat Ready Made Characters (Monarchies of Mau) (With Eddy)
Post-Editing Development:
Scion: Hero (Scion 2nd Edition)
Trinity Continuum Core Rulebook (The Trinity Continuum)
Trinity Continuum: Aeon Rulebook (The Trinity Continuum)
Ex Novel 2 (Aaron Rosenberg) (Exalted 3rd Edition)

Exalted 3rd Novel by Matt Forbeck (Exalted 3rd Edition)
GtS Geist 2e core (Geist: the Sin-Eaters Second Edition)
M20 Gods and Monsters (Mage: the Ascension 20th Anniversary Edition)

Night Horrors: The Tormented

(Promethean: The Created 2nd Edition)
Guide to the Night (Vampire: The Requiem 2nd Edition)
Indexing:
ART DIRECTION FROM MIRTHFUL MIKE:
In Art Direction
Dystopia Rising: Evolution – KS finals rolling in.
VtR: Guide to the Night
M20: Gods and Monsters 
Geist 2e

The Realm
Trinity Continuum (Aeon and Core)
Ex3 Monthly Stuff
Ex3 Dragon Blooded

Marketing Stuff
In Layout
Scarred Lands Trilogy Novels – Converting to PDF and PoD.
PTC: Night Horrors: The Tormented
Fetch Quest
Cav cards

Proofing
At Press
Changeling: The Lost 2e – 

incorporating errata and getting it ready for indexing.

Monarchies of Mau – 

Press proofs signed off… now printing.

Scion Origin – Out gathering errata.
Cavaliers of Mars – Printing.
Wraith 20th – 

Prepping the Deluxe files.

Monarchies of Mau Screen – Printing.
Cavaliers of Mars Screen – Printing.
Wraith 20 Screen – Printing.
Scion Dice – At fulfillment shipper.
---
TODAY'S REASON TO CELEBRATE: And we're back! A bunch of us got some down time after/during Gen Con, and we're feeling gooood.