George Washington Was A Hunter! Now It Can Be Told! [Monday Meeting Notes]
In honor of his birthday being celebrated today in the US, we can now reveal that the first US President, George Washington, was a feared foe of the supernatural!
When they said that he "had wooden teeth", that wasn't literal. It was a code and a metaphor for how many vampires he had impaled with sharpened wooden weapons. We're still working on what is meant when he's said to be "made of radiation".
Actually, I have no idea if George shows up in Hunter: The Vigil 2nd Edition – but I do know that HtV2e's Kickstarter campaign is well over 200% funded and moving right along.
Thanks to everybody who has backed so far, and we really appreciate your thoughtful comments! The KS Comments page has been filled with cool ideas for Hunter games, as has our Forums here at Onyx Path central. Keep those comments coming, folks! I know that developer Monica Valentinelli has been keeping notes for her final dev pass.
No promises that she can or will tweak anything before layout, but I'm sure that once we get the Backer PDF out, she'll look at those notes as well as errata from backers.
Which reminds me to remind you about a few things with our Kickstarters!
First, and this applies to our Advance PDFs like the recently released Night Horrors: Spilled Blood for Vampire: The Requiem 2e as well, we include a link to an errata sheet specifically because we want to catch layout glitches, terminology misuse, confusing or contradictory setting or rules info, missing info (especially when the text might be bringing an element of one edition into the newest edition), and more.
So, since we're looking for those sorts of things, it'd be really helpful if folks chose to send us the things that don't quite add up via the errata link. Because the Advance PDF, the Backer PDF, and the Kickstarter Preview Text, are not the unalterable text you might once have purchased as a book in a store. Although, if nobody sends us errata about a problem, and we don't independently catch it, it will soon be locked into final book form – that's why I ask.
Another thing about our Kickstarters, is that we are aiming for our next one to be for our new Legendlore TTRPG game book. More on that in the next couple of weeks as we head towards that KS.
Here's a reminder for folks who need help with their Kickstarters: Jazzy James Bell is the guy to talk to for all your Kickstarter needs. He has been running them since Cavaliers of Mars' KS several years ago. And if you do use the Contact link on one of our Kickstarters, that message goes to James. I know my name is still on half the KSs we do, but that's because our original account was in my name.
When I set it up, I wasn't even sure I could just use Onyx Path as the KS Creator. It was that long ago! So now, today, we have a Rich Thomas KS account and an Onyx Path KS account. Which means that James can set up a KS on one account while the other has a KS running on it. This is very helpful for us in terms of avoiding massive downtime between KSs.
Because everybody has an idea of what new Kickstarter campaigns we should run for their favorite games. We can't (and won't) be able to have every project folks want a KS for, but we can time out the ones we are doing more efficiently.
Which might mean we get one more run that we normally would have in a year, but which absolutely means that James (and all our crew, but James in particular) has the time and isn't too exhausted to run them!
What Happens After All These Kickstarters?
Thank you for asking! We have a perfect example right now with V5 Chicago By Night having shipped out to backers last month. This week, Chicago is live in stores and with that happening, we'll be releasing the PDF/PoD versions on DTRPG this Wednesday!
Let me break that down: The Kickstarter backers received their backer reward copies of the V5 Chicago By Night traditionally printed hardcovers. Meanwhile, our two sales partners, Studio2 in the US, and Modiphius for everywhere else, solicited the game distributors and retailers.
This week, the stores who ordered during that solicitation have or are getting their books so they can sell them in their stores. Also, on Wednesday, we open the PDF and physical book PoD versions up for purchase on DTRPG. So, at that point, you can get the traditionally printed version from stores, including online ordering from our friends at Indie Press Revolution, and if you prefer, the PDF and PoD versions can be ordered from DTRPG.
All those venues are so that our community can get their avid hands on this absolutely superb V5 version of Chicago By Night (in a lot of ways it best shows how the ideas in the first three core books can be concretely utilized around your table) in the version you most prefer for your enjoyment. And believe me, there is a lot to enjoy in this book!
As you can tell, it's kind of a big thing for us.
Tell Me About This Blog!
Finally, it's my bi-annual request for feedback on this blog itself. What feature do you always read? Which one do you skip past every week?
It's OK to say you skip all of my actual blog each week. Really. I'll just be in the corner, sobbing.
Although actually, if you do skip it each week, then you won't notice this request for feedback, so I'm in the clear!

But, if you can, please do be honest in your thoughts on what is working, or not, here on the blog. I've got some ideas for changes, but I don't want to take anything away from you, our loyal readers, that a lot of you are actually enjoying, but I'm not hearing about
That way, we can be sure you're getting the info you need to explore our:
Many Worlds, One Path!
---
BLURBS!
---
Kickstarter!
Hunter: The Vigil 2nd Edition for Chronicles of Darkness is still ferociously on the hunt! We funded and are shooting right through Stretch Goals, like the Storyteller Screen Stretch Goal and the Tending the Flame: Cells chapter for the Hunter Players' Companion! With lots more to come!
---
Onyx Path Media!
This Friday's Onyx Pathcast features an interview with writer and creator Josh Heath. Josh is writing for Onyx Path, and is also putting up all kinds of projects on our Community Content sites like Storypath Nexus and Pugmire's Canis Minor, and other sites! As always this Friday's Onyx Pathcast will be on Podbean or your favorite podcast venue! https://onyxpathcast.podbean.com/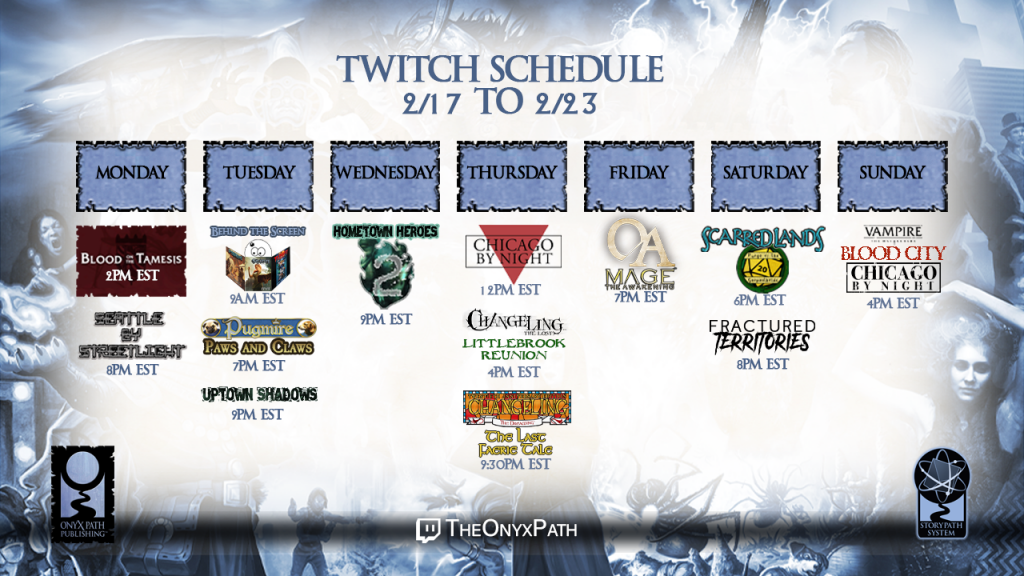 Another jam-packed schedule for you on Twitch this week! You can look forward to Vampire: The Masquerade, Chronicles of Darkness, Scion, Pugmire, two fantastic, new chronicles of Hunter: The Vigil 2nd Edition, MORE Vampire: The Masquerade, Changeling: The Lost, Changeling: The Dreaming, Mage: The Awakening, Scarred Lands, Werewolf: The Forsaken and a third Vampire: The Masquerade game!
Our Twitch stream has never had so much content.
A special shout-out to both of the Hunter: The Vigil games running this week, which along with the Kickstarter are drawing quite an audience! You can subscribe to our channel over on twitch.tv/theonyxpath to catch up with any episodes you missed!
Come take a look at our YouTube channel, youtube.com/user/theonyxpath, where you can find the following videos uploaded last week alone:
Hunter: The Vigil Hometown Heroes: https://youtu.be/8dqdt6sy6Ws
Eddy Webb's Workshop: Dystopia Rising Evolution Development: https://youtu.be/Aj6MRIUQ5Fo
Blood City: Chicago by Night: https://youtu.be/UVHhO-3W7sA
Scion: Behind the Screen: https://youtu.be/AGhw0vOPK-c
Pugmire: Paws & Claws: https://youtu.be/rRTCT1O680U
A special shout-out to the Blood City crew who have been running a fantastic Vampire: The Masquerade chronicle using V5 Chicago by Night. Do check out their chronicle on our YouTube channel!
In case you missed it last week, Ekorren gives us a fantastic deep dive into the Trinity Continuum here in this excellent video: https://youtu.be/Vk0UJbWijtg
More new Occultists Anonymous for all you Mage: The Awakening fans out there:
Episode 80: Collected Thoughts 
With Songbird recovered from his ordeal with a vampire, the cabal reconvene at the Rookery Sanctum and journey into the Temenos. They search tour through Pottery and Art and… Valhalla?!
https://youtu.be/vImtFvc6NPw
Episode 81: Mirror Match 
The cabal continues their travels in the Temenos searching for symbols of Wyrd, and since they're there, maybe a few trophies of their own… 
https://youtu.be/bBVbV9nmd3o
Red Moon Roleplaying continue their actual play of V5 Cults of the Blood Gods, on their YouTube channel, Spotify, their website redmoonroleplaying.com and everywhere else good podcasts might be found! https://youtu.be/hCM3aKucS7s
The Story Told Podcast are on the second episode of their excellent Geist: The Sin-Eaters 2nd Edition – The 78 Laments – game right here:  http://thestorytold.libsyn.com/the-78-laments-episode-2
Please check any of these out and let us know if you find or produce any actual plays of our games!
---
Electronic Gaming!
As we find ways to enable our community to more easily play our games, the Onyx Dice Rolling App is live! Our dev team has been doing updates since we launched based on the excellent use-case comments by our community, and this thing is awesome! (Seriously, you need to roll 100 dice for Exalted? This app has you covered.)
---
On Amazon and Barnes & Noble!
You can now read our fiction from the comfort and convenience of your Kindle (from Amazon) and Nook (from Barnes & Noble).
If you enjoy these or any other of our books, please help us by writing reviews on the site of the sales venue from which you bought it. Reviews really, really help us get folks interested in our amazing fiction!
Our selection includes these latest fiction books:
---
Our Sales Partners!
We're working with Studio2 to get Pugmire and Monarchies of Mau out into stores, as well as to individuals through their online store. You can pick up the traditionally printed main book, the screen, and the official Pugmire dice through our friends there! https://studio2publishing.com/search?q=pugmire
We've added Prince's Gambit to our Studio2 catalog: https://studio2publishing.com/products/prince-s-gambit-card-game
Now, we've added Changeling: The Lost 2nd Edition products to Studio2's store! See them here: https://studio2publishing.com/collections/all-products/changeling-the-lost
Scarred Lands (Pathfinder) books are also on sale at Studio2, and they have the 5e version, supplements, and dice as well!:
https://studio2publishing.com/collections/scarred-lands
Scion 2e books and other products are available now at Studio2: https://studio2publishing.com/blogs/new-releases/scion-second-edition-book-one-origin-now-available-at-your-local-retailer-or-online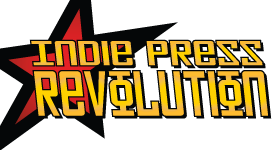 Looking for our Deluxe or Prestige Edition books? Try this link! http://www.indiepressrevolution.com/xcart/Onyx-Path-Publishing/
And you can order Pugmire, Monarchies of Mau, Cavaliers of Mars, and Changeling: The Lost 2e at the same link! And NOW Scion Origin and Scion Hero AND Trinity Continuum Core and Trinity Continuum: Aeon are available to order!
As always, you can find Onyx Path's titles at DriveThruRPG.com!
---
On Sale This Week!
This Wednesday, we will be releasing the PDF and physical book PoD versions of V5 Chicago By Night on DTRPG!
Accept no substitutes: Chicago is the city of vampires.
Claim a haven on the Gold Coast.
Carve a place of this bustling metropolis for yourself.
Subjugate a handful of the living on Michigan Avenue. Take a few deep drinks from some of the intoxicating vessels we have around here.
Discover the nightlife. Come visit the Succubus Club, the Blue Velvet, or Red Noº 5, if they'll let you in. The guest list is pretty damn exclusive.
Introduce yourself to the Ventrue Prince. Get to know his vision. Buy into it. Serve it. Stay on his good side and your immortality is going to be just fine.
Just ignore the purges of Anarchs, Thin-Bloods, and fledglings when it grows inconvenient, yeah? Stay invested in the Camarilla and it'll stay invested in you. Remember who's got your back and who can take that backing away in the blink of an undead eye.
Chicago can be everything for a vampire like you.
You just have to accept Chicago into your heart.
Become a part of the city.
Chicago by Night includes:
A history of Chicago from multiple vampire perspectives and accounts of the domain as it exists in the modern nights, along with systems for how to run this city like the twisted, dysfunctional machine it is
An introduction for the Clan of Night's entry to the Camarilla and rules for playing Lasombra in Vampire: The Masquerade 5th Edition, including their Discipline of Oblivion.
Over 50 individual Kindred with biographies, ambitions, secrets, relationships, and reasons for inclusion in any given chronicle, along with fiction illustrating these characters and key locations around the city.
A multitude of chronicle hooks covering everything from the Beast and the Hunger to Humanity and Hierarchy, and a single large chronicle in which the Lasombra make it their mission to join the elite ranks of the Camarilla.
Coteries illustrating the factionalism of Chicago's Kindred and new coterie examples for your characters.
Loresheets for characters new to or already based in Chicago, providing players easy ways to integrate their characters into the book's many stories.
---
Conventions!
More conventions will be listed for 2020 in the weeks to come-
---
And now, the new project status updates!
DEVELOPMENT STATUS FROM EDDY WEBB (projects in bold have changed status since last week):
First Draft (The first phase of a project that is about the work being done by writers, not dev prep)
Exalted Essay Collection (Exalted)
N!ternational Wrestling Entertainment (Trinity Continuum: Aberrant)
Contagion Chronicle Ready-Made Characters (Chronicles of Darkness)
RUST (Working Title) (Scarred Lands)
Under Alien Suns (Trinity Continuum: Aeon)
Mission Statements (Trinity Continuum: Aeon)
Adversaries of the Righteous (Exalted 3rd Edition)
Novas Worldwide (Trinity Continuum: Aberrant)
Exalted Essence Edition (Exalted 3rd Edition)
The Clades Companion (Deviant: The Renegades)
The Devoted Companion (Deviant: The Renegades)
Saints and Monsters (Scion 2nd Edition)
Redlines
Kith and Kin (Changeling: The Lost 2e)
Dragon-Blooded Novella #2 (Exalted 3rd Edition)
Hundred Devil's Night Parade (Exalted 3rd Edition)
Trinity Continuum: Adventure! core (Trinity Continuum: Adventure!)
TC: Aberrant Jumpstart (Trinity Continuum: Aberrant)
They Came From Beyond the Grave! (They Came From!)
Second Draft
M20 Victorian Mage (Mage: the Ascension 20th Anniversary Edition)
Exigents (Exalted 3rd Edition)
Crucible of Legends (Exalted 3rd Edition)
Many-Faced Strangers – Lunars Companion (Exalted 3rd Edition)
Duke Rollo fiction (Trinity Continuum: Aberrant)
Development
Heirs to the Shogunate (Exalted 3rd Edition)
TC: Aberrant Reference Screen (Trinity Continuum: Aberrant)
Scion: Demigod (Scion 2nd Edition)
Across the Eight Directions (Exalted 3rd Edition)
Contagion Chronicle: Global Outbreaks (Chronicles of Darkness)
Manuscript Approval
Scion: Dragon (Scion 2nd Edition)
Masks of the Mythos (Scion 2nd Edition)
Trinity Continuum Jumpstart (Trinity Continuum Core)
Contagion Chronicle Jumpstart (Chronicles of Darkness)
Post-Approval Development
Scion LARP Rules (Scion)
One Foot in the Grave Jumpstart (Geist: The Sin-Eaters 2e)
Player's Guide to the Contagion Chronicle (Chronicles of Darkness)
Editing
Geist 2e Fiction Anthology (Geist: The Sin-Eaters 2nd Edition)
Dragon-Blooded Novella #1 (Exalted 3rd Edition)
Legendlore core book (Legendlore)
Mythical Denizens (Creatures of the World Bestiary) (Scion 2nd Edition)
Pirates of Pugmire KS-Added Adventure (Realms of Pugmire)
Terra Firma (Trinity Continuum: Aeon)
Deviant: The Renegades (Deviant: The Renegades)
Lunars Novella (Rosenberg) (Exalted 3rd Edition)
Buried Bones: Creating in the Realms of Pugmire (Realms of Pugmire)
Monsters of the Deep (They Came From Beneath the Sea!)
Tales of Aquatic Terror (They Came From Beneath the Sea!)
Mummy: The Curse 2nd Edition core rulebook (Mummy: The Curse 2nd Edition)
Titanomachy (Scion 2nd Edition)
Post-Editing Development
City of the Towered Tombs (Cavaliers of Mars)
W20 Shattered Dreams Gift Cards (Werewolf: The Apocalypse 20th)
Scion Companion: Mysteries of the World (Scion 2nd Edition)
Cults of the Blood Gods (Vampire: The Masquerade 5th Edition)
Hunter: The Vigil 2e core (Hunter: The Vigil 2nd Edition)
Let the Streets Run Red (Vampire: The Masquerade 5th Edition)
M20 The Technocracy Reloaded (Mage: the Ascension 20th Anniversary Edition)
WoD Ghost Hunters (World of Darkness)
Trinity Continuum: Aberrant core (Trinity Continuum: Aberrant)
Lunars: Fangs at the Gate (Exalted 3rd Edition)
Indexing
---
ART DIRECTION FROM MIKE CHANEY!
In Art Direction
Trinity Continuum: Aberrant
Hunter: The Vigil 2e (KS) – Running on KS.
Ex3 Lunars
Cults of the Blood God (KS)
Mummy 2 (KS)
City of the Towered Tombs – Recontracted.
Let the Streets Run Red – Contracted.
CtL Oak Ash and Thorn – Finals coming in this week.
Deviant
Legendlore (KS) – All notes out by today for KS.
Technocracy Reloaded (KS)
Scion Companion – Contacted.
TC: Aeon Terra Firma – Contracted.
WoD: Ghost Stories (KS) – Cover contracted.
Tales of Aquatic Terror
Pirates Extra Adventure – Contracted.
In Layout
Yugman's Guide to Ghelspad – Ongoing.
Scion Mythical Denizens – In proofing but need some full page art to come in.
Contagion Chronicle – With Josh.
Vigil Watch – Art finals coming in today.
TCfBtS!: Heroic Land Dwellers
Night Horrors: Nameless and Accursed – Waiting for cover art, then to proofing.
TCFBtS! Screen and Booklet
Proofing
Dark Eras 2 – Errata being annotated and then back to Aileen.
Trinity Continuum Aeon Jumpstart
They Came from Beneath the Sea! – Off for pageXXing.
Chicago Folio – Out to backers for errata.
Trinity Continuum Aeon: Distant Worlds – Notes back from dev.
Pirates of Pugmire – Gotta go over this today.
At Press
V5: Chicago – PDF and PoD versions on sale at DTRPG this Wednesday!
Geist 2e (Geist: The Sin-Eaters 2nd Edition) – Shipping to backers, PoD files uploaded.
Geist 2e Screen – Shipping to backers.
DR:E – At fulfillment shippers, PoD files uploaded.
DRE Screen – At fulfillment shippers.
DR:E Threat Guide – Helnau's Guide to Wasteland Beasties
Memento Mori – PoD proof ordered.
Trinity Continuum: Aeon RMCs – PoD proof ordered.
Wraith20 Anthology – PoD proof ordered.
---
Today's Reason to Celebrate!
Long time readers of this MMN Blog may note that a lot of Reasons to Celebrate are focused on national US holidays. Which in the US are celebrated on Mondays, due to the Uniform Monday Holiday Act which was put into effect so we in the US could have more official three-day weekends, and our weekly staff meeting that leads into this blog is also on Monday. Today is President's Day. Or Presidents' Day. Or George Washington's Birthday. So, with all due respect to our first president, and according to folklore the man who refused to be king, this is a weird one:
Even though George Washington's birthday was February 22nd, the day is officially celebrated on the third Monday in February.
Even though Presidents' Day is a federal holiday, each state is free to call it what they choose and how to celebrate.
Washington's Birthday can never occur on the public holiday. Under the Gregorian calendar Washington's Birthday was 22 February, but the holiday is observed on the third Monday in February, which cannot occur any later than February 21.
Like I said, weird. But that in and of itself is Reason to Celebrate! Let's hear it for a bit of weird in the midst of everything else we deal with!