Heart of Ice? [Monday Meeting Notes]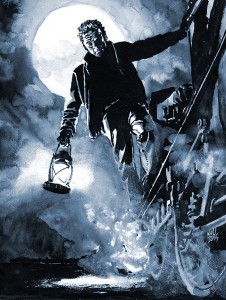 This Monday Meeting we're trapped here by freezing rain coating the roads with a loverly slick surface, so once again I love that we can Skype our Onyx Path meetings and don't have to commute to an office. This also is a vital tool, when, like this week and a bit of last, Rollickin' Rose and I are calling each of our developers in turn to talk about the upcoming couple of years' releases. If you recall, we did a whole Pitch Season a few months ago, and then submitted those pitches (after discussion) to CCP for their OK to proceed. Now we're coming back to the devs to make sure we're all in agreement on what we'll be doing.
And for those bigger projects that require more time, we may even be starting preliminary work now for 2016. In fact, part of what Eddy and I discussed today was how we will be proceeding on a Very Important Project for that year, and setting up a time for he and I to discuss creating the "conceptual borders" prior to reaching out to different folks we want to get together as our brain trust of folks who love the game line we're working on. I usually borrow a phrase from Alan Moore for this phase of game conceptual design: "high altitude mapping". Getting the big picture scoped out so you can zoom in on more and more details as the project moves ahead. This is all pre-outline, which is in turn pre-writing, so still very early on. Which is where it belongs.
The nWoD Dark Eras Kickstarter has reached that part of the lifecycle of a Kickstarter where folks kind of drift in and out, so if you like the idea of different historical periods and even more you love the idea of the community determining which eras will be added beyond the original ones, then please spread the word on your social media and to all your friends and acquaintances. Hey, tell perfect strangers about it if that works for you! The thing is, we're in great shape to make the book right now thanks to our current backers, but if you, the community, want even more eras, then we need to get pledges that raise the totals to hit the Stretch Goals. If you need to point folks to a spot with a nice overview, and a couple of pieces of art not on the KS page, then there's this page at GeekNative:
http://www.geeknative.com/51184/exclusive-art-inside-world-darkness-dark-eras/
And this interview where Rollickin' Rose Bailey, Black Hat Matt McFarland, and I talk about the ideas behind Dark Eras:
http://www.gamer-xp.com/unraveling-a-myriad-of-secrets-interview-with-the-world-of-darkness-dark-eras-team/
We've got more than two weeks to go, so spread the love!
If you are a classic Vampire: the Masquerade fan, I also want to point out that we are teamed up with Bundle of Holding again, this time to offer discounted bundles containing VtM 2 and Revised PDFs. What we love about these is that they're a great way to pick up classic PDFs while contributing to an excellent charity. Here's the link for the page:
http://bundleofholding.com/index/current/name/Vampire2015
Wow, that's a lot of links today. Well, we've been busy, and there's more to come. As you can tell below, we have many cool projects coming up and a couple of very big books are getting very close to being ready to PDF. Mage20, V20 Dark Ages, and Werewolf: the Forsaken 2nd Edition are all coming through layout, and as hard to believe as it is, Exalted 3rd Edition is at the start of layout. We're all incredibly filled with excitement about getting these books out to you all, and appreciate your patience while we wrestle through such big tomes. We think you'll love them once we can get them to you.
And, of course, we love making all of these for you:
DEVELOPMENT STATUS FROM ROLLICKING ROSE (Projects in bold have changed listings)
First Draft (The first phase of a project that is about the work being done by writers, not dev prep)
W20 Pentex Employee Indoctrination Handbook (Werewolf: the Apocalypse 20th Anniversary Edition)
M20 Book of Secrets (Mage: the Ascension 20th Anniversary Edition)
Cursed Necropolis: Rio (Mummy: the Curse)
Secrets of the Covenants (Vampire: The Requiem 2nd Edition) – In Open Development
Exalted 3rd Novel by Matt Forbeck (Exalted 3rd Edition)
Demon Storytellers' Guide (Demon: the Descent) Extension to writers was given.
Beckett's Jyhad Diary (Vampire: the Masquerade 20th Anniversary Edition)
M20 Anthology (Mage: the Ascension 20th Anniversary Edition)
Demon Translation Guide (Demon: the Fallen and Demon: the Descent)
Changeling: the Lost 2nd Edition, featuring the Huntsmen Chronicle (Changeling: the Lost 2nd Edition)
nWoD Hurt Locker (World of Darkness 2nd Edition)
Pugmire (Be a Good Dog.)
Redlines
Mummy Fiction Anthology (Mummy: the Curse)
Arms of the Chosen (Exalted 3rd Edition)
Mage: the Awakening  2nd Edition, featuring the Fallen World Chronicle (Mage: the Awakening) – In Open Development
W20 Novel by Mike Lee (Werewolf: the Apocalypse 20th Anniversary Edition)
Wraith: the Oblivion 20th Anniversary Edition
W20 Changing Ways (Werewolf: the Apocalypse 20th Anniversary Edition)
"Sardonyx" System Rules (Base rules set for Scion and the Trinity Continuum)
Second Draft
Beast: the Primordial core book (Beast: The Primordial)
V20 Black Hand: Guide to the Tal'Mahe'Ra (Vampire: the Masquerade 20th Anniversary Edition)
W20 Shattered Dreams (Werewolf: the Apocalypse 20th Anniversary Edition)
Development
V20 Red List (Vampire: the Masquerade 20th Anniversary Edition)
V20 Ghouls (Vampire: the Masquerade 20th Anniversary Edition)
Promethean: the Created 2nd Edition, featuring the Firestorm Chronicle (Promethean: the Created) Being playtested.
M20 How do you DO that? (Mage: the Ascension 20th Anniversary Edition)
Editing
Development (post-editing)
V20 Lore of the Clans (Vampire: the Masquerade 20th Anniversary Edition)
Exalted 3rd Fiction Anthology (Exalted 3rd Edition)
Sothis Ascends (Mummy: the Curse)
ART DIRECTION FROM MIRTHFUL MIKE
Sothis Ascends –  Sketches are in for everything but fulls. Thus far good to go.
Book of the Wyrm 20 – Fixed the Deluxe cover

on Friday

. Hopefully it works this time.
DAV20 –  Got CCP comments in and will spend the next couple of days implementing. Also putting together the screen (and probably wallpapers as well).

T-Shirts – Holding pattern until the log jam is cleared out a bit.
Art O' The Changin' Breeds –   Mage still a priority.
Fallen World Chronicle Anthology – I'll ping Dave about getting the errata ready so we can finish this one out. http://rpg.drivethrustuff.com/product/143174/The-Fallen-World-Chronicle-Anthology
WtF 2 – Sto working on it. We had to replace Abrar.
Scarred Lands –  Cover for [REDACTED] finished.

Wraith 20 – Getting Mr Cobb started on remaining Guild logos.
M20 – Proofing to Phil.

Dark Eras – KS rolling along. (see above)

V20 Lore of the Clans – More sketches coming in as well as some of the finishes.
Lore of the Deceived – got text in this morning and went ahead and knocked it out as it was only 11 pages. Sending proof off to Colin today.
M20: How Do You Do That? – got art notes from Phil for everything now. Going to start putting together the art buy for that after I get DA wrapped up.
EX3- RichT here, once again tagging onto Mirthful Mike's report: the last few pieces of art are still coming in. Maria and I went over her first "drop the text in" proof and made several significant decisions on fonts and sizes and sent that version, which had reduced the page count dramatically, back to the Devs for more extensive text revision. Maria has some beautiful ideas on different page borders for each chapter which still hold together with a single design aesthetic that she can now match to the text.
REASON TO DRINK: Absinthe makes the heart grow fonder…happy Valentine's Day.