Holiday Greets from Onyx Path [Monday Meeting Notes]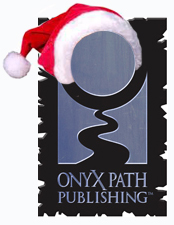 Like I mentioned last week, we're off this week until the new year, or New Year, so here are a collection from a bunch of our Onyx Path crew thinking back on the year that was.
From Mirthful Mike Chaney, art director and graphic designer and the cursing, cantankerous, combustible, engine that keeps Onyx Path going:
The Goodz:
Pugmire is not only out but being well received. We delivered a beautiful book to the backers and marketplace… and I think we got it out ahead of schedule as well… despite making 60+ corrections at the press proof (again, sorry about that Rich).
We successfully KS'd two non WW related IPs this year… Monarchies of Mau and Cavs of Mars.
Exalted is moving again. We have delivered a dozen critters… some NPCs… a Jumpstart and the first real supplement to fans (although the PoD version will hit in 2018).
We wrapped up a couple of lingering KS's … namely V20 Dark Ages and Book of the Wyrm.
I survived making Beckett's Jyhad Diary.
We successfully KS'd our first CofD 2e line… and it did really well. CTL 2e outdid every CofD KS that has come before… and that gives me hope that HtV2 will also do well this year.
The Badz:
Losing Stew. Still having trouble really processing that one.
Artist losses earlier in the year. We ended up losing a chunk of non WoD/CofD artists in Q1 and Q2. None of it was our fault… some artists went onto bigger and better projects (which is a good thing). Then we had those who decided that they wanted double their original rate… 

From Monica Valentinelli, our marketing consultant par excellence and an outstanding freelance writer and developer:
2017 was significant for OP because this was the first year we released a creator-owned game, Pugmire, while focusing on delivering what we promised via our Kickstarters. We were also able to strengthen our partnership with White Wolf, and Beckett's Jyhad Diary is one title that is representative of that collaborative effort. This year we also met a lot of new fans who'd never heard of Onyx Path before, and because we planned for bigger outreach with our expanded catalog this year we were able to quickly get the word out about what we do. That, coupled with new additions to our staff, means we've been able to adapt and take advantage new opportunities more quickly than we could have with fewer people. It was definitely a year of both change and growth, and we take the lessons we've learned to plan for 2018.
Fast Eddy Webb, Pugmire creator and our "Develop-At-Large", and the guy that kept White Wolf alive through the CCP years, has some thoughts:
Wow. 2017 has been a rollercoaster ride of emotion, in both the worst and best ways possible. On a personal level, it's been a chaotic year. Two international moves (one from the US to Ireland, and one back) hammered at my zen like a stubborn nail in a plank of wood. As much as we loved living in the Republic of Ireland, it was clear that now isn't the right time for us as a family to make that move, which is why we're now back in the States. Further, we lost our beloved Murray (inspiration for Senechal Murra of Pugmire) to a heart attack in late September. I'm writing this months later, and I still sometimes have nightmares about that night. I still miss him terribly.
It hasn't been all doom and gloom, however. For one thing, living in Europe for six months was amazing. I got the chance to meet a number of Irish fans and peers while I was here and at conventions like Gaelcon. Further, I reconnected with my English friends at Dragonmeet in Hammersmith, London. I visited some amazing places during my time here, and picked up some idioms that will probably stay lodged in my vocabulary for years. Oh, and I gained an appreciation for Jameson and Smithwick's.
But most of all, 2017 was the year when Pugmire went from being a thing in my head to a real, serious product line. The RPG came out on time in both PDF and physical copies, and it has already got a lot of positive comments at Gen Con and PAX Unplugged. More people asked for my autograph and my picture at this years Gen Con than in the past five years combined. Plus I got to hear so many great stories about people's dogs — it's like hearing about your character, but with dogs, which makes it better.
And we laid the groundwork for a great 2018. Everything from small-but-important strategic projects (like the Pugmire jumpstart) to big-and-exciting releases (like the Canis Minor community content program) will really help take Pugmire to the next step. Plus we're hard at work on adding to the world of Pugmire, with products such as Monarchies of Mau and Fetch Quest.
Finally, I've been laying the groundwork for a new edition of a beloved game next year… but that's a conversation for another time. (Here's a hint, though: It's not a game Onyx Path has ever published before!)
Yes, 2017 was a rollercoaster of emotion. Obviously, the loss of Murray and the stress of two major moves hit me and my family hard. But we know deep down that Murray and all of his friends continue to live on in the kingdom of Pugmire. And knowing that the game he inspired has reached so many hearts besides mine means the world to me. For that, I'll always remember 2017 as the year when I truly understood what Pugmire could be.
Here's Mighty Matt McElroy, our Operations Manager as well as an encyclopedia of WoD knowledge, and a maestro of RPG biz insider info:
2017 was my first year full time with Onyx Path, although I'd been a freelancer as a developer, editor, writer, and a few other things ever since OPP started. It has been quite a year. We launched several Kickstarters, continued our efforts to release at least one new product every Wednesday, attended a lot of conventions (more on that later) and have big things planned for next year. Some highlights:
Pugmire and Cavaliers of Mars:
I might be a bit biased as these are new games from Onyx Path, but I'm really excited we released Pugmire and had a great kickstarter for Cavaliers of Mars this year. Great games designed by awesome people.
Conventions:
Onyx Path went to more conventions this year than any year previously. Our year always starts with a great time at Midwinter Gaming Convention in Milwaukee, WI. We had a huge booth with White Wolf at Gen Con 50, and then again we shared space with them at PAX Unplugged last month. We also dropped by GameHoleCon for the first time this year with lots of Scarred Lands, Exalted, and Pugmire demos.
We're reviewing and revising our convention strategy for the team and likely making some changes based on how this year's shows went (so be sure to let us know what your favorite conventions are).
And finally, just myself, your fearless leader, RichT:
2017 was very much a transitional year for Onyx Path. We had planned out a five-year plan and 2016 was our sixth year of publishing, so we started adjusting what we were doing and with who. We no longer needed to be the heralds refuting that "White Wolf Is Dead!", as the newly formed White Wolf was already letting people know that they were around.
We instead were able to start focusing our message on the amazing worlds we're creating projects for; the WW licensed games of WoD, Chronicles of Darkness, and Exalted, our creator-owned game lines of Pugmire and Cavaliers of Mars, and our own settings of Scion and the Trinity Continuum, as well as our newest game: They Came From Beneath the Sea! All three powered by our new Storypath System.
We adopted the motto of "Many Worlds, One Path", and it's true!
We actually went light on Kickstarters in 2017, really just ones that extended the kinds of projects we can do because  it was important to stretch that capability, but concentrated on fulfilling as many of the KSs we had already run as possible. We also extended our reach into Amazon with our fiction waves, and into the Apple and Google stores with the Onyx Dice Rolling App.
Pugmire led the way into selling our books in stores for the first time, and we started a relationship with Studio2 to make that happen in a way that makes sense for us, not just to get into stores willy-nilly.
Internally, we saw some developers leave for various reasons, and new devs step up and handle things, while we began to work with Eddy as a full-time freelance developer who could help out any dev that needed a hand. Which he did, in order to get several projects moved forward. Jammin' James Bell was brought on to run our Kickstarters, and trained up fantastically in 2017 in preparation for a strong raft of KSs in 2018.
Beyond the business strategies, it was a tough year for everyone and a lot of our creative teams struggled with creating excellent projects while being buffeted left and right by the winds of life (and social media). Onyx just tried to stay on course, not get get overwhelmed by, oh, everything going on in the real world and even our unreal world of tabletop gaming, and to avoid getting embroiled in internet conflict.
I'd like to think we did well, and that we're sailing into 2018 stronger and better set up to create awesome new projects than we were this time last year. There's some things I would have liked to have done better, but I'll tackle those items in a post after the New Year.
Thanks everyone for facing front like the true-believers that you all are, because we just can not do what we do without all of you…I'll talk to you next year!