Including All and Sundry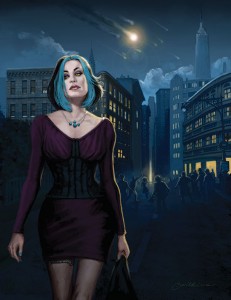 Above, you'll see the cover to the Flowers of Hell: The Demons Players Guide by one of my favorite nWoD artists, Cathy Wilkins. The fact that when we first started working together it was a lot rarer for women to be illustrators in RPGs than now, leads me to this week's blog. I mentioned last week that there was a bit of a to-do about a paragraph in the new D&D 5th Edition rules essentially stating outright that all genders and sexual preferences can play the game and the types of characters they want to play. Which (inevitably) resulted in some outrage that such a paragraph is pandering to "fringe" concerns, and some that D&D is no place for any mention of sex, and some folks are angry that Hasbro didn't phrase the paragraph as strongly or correctly as they could have.
Well, my guess is there's a huge percentage of people who aren't going to give that paragraph a second thought. I suppose that's human nature and interaction in the internet age, but the fact is that the paragraph isn't there for those people. It's for those gamers who never felt welcome or represented by D&D before. It's an open door and an explicit message that there's room at the table for everyone. And that is an excellent message for all of us who love and enjoy tabletop RPGs.
I made the mention last week, because I was going to talk about how important I think a philosophy of inclusion is to our hobby of misfits. Although I will say that my personal preference is to demonstrate this philosophy in the depiction of the worlds and characters Onyx Path publishes, rather than an overt editorial block of text. I like the idea that gamers see and read about characters they can relate to and identify with in the books. But then, we have White Wolf's history of inclusion (with a few missteps) to lead into our own efforts, so I'm not faulting the approach in D&D 5.
At White Wolf back in the day, the idea to include races, genders, etc outside of our mostly white, mostly male, mostly straight, mostly middle-class demographic of creators wasn't a tenet imposed from on-high, it was a by-product of our gang writing about what concerned them and they saw every day in their lives. Onyx is set up to allow our creative teams the same ability to write about the issues that concern them in our real world within the game worlds. My hope is that by actually working with a diverse group of creators, a variety of world-views will work their way into the games, and that you, whomever you are, will find something to recognize and enjoy within the pages.
Similarly, my intention is that the forums and blogs here on our Onyx Path site, as well as the comments sections on our FB pages, can be places where our entire community feels that they can talk without being attacked. Hence, a very large part of the moderation done by Rose, Ian, and the Mods, is designed to keep conversations civil. That can sometimes be a tough line to walk, particularly because our games mean a lot to a lot of people and generate very strong feelings.
Sometimes those feelings are based on politics, or community inclusiveness, or, because we are talking about gaming here, feelings about the games themselves.  We know that and we've done a lot of work to try and bring together our fan community; whether through bringing back the classic WoD settings so that fans of either cWoD or nWoD can enjoy their favorites, or by creating new editions with an eye towards healing the rifts of the Edition Wars.
We're going to make some missteps, too. No doubt about it. Creativity requires pushing the boundaries. Some of you may feel we have gone to far, some that we haven't gone far enough. Particularly because both versions of the World of Darkness are about horror and specifically about exploring personal fear, we may offend or touch on subjects and themes that hit some triggers. This may happen. Yet, I've lost track of the number of folks in our community that have spoken to me about how our games have enabled them to go to those dark places inside, and to face them.
From that level of seriousness, we move to the opposite. Eddy and I talked pretty much half of the time about the above. An Eddy quote: "Issues aren't interesting to play, people are." And the other half was about Gen Con and a special announcement at one of our panels that I'll be teasing more next week in our All Gen Con Prep Edition of this blog.
(Some Pun About Including) These Projects:
– Book of the Deceived (MtC): In Editing. Full page art is coming in.
– Sothis Ascends (MtC): Some text was re-distributed and needs further writing, otherwise in redlines.
– Cursed Necropolis: Rio (MtC): First drafts heading into redlines.
– Exalted 3rd Edition:  From Holden: "Playtest-based overhauls to defensive Charms are finished. Evocation cascades are finished, basic use-rules and setting material at front of section being finished. Antagonists being reviewed. Sorcery has received final review and is off to editing. We are currently neck-deep in art notes." Art notes = the descriptions of what needs to be illustrated created by the devs as guidance and inspiration for the artists.
Both EX3 novels are being worked on, and notes went back on Matt Forbeck's synopsis. The EX3 Music Suites are at a standstill right now until our composer gets through his full time job commitments. Intending to talk to all of these creators at Gen Con.
– V20 Anarchs Unbound: It is live on DTRPG in PDF, ePub, PoD and PDF/PoD combos. http://rpg.drivethrustuff.com/product/127247/Anarchs-Unbound New printer quote requests based on conversations with them and Mirthful Mike for Deluxe version were sent in.
– V20 Rites of the Blood: Advance PDF on sale at DTRPG. (Advance PDF designates a full PDF release, but one where we will take purchasers' comments and fixes and tweak the files before the PDF and PoD are on sale together. Advance PDF purchasers get a discount link for purchasing the PoD version based on the cost of the PDF/PoD combo price.) We are assembling eratta based on your input on this thread: http://forum.theonyxpath.com/forum/main-category/main-forum/the-classic-world-of-darkness/vampire-the-masquerade/192908-errata-rites-of-the-blood
– V20 Dark Ages: In post-writing Development. David Hill has delivered some art notes. Full page art notes out to artist, artist for Clan Spreads working on them. Many blog posts here on his progress: http://theonyxpath.com/category/projects/darkages/
– V20: Ghouls: In post writing development.
– V20 Red List: In final draft stage.
– The Making of the Art of Children of the Revolution: Creating PoD files to go with PDF for sale on DTRPG.
– V20 Lore of the Clans: Was Blood Diaries. Writing. Open Development starting up with this blog: http://theonyxpath.com/lore-of-the-clans-open-development-coming-soon/
– Deluxe Werewolf 20th Anniversary Edition: Sending a final list to the European shipper of those backers still without their rewards. Mike Lee has delivered several new chapters this week of the W20 "Houses of the Moon" novel for Bill to review. The White Howlers Tribe Book has art coming in, and the comic art from John Bridges is in progress.
– W20 Changing Breeds: Deluxes and Screens are shipping.
– W20 Book of the Wyrm- A Pentex Board Member nominee list was sent to backers, and we'll be getting the Surveys with ballots out to backers this week. Work has begun on the new content for the book besides the Board Members, and then we'll need to begin on the Pentex Employee Indoctrination Manual Stretch Goal project.
– W20: The Umbra: In post writing development.
– Mage the Ascension 20th Anniversary Edition-  Satyr Phil has handed all the text off to Bill. Bill is continuing his "second set of eyes" developer's pass. The Character Pack book and the "How Do You DO That?" book would be next on our agenda. The M20 Quick Start PDF/PoD is now on sale (the PDF is free) here: http://rpg.drivethrustuff.com/product/131409/Mage-20th-Anniversary-Edition-Quickstart
– Trinity Continuum: System Doc being assembled by Joltin' Joe Carriker. He says system development is really hard and apologizes for the delay. The first new piece of art in YEARS has been commissioned. We're doing some Gen Con things with that. Jumpin' John Snead had to replace a writer for the Aeon core book, but says things are still coming together nicely.
– Scion: Sketch for Scion: Origins came in and WOW! Expect to see it and the new character's art at Gen Con.
– Demon: the Descent Prestige Edition: waiting for sample finished Prestige edition from printer. Then talking with shipper.
– Demon: The Descent: Demon Seed Collection is in editing and art notes. DtD Seattle is in layout and being art directed. Heirs to Hell backers' PDF went out to KS backers last week- we'll be assembling the errata and getting the PDF and PoD versions ready to go on sale. Demon Translation Guide is being written. The Demon Fiction Anthology + Interfaces is in post-writing development.
– DtD Players Guide: Flowers Of Hell: PDF is available now: http://rpg.drivethrustuff.com/product/131419/Flowers-of-Hell-The-Demon-Players-Guide. We'll be assembling the errata this week to prepare the PDF and PoD on sale versions.
– nWoD: Dark Eras: The VtR section is benefiting from a focused dev pass, while the rest of the Eras are in editing.
– WtF: The Idigam Chronicle: In 2nd drafts. Stew Wilson is doing a remarkably regular Friday blog that focuses on specific topics for the book- lots of good discussion happening right now: http://theonyxpath.com/category/projects/werewolftheforsaken/
– nMtA: The Fallen World Chronicle: Dave Brookshaw has started his blog about the next of the updated game lines. http://theonyxpath.com/category/projects/magetheawakening/
– GtSE: Geist Ready Made Characters: In redlines.
– T-Shirts: W20 Tribe Symbol shirts are up, and V20 Clan Symbol shirts are coming really soon!
Reason to Drink: GenCon forms.