Jaws & Son of Jaws [Monday Meeting Notes]
Shark Week! So here's our Beast: the Primordial sig character and her horror from the depths.
With the Beast Kickstarter having ended very nicely last week, but having had some controversy during its run, we performed a bit of a post-mortem on the campaign today. Our usual Onyx Path crew was joined by developer Black Hat Matt McFarland to review the highs and lows of the Beast Kickstarter and to look for ways we could improve for the next time.
To recap, very briefly, we started this Kickstarter with posting the full text to the book that was, we said, "90% finished". We funded quickly, and started getting responses of confusion and dismay on several other RPG sites. When we looked into these posted concerns about Beast, we realized a couple of things. One, the outraged proportion of the posts was way off from previous new game releases, and two, even posters who liked Beast seemed unsure of some of our intentions with the project. So very publicly, Matt started to revise the text with an eye towards better expressing how we had wanted the game to read. This angered a different group of folks, mostly backers who liked the text as it was. And then finally, as the last revisions went up, we had a crowd who stated that we had not changed things enough to suit their needs.
Now, I say these things in pretty gentle terms, but make no mistake. There were a large number of comments on other sites that were just nasty and simply unnecessary. It was a feeding frenzy in the shark tank.
So we have that aspect of the KS, and then we have the pledges and amounts and number of cool Stretch Goals passed. How did the Beast Kickstarter actually do? As we looked at those today, we're hard-pressed to establish whether the forum outrage affected the KS in a negative way. We know the controversy drained us creatively, with both Matt and Rose having to limit their exposure to the accusations and misinterpretations that were being flung about. But our backer numbers were at the level of our successful cWoD supplements, and our pledge amounts overtopped Mummy.
And the thing is, we expected lower buy-in and a lower pledge amount because we knew going in that Beast was a very new game that was trying to take some risks with an added crossover aspect (which not all players want), an attempt to subvert expectations as to what it means to be the Beast and what it means to be the Hero (which we knew would bug some folks), and with fewer nWoD tropes (like no social splats).
So to get the buy-in we got to this new thing is actually really gratifying.
As for our response, and the decision to revise the text, we are generally pleased with how we handled that. I'm very proud of Matt and the team for how they handled the situation. Matt took responsibility and offered the revisions as soon as we determined that there was a disconnect between what we considered to be almost finished text and people's responses to that text. His work not only made the revision more clearly what we were intending, but he also added depth to the existing ideas that simply make it a better game. None of us went on the attack, or ignored the concerns folks raised.
Is there a downside? Yes there is, and one I personally feel pretty bad about: those supporters who had committed to the game based on the original text and who felt left adrift by the revised text. For us, you see, revising text like that is merely part of a process we've done behind the curtain for years and years. It makes sense to alter the writing to fine-tune what you intend to say. But to some backers, being given a ring-side seat to how a manuscript evolves until it is published is not a good experience. They see sections get changed or dropped that they really liked in the original. The language really touched them (like it is supposed to), and changing that language removes something fundamental that they responded to. I understand that and regret any changes that ripped away something folks loved.
At the same time, this is our project and it must be the game we had intended. If we can dare to revise it after we've displayed it and found it wanting, then I see this as part of a continuum of transparency and openness that ties in with our use of the Open Dev Process and our Advance and Backer PDFs. I do want to be sure that we didn't set folks up to perceive the original text as something sacrosanct. When I call something 90% done, I know, as does our crew, that the last 10% of finishing up the text is often the hardest 10%. But that phrase might make it sound like the text is almost perfect, rather than ready for the last batch of fine-tuning that pulls the book together. We're not going to stop linking to as much of the text as we can, but I will be stressing in the description of that text more about the nature of what almost finished means to us.
Some areas to improve on not related to these afore-mentioned areas are getting more interviews up during the KS (which enable us to explain the game in more details and in a different venue), gathering the various social media answers into a single post or blog that we can point folks to, and to keep an eye on the diminished interest in the upper reward tiers. Except for Consulting Dev, which I added another reward slot to near the end. Could just have been the nature of Beast being an original kind of supernatural PC  and so those upper level rewards aren't all that great for backers.
There was some feeling that the overall on-line community is far more likely to take an open slate like Beast (new concept with deliberately twisted up themes), read into it their pet ideological conflict, and go berserk with outrage this year than any other point in history. So, we're looking at other KSs (other folks' as well as upcoming Onyx KSs) and seeing how their audience responds to judge if Beast was just an aberration.
For those of you who pledged, thanks so much for your support and comments!
___________________________________________________________________________________________________________________________________
And now, the BLURBS!
The Demon Translation Guide Advance PDF is on sale now! We take fiendish delight in presenting this devilish guide to transferring your Demon: the Fallen and Demon: the Descent characters from one setting to the other: http://www.drivethrurpg.com/product/151502/Demon-Translation-Guide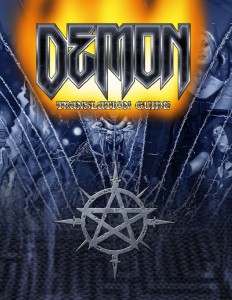 The fourth Pugmire poster, Jack Rat-Terrier, will be available Weds as a free PDF or $.99 physical poster, suitable for framing!
The third Pugmire poster, Sgt. Leo Bulldog, is available NOW as a free PDF or $.99 physical poster, suitable for framing: http://www.drivethrurpg.com/product/150843/Sgt-Leo-Bulldog-Pugmire-Poster-3
The second poster, Princess Yosha Pug, is available now: http://www.drivethrurpg.com/product/149750/Princess-Yosha-Pug-Pugmire-Poster-2
And the first poster, Sister Picassa Collie, is here: http://www.drivethrurpg.com/product/148516/Sister-Picassa-Collie-Pugmire-Poster-1
Start spreading the Code of Man!
Dread Names, Red List for V20 is now on sale! This collection of the most dangerous Kindred ever called Anathema is available in both PDF and hardcover PoD versions: http://www.drivethrurpg.com/product/150381/V20-Dread-Names-Red-List
W20 fans can howl for the first new Werewolf the Apocalypse novel in decades! The Poison Tree novel by Mike Lee (long-time White Wolf writer and developer, and internationally famous Warhammer author) now available in PDF, ePub, and PoD versions! http://www.drivethrurpg.com/product/150855/W20-The-Poison-Tree
Arising from the dead is a newly re-laid out version of the classic Vampire: the Masquerade fiction anthology, The Beast Within. This was the anthology that started them all, and now freshly redesigned for our standard 6″ x 9″ fiction PoD size! http://www.drivethrurpg.com/product/152000/Beast-Within-Revised
Coming out this Wednesday, the Avarice Chronicle: the Collected Edition (combining the adventures from the three Mummy: the Curse supplements) will be available in PDF and PoD versions at DriveThruRPG.com!
Convention News: Our friends at Gamerati are running a Game Day on July 25th, the Saturday before Gen Con, in Eau Claire, WI. I'm told there is one nWoD session scheduled already, but they would love it if anybody in our community wants to run other WW or Onyx Path games. So check it out if you want to doing some playing and give them a yell if you want to do some Storytelling: http://gamerati.com/gamedays/
————————————————————————————————————————————————————————————
And now, new project status updates!:
DEVELOPMENT STATUS FROM ROLLICKING ROSE (Projects in bold have changed listings)
First Draft (The first phase of a project that is about the work being done by writers, not dev prep)
M20 Book of Secrets (Mage: the Ascension 20th Anniversary Edition)
Exalted 3rd Novel by Matt Forbeck (Exalted 3rd Edition)
M20 Anthology (Mage: the Ascension 20th Anniversary Edition)
Pugmire Gen Con Materials (Be a Good Dog.)
CtL anthology (Changeling: the Lost 2nd Edition)
The Realm (Exalted 3rd Edition)
Dragon-Blooded (Exalted 3rd Edition)
Dark Eras Expansions (nWod Dark Eras)
Pugmire Early Access
Dark Eras Companion (nWod Dark Eras)
WtF The Pack (Werewolf: the Forasken 2nd Edition)
VtM Lore of the Bloodlines (Vampire: the Masquerade 20th Anniversary Edition)
WtA Kinfolk (Werewolf: the Apocalypse 20th Anniversary Edition)
Changeling: the Dreaming 20th Anniversary Edition
V20 Ready Made Characters (Vampire: the Masquerade 20th Anniversary Edition)
Redlines
Mummy Fiction Anthology (Mummy: the Curse)
Wraith: the Oblivion 20th Anniversary Edition
Cursed Necropolis: Rio (Mummy: the Curse)
Beckett's Jyhad Diary (Vampire: the Masquerade 20th Anniversary Edition)
Changeling: the Lost 2nd Edition, featuring the Huntsmen Chronicle (Changeling: the Lost 2nd Edition)- In Open Development
Second Draft
Arms of the Chosen (Exalted 3rd Edition)
Secrets of the Covenants (Vampire: The Requiem 2nd Edition)
Scarred Lands Player's Guide: Ghelspad (Scarred Lands 2nd Edition)
W20 Changing Ways (Werewolf: the Apocalypse 20th Anniversary Edition)
nWoD Hurt Locker (World of Darkness 2nd Edition)- In Open Development
VtM Lore of the Clans Expansions (Vampire: the Masquerade 20th Anniversary Edition)
Development
Promethean: the Created 2nd Edition, featuring the Firestorm Chronicle (Promethean: the Created)
"Sardonyx" System Rules (Base rules set for Scion and the Trinity Continuum) In Open Development
W20 Shattered Dreams (Werewolf: the Apocalypse 20th Anniversary Edition) 
nWoD 2e core (New World of Darkness)
Mage: the Awakening  2nd Edition, featuring the Fallen World Chronicle (Mage: the Awakening) – In Open Development
Demon Storytellers' Guide (Demon: the Descent)
W20 Pentex Employee Indoctrination Handbook (Werewolf: the Apocalypse 20th Anniversary Edition)
Editing
V20 Ghouls (Vampire: the Masquerade 20th Anniversary Edition)
V20 Black Hand: Guide to the Tal'Mahe'Ra (Vampire: the Masquerade 20th Anniversary Edition)
Development (post-editing)
ART DIRECTION FROM MIRTHFUL MIKE
In Art Direction
Dreams of Avarice – Art Directed.
NWoD 2 – Sending art over to Eddy this week for approvals.
V20 Ghouls – Almost art directed. Mainly just trying to get a couple more artists on board and then that is done.
Tal Me Rah – Fulls contracted, hunting for some artists for the halfs.
In Layout
Gen Con Stuff – Prince's Gambit Playtest Materials. Yeah, that's right. All the other stuff went out

on Friday

.
Beast – Working on the layout graphic elements. 

M20 How Do You Do That – In progress.
In Proofing
M20 – Phil is working on the errata.
M20 Screen – Still proofing with Phil.
Ex 3 Anthology – Awaiting updated text file.
At Press (on Drivethru… or whatever)
OPP Gen Con Staff Shirt – Proof version should be here Wednesday.
Demon Translation Guide – PDF up, errata being pulled together.
VDA20 – PoD and final download was uploaded last Tuesday.
The Avarice Chronicle – Going on sale in PDF and PoD versions on Weds.
Special
Dark Eras – Holding pattern.
Wraith 20 – Yep… waiting on artnotes.
V20 Lore of the Clans – Holding pattern for appendices.
Exalted 3rd Edition – RT here: 4th Layout Proof PDFs Devs comments sent back to Maria, she is smashing her way through those changes, but no overt progress to announce.
REASON TO DRINK: Da duh. Da duh. Da duh. Da da, da da, da da, da da, da da, da da, da da, dyuuuuuung!