Legendlore Victorious! [Monday Meeting Notes]
WOW! What a weekend!
And it started with our Legendlore Kickstarter funding on Friday! Now we're moving into Stretch Goals – so please, if you haven't already, check it out! The link is below in the Kickstarter section!
And and, to get you started, here's a review of the free PDF of the complete text for the book linked on the KS site:
https://thetabletopalmanac.wordpress.com/2020/06/15/rpg-reviews-legendlore-manuscript-preview/
Of course, this leaves the rest of the weekend, which just happened to consist of the first-ever Onyx Path Virtual Gaming Convention!
What a fun time!
We really didn't know how folks would respond, but now that the three days of panels and gaming are done, I can say that our community was in turns hilarious, supportive, giving, excited, and energized. And that energy really flowed right back into all the events and energized all of us!
I mean, we're still tired as all get out – who'd have thought that a con I could attend from my own house would do that? – but pretty sure we're all still feeling the love, too.
Just to pull the giving part out for a second, we are absolutely thrilled that our charity goals were blasted through sometime mid-con, and we'll be donating over a thousand dollars to each of our excellent causes: The Bodhana Group, and the Thurgood Marshall College Fund!
Now, back to the whooped by the con part, we are and I am, so today I'm just going to pull out some impressions of the events from a bunch of us who normally would have had our Monday Meeting today – we rescheduled it for later this week.
SCENES FROM A VIRTUAL CON:
Matthew: The Onyx Path Virtual Gaming Convention was the first con I helped organise, and while it had its share of stresses in the setup, it came to excellent fruition due to the fantastic teamwork of everyone working hard behind the scenes and amazing engagement from viewers, panelists, players, and those who donated to our charities and took advantage of our sales on onyxpathcon.com
RichT: I started us off on Friday night with the Opening Keynote speech, and then just sort of chatted with Matt McElroy, Dixie Cochran, Eddy Webb, and Matthew Dawkins about what was coming with the con.
For me, I then rolled into my first game, I played one per day, which was the first Actual Play of Exalted Essence. It really did run both fast and smoothly, and all of the various Exalted types we were playing had their times to shine. I was able to put a different, more easy-going, pie-eating, spin on my bear-totemed Lunar who still wound up grappling with the big bad and bear-hugging them in place for Danielle's Solar to practically one-shot the sucker!
Ian: Convention was great, despite a few hiccups. I was on two streams early on: one Friday evening and one Saturday morning, and then the rest of the con was "free."
Travis and the GG crew were all-stars. Travis couldn't get Nightbot working for a bit so I took over the random prize drawing for a few streams. I was often juggling two different streams in different monitors to help keep dialogue going in chat. Kudos to everyone, especially those of you who worked multiple panels and games in a single day.
RichT: In fact, the panel Ian refers to on Saturday morning was the "What's Up With Onyx Path?" panel that started off the day at 9am. This is a panel where a bunch of developers and I talk about upcoming projects for their lines, and answer questions. Eddy and I started doing them about a decade ago when it was "What's Up With White Wolf?", but changed the name for obvious reasons after Onyx Path appeared.
During that panel, a couple of things came up: Matthew teased that we might very well do They Came From (the Old West!, or something more flavorful that fits the genre) as the third They Came From game, and Ian talked about Trinity Continuum: Aeon Mission Statements, a book all about the organizations in the setting that aren't the Psi-Orders. We also noticed that some folks in the chat were new to Onyx Path and what we create, so that was unexpected but welcome news!
Then, I played my second game of the con, which was a sneak preview of Scion: Demigod! Neall took us through a voyage to the Grecian Afterlife, using the Ready Made Characters from Heroes of the World and I got to play a stern Horace Farrow ala Sam Elliott, while Steffie cut up many, many things with Yukiko's Grass-Cutter Sword. Then, another panel on Community Content and why it rocks wrapped up my Saturday.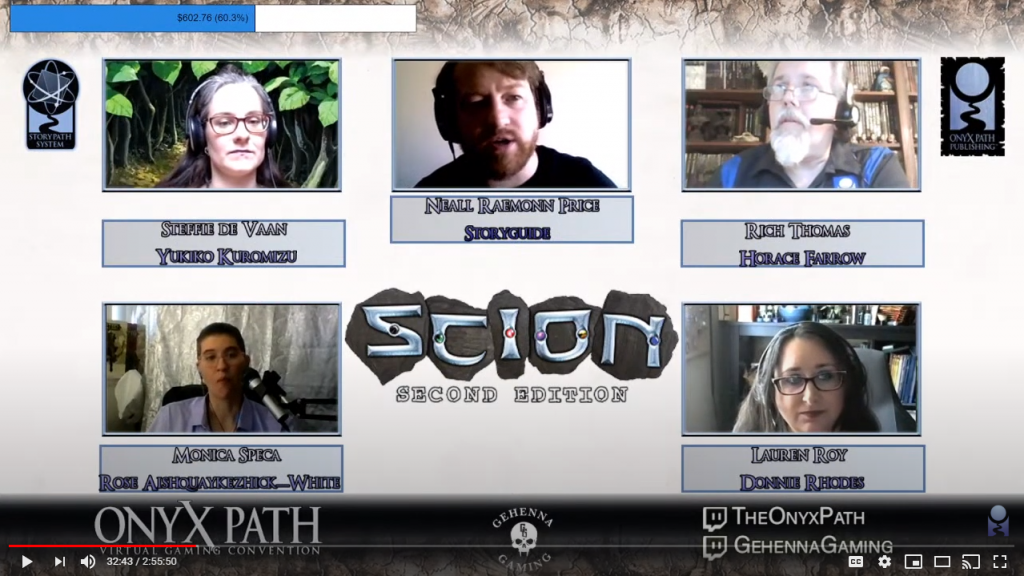 Matthew: I didn't encounter one instance of bad behaviour in chat or anything dubious discussed on screen in games or on panels, and I attended most that I could as a viewer, if I wasn't an active participant.
Viewership of panels and games peaked at around 250 to 300 people at one time for a couple of the shows, and bottomed out at around 50 people. Those are good figures. Our subscriptions and follows on Twitch rocketed, with many subscriptions being gifted by viewers and even more just being purchased or acquired via Amazon Prime.
My own highlight is impossible to choose between the games and panels I ran or appeared on, though the "Create Your Best Character" panel, which I suspected would be a sleeper, turned into an excellent talk on not playing harmful stereotypes and break out of dangerous tropes.
Eddy: The convention was great for me. My scheduling was a little odd, and I ran into one minor technical issue, but otherwise it went smoothly and it seemed like people in the chat were excited and appreciative. I felt like we got to dig into topics we aren't able to do in normal convention settings, and attendance was definitely higher than usual for panels at other shows. I also heard that people had a good time watching the games or playing in ad-hoc games all weekend. I know there were some problems on the back-end of getting this all together, but I don't think any of our attendees noticed anything but a nice, polished experience.
RichT: Sunday started out just like Saturday, with the second "What's Up With Onyx Path?" panel, although with a different set of developers. The big news was when Eddy ratted out that he was working on Squeaks in the Dark, the mice/rats supplement for Realms of Pugmire!
I then had my second panel on Sunday, the "Art of Onyx Path" one, where Mirthful Mike Chaney joined three of our freelance artists and I in discussing just how illustrators work for us: how they submit their work, how they are contacted, how art notes work, how artists work, and what sort of music do we listen to while doing illustrations. Lots of great questions from the audience, and a wide range of experience within the panel, made it really interesting.
RichT: Then my Sunday game was the first public playtest of They Came From Beyond the Grave! run by Matthew, and featuring Dixie's Rose Thorne, a driven vampire hunter with attitude, and 70s hair. She teamed up with B. Dave Walters' smoooth street investigator to blast the ever-lovin' hell out of evil cultists, while Ian Mueller's exorcist (sorta) shot the big bad between the eyes with Rose's derringer, and my slightly odd professor tried to save as much weird-science lab equipment as he could. Science! We left the haunted house as the superimposed fire effect began to devour it, fortunately for all involved (except the dead 70s prog-rock star sacrificed by the cultists).
I immediately had to log into my last event, but what a special event it was! Added late in the proceedings as we had to work within a lot of people's schedules, I was thrilled to sit down with a bunch of my old co-workers at the original White Wolf in a "Memories of WW" panel with Bill Bridges, Rich Dansky, Ethan Skemp, Mike Tinney, and my old go-to designer for graphics, Matt Milberger.
Much reminiscing occurred, interposed with questions from the chat, that pretty much focused on our time from the early 90s to the early 2000s, although we did chat a bit about the late, lamented WoD MMO, as most of us worked on that in one capacity or another. Mike talked about how he cozened us an arcade version of Dark Stalkers for our little lunchroom, and we had fond memories of the WW Blood Bowl League.
(My Children of the Khorne chaos team won the cup two seasons in a row, just sayin').
And although I didn't want it to end, it did, and my time at the first-ever Onyx Path Virtual Gaming Convention was over. Which was actually pretty good because my brain was on autopilot at that point.
Ian: Everyone on both sides of the screen seemed to have a great time, and the only real complaints I heard were that there were too many good things happening at once and people had to make a choice on which stream to watch.
Matthew: While many games had a tendency to overrun, I'd say they each ran to optimal length and didn't cause too much disruption farther up the schedule.
RichT: Which are all good things to happen, actually, with your first online convention, so we're going to review all the metrics we can gather ourselves and from the super folks at Gehenna Gaming, and see what we can learn from all that.
Will we do another one? We just don't know yet, but whether we do or not, this one sure did what we wanted to do – folks who attended had a whole lot of fun! If you missed out and want to watch the games and panels, they are currently on the Onyx Path and Gehenna Gaming Twitch channels for subscribers, but will soon migrate over to the Onyx Path YouTube page for all to watch!
So, from all of us to all of you, whether you attended or didn't, thanks for making it a real joy to walk with you exploring:
Many Worlds, One Path!
---
Blurbs!
---
Kickstarter!
The Legendlore Kickstarter funded right before we started the Virtual Con last week! A really great way to start things off! Now we're building towards Stretch Goals: the GM's Screen, and starting the Legendlore Companion book PDF!
Grab your friends and escape to another world!
You've found an enchanted portal — a transition point — between worlds. The portal, called a Crossing, takes you to a world you thought only existed in novels and films: a magical land where dragons roam the skies, orcs and hobgoblins terrorize weary travelers, and unicorns prance through the forest. It is a world where humans join other peoples such as elves, trolls, dwarves, changelings, and the dreaded creatures who steal the night. It is a world of fantasy — of imagination.
It is the Realm.
It is Legendlore.
---
Onyx Path Media!
This week: the most exciting episode of the Onyx Pathcast ever, recorded live at the Onyx Path Virtual Gaming Convention!
As always, this Friday's Onyx Pathcast will be on Podbean or your favorite podcast venue! https://onyxpathcast.podbean.com/
Hi all!
We'll be back next week with our usual promotion of all the excellent games on our Twitch and YouTube channels, but for now, we encourage you to do what it seems a lot of people are doing right now, and hop over to our Twitch: twitch.tv/theonyxpath
While the convention has ended, but subscribing to our Twitch channel (which you can do for free if you have Amazon Prime), you get access to all the panels and games that ran on it over the convention weekend. So, if you missed a panel or game you really wanted to watch, head on to our Twitch, subscribe, and browse our back catalogue!
Other than our content, we would like to promote a couple more games for those without Twitch:
Occultists Anonymous continue their excellent Mage: The Awakening game here:
Episode 106: Friends & Minions
The cabal combats the uninvited guest summoned by an Exarchal Supernal Being. The danger of the Exarchal attention prompts further investigations away from the Supernal.
https://youtu.be/YSErlwnC7Nc
Episode 107: Making Promises
Songbird reaches out to the Queen of the Vampires of New York about a divine blessing. Wyrd and Atratus hatch a plan to make a car…
https://youtu.be/dueYYUl0FrY
And A Bunch of Gamers have just started up a two-part extravaganza of They Came from Beneath the Sea! right here:
The Crabby Lizard from the Murkey Depths
Episode 1: In the small east coast town of Chatham Massachusetts things are easy. The soda pop shop is ready for any of the locals. The city comes together for a bake sale to help their neighbors, and everyone knows each other. All that changes when a strange electrical storm and a booming voice can be heard over the jukebox. Tonight, the strange, the horrid, the damp creatures from beyond the stars and the depths of the sea rise up to meet the people of Chatham.https://youtu.be/UwxzdwVoYQE
The Tabletop Almanac has released a lovely review of Legendlore that you'll want to see! https://thetabletopalmanac.wordpress.com/2020/06/15/rpg-reviews-legendlore-manuscript-preview/
Please check these out and let us know if you find or produce any actual plays of our games! We'd love to feature you!
---
Electronic Gaming!
As we find ways to enable our community to more easily play our games, the Onyx Dice Rolling App is live! Our dev team has been doing updates since we launched based on the excellent use-case comments by our community, and this thing is awesome! (Seriously, you need to roll 100 dice for Exalted? This app has you covered.)
---
On Amazon and Barnes & Noble!
You can now read our fiction from the comfort and convenience of your Kindle (from Amazon) and Nook (from Barnes & Noble).
If you enjoy these or any other of our books, please help us by writing reviews on the site of the sales venue from which you bought it. Reviews really, really help us get folks interested in our amazing fiction!
Our selection includes these latest fiction books:
---
Our Sales Partners!
We're working with Studio2 to get Pugmire and Monarchies of Mau out into stores, as well as to individuals through their online store. You can pick up the traditionally printed main book, the screen, and the official Pugmire dice through our friends there! https://studio2publishing.com/search?q=pugmire
We've added Prince's Gambit to our Studio2 catalog: https://studio2publishing.com/products/prince-s-gambit-card-game
Now, we've added Changeling: The Lost Second Edition products to Studio2's store! See them here: https://studio2publishing.com/collections/all-products/changeling-the-lost
Scion 2e books and other products are available now at Studio2: https://studio2publishing.com/blogs/new-releases/scion-second-edition-book-one-origin-now-available-at-your-local-retailer-or-online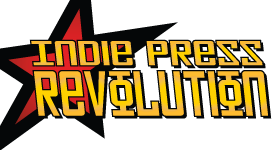 Looking for our Deluxe or Prestige Edition books? Try this link! http://www.indiepressrevolution.com/xcart/Onyx-Path-Publishing/
And you can order Pugmire, Monarchies of Mau, Cavaliers of Mars, and Changeling: The Lost 2e at the same link! And now Scion Origin and Scion Hero and Trinity Continuum Core and Trinity Continuum: Aeon are available to order!
As always, you can find Onyx Path's titles at DriveThruRPG.com!
---
On Sale This Week!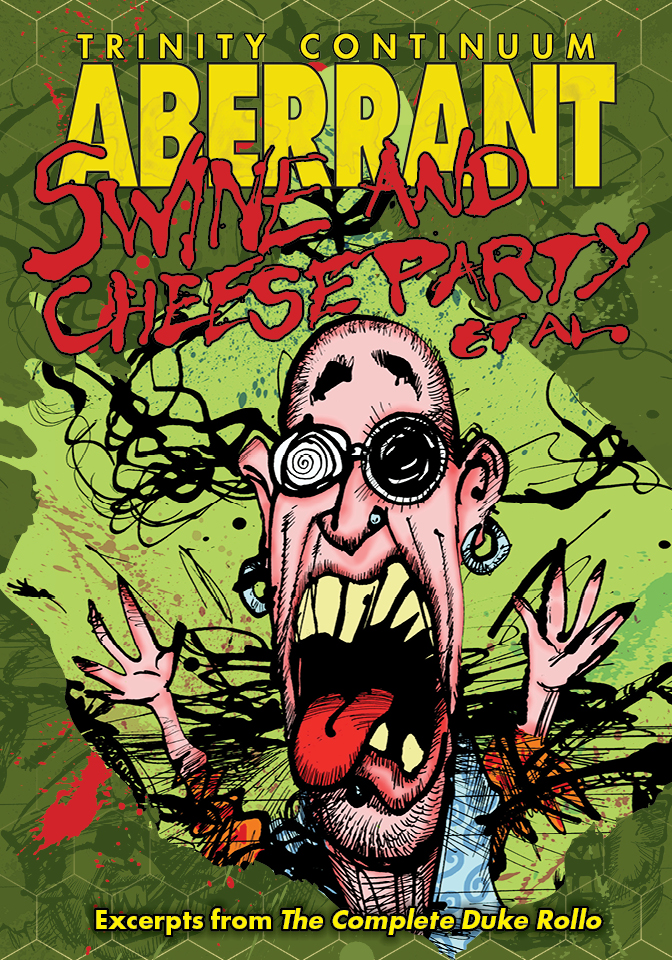 Available this Wednesday, we are just a bit embarrassed to say that we'll be releasing on DTRPG the PDF and PoD versions of Swine and Cheese Party, Et Al., excerpts from The Complete Duke Rollo, for Trinity Continuum: Aberrant!
Also available this Wednesday on DTRPG: the Advance PDF for Quantum Entanglement the Trinity Continuum: Aeon Jumpstart!
---
Conventions!
Though dates for physical conventions are subject to change due to the current COVID-19 outbreak, here's what's left of our current list of upcoming conventions (and really, we're just waiting for this last one to be cancelled even though it's Nov/Dec). Instead, keep an eye out here for more virtual conventions we're going to be involved with:
PAX Unplugged: https://unplugged.paxsite.com/
---
And now, the new project status updates!
Development Status from Eddy Webb! (Projects in bold have changed status since last week.):
First Draft (The first phase of a project that is about the work being done by writers, not dev prep.)
Exalted Essay Collection (Exalted)
Adversaries of the Righteous (Exalted 3rd Edition)
The Clades Companion (Deviant: The Renegades)
The Devoted Companion (Deviant: The Renegades)
Saints and Monsters (Scion 2nd Edition)
Trinity Continuum: Anima
CtL 2e Novella Collection: Hollow Courts (Changeling: The Lost 2e)
M20 Technocracy Operative's Dossier (Mage: The Ascension 20th Anniversary)
Redlines
Dragon-Blooded Novella #2 (Exalted 3rd Edition)
Hundred Devil's Night Parade (Exalted 3rd Edition)
Novas Worldwide (Trinity Continuum: Aberrant)
Exalted Essence Edition (Exalted 3rd Edition)
M20 Rich Bastard's Guide To Magick (Mage: The Ascension 20th Anniversary)
V5 Children of the Blood (was The Faithful Undead) (Vampire: The Masquerade 5th Edition)
V5 Forbidden Religions (Vampire: The Masquerade 5th Edition)
Wild Hunt (Scion 2nd Edition)
Second Draft
Many-Faced Strangers – Lunars Companion (Exalted 3rd Edition)
Kith and Kin (Changeling: The Lost 2e)
Dearly Bleak – Novella (Deviant: The Renegades)
Mission Statements (Trinity Continuum: Aeon)
Contagion Chronicle Ready-Made Characters (Chronicles of Darkness)
Under Alien Suns (Trinity Continuum: Aeon)
V5 Trails of Ash and Bone (Vampire: The Masquerade 5th Edition)
Trinity Continuum: Adventure! core (Trinity Continuum: Adventure!)
Dead Man's Rust (Scarred Lands)
Development
TC: Aberrant Reference Screen (Trinity Continuum: Aberrant)
Across the Eight Directions (Exalted 3rd Edition)
Contagion Chronicle: Global Outbreaks (Chronicles of Darkness)
M20 Victorian Mage (Mage: the Ascension 20th Anniversary Edition)
Exigents (Exalted 3rd Edition)
N!ternational Wrestling Entertainment (Trinity Continuum: Aberrant)
Assassins (Trinity Continuum Core)
Manuscript Approval
Crucible of Legends (Exalted 3rd Edition)
Post-Approval Development
Editing
Lunars Novella (Rosenberg) (Exalted 3rd Edition)
Mummy: The Curse 2nd Edition core rulebook (Mummy: The Curse 2nd Edition)
Player's Guide to the Contagion Chronicle (Chronicles of Darkness)
Contagion Chronicle Jumpstart (Chronicles of Darkness)
TC: Aberrant Jumpstart (Trinity Continuum: Aberrant)
Trinity Continuum Jumpstart (Trinity Continuum)
Masks of the Mythos (Scion 2nd Edition)
LARP Rules (Scion 2nd Edition)
Heirs to the Shogunate (Exalted 3rd Edition)
The Book of Lasting Death (Mummy: The Curse 2e)
They Came From Beyond the Grave! (They Came From!)
Scion: Dragon (Scion 2nd Edition)
Scion: Demigod (Scion 2nd Edition)
Post-Editing Development
City of the Towered Tombs (Cavaliers of Mars)
W20 Shattered Dreams Gift Cards (Werewolf: The Apocalypse 20th)
Cults of the Blood Gods (Vampire: The Masquerade 5th Edition)
Hunter: The Vigil 2e core (Hunter: The Vigil 2nd Edition)
Trinity Continuum: Aberrant core (Trinity Continuum: Aberrant)
Deviant: The Renegades (Deviant: The Renegades)
Monsters of the Deep (They Came From Beneath the Sea!)
Legendlore core book (Legendlore)
Pirates of Pugmire KS-Added Adventure (Realms of Pugmire)
Tales of Aquatic Terror (They Came From Beneath the Sea!)
Terra Firma (Trinity Continuum: Aeon)
One Foot in the Grave Jumpstart (Geist: The Sin-Eaters 2e)
Indexing
---
Art Direction from Mike Chaney!
In Art Direction
Scion Titanomachy – Art coming in.
Tales of Aquatic Terror
WoD Ghost Hunters (KS) – Prepping KS assets.
Aberrant – AD'd. First new comic in.
Hunter: The Vigil 2e
Mummy 2
Deviant – Dividing up among current artists.
Legendlore – KS running.
Technocracy Reloaded (KS)
Cults of the Blood God – Rolling along.
Scion: Dragon (KS) – Waiting on art notes.
Masks of the Mythos (KS) – Some tweaking to art notes and hiring artists.
Scion: Demigod (KS) – Tweaking art notes, hiring artists. Splats in progress.
They Came From Beyond the Grave! (KS) – Finals coming in.
TC: Adventure! (KS) – Cover art finishing.
In Layout
Yugman's Guide to Ghelspad
Vigil Watch
TC Aeon Terra Firma
V5 Let the Streets Run Red
Pugmire Adventure
Proofing
Trinity Aeon Jumpstart – New artist taking care of finishing missing art.
Lunars: Fangs at the Gate – Finishing Backer PDF errata.
Contagion Chronicle – Going to WW for approval this week.
Cavaliers of Mars: City of the Towered Tombs
Magic Item Decks (Scarred Lands)
Yugman's Guide Support Decks (Scarred Lands)
Dark Eras 2 Screen and booklet
At Press
Scion Companion – Shutting down errata.
TCFBTS Heroic Land Dwellers – Prepping PoD files.
TCFBTS Screen and Booklet – Files at press.
They Came from Beneath the Sea! – Files at press.
Creature Collection 5e – PoD files uploaded. Traditional files sent to printer.
Pirates of Pugmire – Files at press. Prepping files for PoD.
Pirates of Pugmire Screen – Files at press.
Duke Rollo Aberrant Book: Swine & Cheese Party – PDf and PoD versions on sale Wednesday on DTRPG.
Pugmire Buried Bones – Gathering errata.
Changeling: The Lost 2nd Edition Dark Eras Compilation – Gathering errata.
---
Today's Reason to Celebrate!
Today is feet up and dozing after the busy, busy, Virtual Con and celebrating its success!