Many Worlds. One Path. [Monday Meeting Notes]
Above is the design for our booth backdrop that premiered at GenCon50 for 2017's booth. You'll be able to see this at the various conventions we attend all this year.
We had a bunch of things premiere at GenCon this year, and I'd like to roll through them here.
Of course, as we do every year, we premiered this year's Onyx Path Brochure. Which you can download for free on DTRPG.com: http://www.drivethrurpg.com/product/217030/Onyx-Path-Publishing-Brochure-2017
Now, a bunch of folks did download the Brochure the week of GenCon and didn't understand that this year we wanted to present all of our different game-lines and use the brochure for that purpose at the sold-out GenCon50. We figured that there'd be a larger than average group of attendees that might not have heard of Onyx Path nor know all the games we've been creating these past six years.
As opposed to some previous Brochures which were designed to be where we announced new projects. We did include a few of the real tent-pole releases like Mummy 2nd Edition or the teaser for They Came From Beneath the Sea!, but not the full list of upcoming projects. I saved those announcements for our panels (more on those next week).
So: understandable confusion.
Next, we sold Pugmire to the general public for the first time at GenCon50, and as noted previously, we sold out of every book we brought to the convention. Which is just amazing!
Even better, many of those sales were indeed to people unfamiliar with Pugmire, or Onyx Path, or both, so we had a great chance to let them know just what we are all about (and slip them a Brochure so they could see themselves all that we are up to).
Kudos to all of our booth team for creating a fun and friendly, yet cool, atmosphere at the booth!
Better still, for everyone who missed the Pugmire Kickstarter and were not a GenCon50, Pugmire's PDF will be available on DTRPG this Wednesday, as will the physical books, screens, and dice with our friends at IPR and Studio2. Not only can you order from them directly, but Studio2 will also be putting the books into distribution and into retail game stores!
This is our first traditionally printed Onyx Path project to be solicited into game stores, and we think we've found a way to make that process make sense for us and our business model, so we're really excited and interested in how things work out. Hopefully, working with Studio2 on mainstream distribution can become another avenue that our community can use to get our projects, along with Kickstarter, electronic media like PDFs, and PoDs on DTRPG.
Another premiere, but not Onyx's, that I heard about at GenCon and wanted to pass on to you folks, is of our longtime creator Jess Hartley's new fiction anthology: Monsters I Have Known. Jess is a fantastic writer whose work has been featured in our projects for years back into the old WW days, so well worth checking out.
Monsters I Have Known features 13 stories, including several ghost and ghost hunter tales, a re-telling of Rapunzel from the perspective of the witch, a steampunk story, and a murder mystery with a very Promethean victim/protagonist.
Our booth-mates at GenCon50, White Wolf, also had a premiere of their newest alpha playtest of V5 being demoed at the con. Written by our own Matthew Dawkins and our friend Jason Andrew, Rusted Veins continues the Gary storyline from Ashes To Ashes and Dust To Dust…and tests out a bunch of V5 systems. It is NOT the pre-alpha, and will eventually be available for free to all who want to deal with The Juggler and Sullivan Dane once more, while exploring the prototype V5 rules.
Finally, in the Brochure we included four very important words that you will be seeing more of in the year to come as they are our new tagline, motto, guidepost, philosophical beacon:
Many Worlds. One Path.
BLURBS!
ON SALE!
Haaawooooo! The W20 Bundle of Holding is raging today all the way through until September 18th! https://bundleofholding.com/presents/Werewolf20
You can get all sorts of W20 PDFs at great discounts and better still you can help our chosen charity for this bundle: the International Wolf Center.
ON AMAZON:
We're delighted to announce the opening of our ebook store on Amazon! You can now read our fiction from the comfort and convenience of your Kindle. Our initial selection includes these fiction anthologies: Vampire: the Masquerade's Endless Ages, Werewolf: The Apocalypse 20th Anniversary Edition's Rites of Renown: When Will You Rage 2, Mage: The Ascension 20th Anniversary Edition's Truth Beyond Paradox, Chronicles of Darkness' God Machine Chronicle, Mummy: The Curse's Curse of the Blue Nile, and Beast: The Primordial's The Primordial Feast!
And now you can get these books in the Barnes and Noble Nook store too!
And here are six more fiction books:
Andand six more more: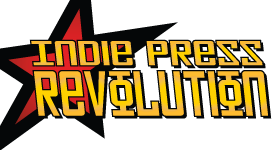 Looking for our Deluxe or Prestige Edition books? Here's the link to the press release we put out about how Onyx Path is now selling through Indie Press Revolution: http://theonyxpath.com/press-release-onyx-path-limited-editions-now-available-through-indie-press-revolution/
You can now order wave 2 of our Deluxe and Prestige print overrun books, including Deluxe Mage 20th Anniversary, and Deluxe V20 Dark Ages! And Screens…so many Screens!
And starting on Wednesday, August 30th, you can order Pugmire: the book, the screen, and the dice!
ON DRIVETHRURPG.COM: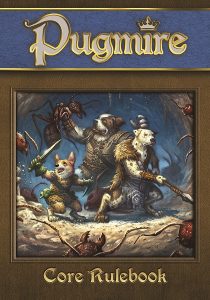 Calling all Good Dogs! The Pugmire Core Rulebook PDF goes on sale this Wednesday on DTRPG.com!
And the actual physical book, screen, and dice, will be available to order on the IPR and Studio2 websites!
From the massive Chronicles of Darkness: Dark Eras main book, we have pulled this single chapter, Dark Eras: A Grimm Dark Era (Changeling: The Lost Grimm's Tales). With the publication of Grimm's Fairy Tales, the Lost find themselves subject to the strength of stories, to a degree never before seen. As numerous stories reach greater audiences, the power of tales redefine what it means to be a changeling. Here, we explore a shift in the veil between fiction and reality, and find changelings who escaped by embracing the odd rules of the fantastic.
http://www.drivethrurpg.com/product/217370/Dark-Eras-A-Grimm-Dark-Era
On sale in PDF and physical copy PoD versions on DTRPG!
From the massive Chronicles of Darkness: Dark Eras main book, we have pulled this single chapter, Dark Eras: Lily, Sabre, and Thorn (Changeling: The Lost Swashbuckling France 1600s – early 1700s). In the Age of Reason under the reign of Louis XIV, enlightenment went hand-in-hand with court intrigues. The Sun King's court influenced a time when changeling freeholds gained increasing unity and communication. It is a time of adventure, deception, betrayal, and passion — the roar of cannon, the rustle of silk, the ring of steel. The joys and sorrows and outrageous fortunes of the swashbuckler — these are all too well-known to the Lost.
On sale in PDF and PoD versions at DTRPG.com this Weds!
Satyr Phil Brucato beckons you once more into the Annex of Mage: The Ascension with this 300 page follow-up to M20. The M20 Book of Secrets is NOW on sale in PDF and PoD versions at DTRPG.com! http://www.drivethrurpg.com/product/214133/M20-Book-of-Secrets
More Than Magick
For mages who think they have everything, this trove of treasures expands upon the wealth of material presented throughout Mage: The Ascension's 20th Anniversary Edition. New Traits, new rules, essays, answers, information… the Secrets are revealed within.
Enter the Annex
Building upon the M20 core rulebook, this Book of Secrets features updated rules and setting material, such as…
An M20 FAQ Genres & Resources
Matters of Focus Justice & Influence
New Abilities, Archetypes, Merits & Flaws
Expanded Rules for Combat, Resonance, Wonders, Computer Systems, and More
This Ascension Continues…
Chomping it's way to you comes the Dagger of Spiragos adventure PDF for Scarred Lands! This second in the Spiragos trilogy for levels 4-6 is now in both 5e and Pathfinder PDF versions on DriveThruRPG.com!
PF: http://www.drivethrurpg.com/product/211004/Dagger-of-Spiragos-Pathfinder
5e: http://www.drivethrurpg.com/product/211012/Dagger-of-Spiragos-5e
The Titans' Relics Must Be Destroyed! 
Artifacts from the fallen titan Spiragos have been recovered, and forces are at work that would see them used for ill. The Dagger of Spiragos and the Ring of Spiragos are now in the player characters' hands — and they must do what they can to rid Scarn of the foul relics of the titans, whatever the cost!
What Came Before 
Dagger of Spiragos is a sequel to the 2014 Gen Con Scarred Lands Special Preview adventure, Gauntlet of Spiragos (available as a free download on DriveThruRPG. com and RPGnow.com). It is also the second adventure in the Spiragos Saga, with Ring of Spiragos, the dramatic finale, as the third and culminating title.
In Gauntlet of Spiragos, the PCs traveled to the legendary Chasm of Flies, where they discovered a tribe of spider-eye goblins who possessed relics of their fallen master, Spiragos. Now, with those items in hand, the PCs travel to the city of Fangsfall, where they must seek aid in destroying the foul objects.
But others wish to possess these items, too,
Sailing out of the dark, the V20 Dark Ages Companion PDF and physical book PoD versions are going on sale Wednesday on DriveThruRPG.com! http://www.drivethrurpg.com/product/211504/V20-Dark-Ages-Companion
Travel the long roads and deep seas in search of power and experience danger, or tackle the wilderness to hunt monsters and face death. Settlements large and small dot the black expanse with the promise of sanctuary, life, and community. These bastions of civilization present cold comfort, when playing host to vampire warlords and sadistic Cainite faiths. Whether led by a Prince, a coordinated belief, or hounded by monsters from without and within — no domain is truly the same as another.
Dark Ages Companion includes:
• Domains scattered across the world, from small fiefdoms to massive cities. Bath, Bjarkarey, Constantinople, Rome, Mogadishu, and Mangaluru each receive coverage.
• Apocrypha including plot hooks, new Paths, and mysteries to explore in your games.
• A how-to guide on building a domain within your chronicle, including events and servants necessary to make a domain as functional or dysfunctional as you wish.
• A study on warfare in the Dark Ages period, so combat in your chronicles can gain authenticity and lethality.
From the Primordial to your Chronicles, Beast's Building a Legend has risen in PDF and PoD formats on DTRPG.com!
http://www.drivethrurpg.com/product/212252/Beast-Building-a-Legend
CREATING A CHRONICLE IS REWARDING…
…so why should the Storyteller have all the fun?
The whole troupe should get in on the action, making for a chronicle that reflects the preferences and predilections of all the players.
Building a Legend is a guide for doing exactly that — making a cohesive chronicle, starting with character creation, for Beast: The Primordial. It includes advice on creating Storyteller characters, folding in real world history, and populating the Primordial Dream.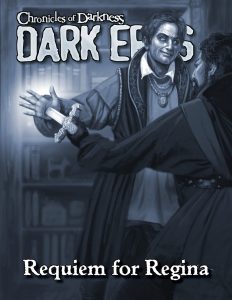 From the massive Chronicles of Darkness: Dark Eras main book, we have pulled this single chapter, Dark Eras: Requiem for Regina (Vampire: The Requiem Elizabethan London 1593). We have shared the world with monsters for millennia. In Elizabeth's London, vampires built their own empire brick by bloody brick while Elizabeth I cemented her grip on newly Protestant England. Carefully balancing demands from those with Catholic and Lutheran sympathies, she forged a police state. Yet London emerged as a thriving cultural center, and from the crucible emerged a Kindred society forever changed.
http://www.drivethrurpg.com/product/178595/Dark-Eras-Requiem-for-Regina-Vampire-the-Requiem-Changeling-the-Lost
On sale in PDF and physical copy PoD versions on DTRPG!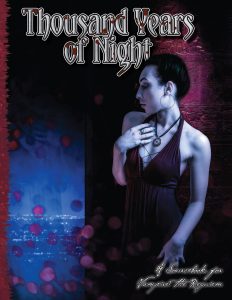 What dark secrets do the eldest vampires hold? Find out in Thousand Years of Night for Vampire: The Requiem! Advance PDF version available now on DriveThruRPG.com. http://www.drivethrurpg.com/product/214130/Thousand-Years-of-Night
You may think that with a multitude of people coming, going, dying and running away, we'd be tired, done, or ready to give up.
Instead, I find myself restless, looking for the next thing. 
There's always a next thing, and I for one am not yet ready to die.
– Elder Kincaid, Daeva Crone
This book includes:
• Detailed instructions on creating elder vampires, including how to base chronicles around them
• A look into the lives of elders, how they spend their nights, who they work with, and why including their roles in both their clans and covenants
• New Devotions, Merits, and Rituals for elder vampires
• The kinds of creatures that pose a threat to elder vampires, including Inamorata, Lamia, Sons of Phobos, a new elder conspiracy, and more!
CONVENTIONS!
Gee, it looks kind of bare here without GenCon news.
In November, we'll be at Game Hole Con in Madison, WI. More news as we have it, and here's their website: https://www.gameholecon.com/
---
And now, the new project status updates!
DEVELOPMENT STATUS FROM ROLLICKING ROSE (projects in bold have changed status since last week):
First Draft (The first phase of a project that is about the work being done by writers, not dev prep)
Trinity Continuum: Aeon Rulebook (The Trinity Continuum)
M20 Gods and Monsters (Mage: the Ascension 20th Anniversary Edition)
M20 Book of the Fallen (Mage: the Ascension 20th Anniversary Edition)

C20 Novel (Jackie Cassada) (Changeling: the Dreaming 20th Anniversary Edition)

Monarchies of Mau (Monarchies of Mau)

Night Horrors: The Tormented

(Promethean: The Created 2nd Edition)
Deviant: The Renegades (Deviant: The Renegades)
They Came From Beneath the Sea! Rulebook (TCFBtS!)
Redlines
Kithbook Boggans (Changeling: the Dreaming 20th Anniversary Edition)


Hunter: the Vigil 2e core (Hunter: the Vigil 2nd Edition)

Exalted 3rd Novel by Matt Forbeck (Exalted 3rd Edition)
Second Draft
WoD Ghost Hunters (World of Darkness)
Tales of Good Dogs – Pugmire Fiction Anthology (Pugmire)
The Realm (Exalted 3rd Edition)
Development
Signs of Sorcery (Mage: the Awakening Second Edition)
SL Ring of Spiragos (Pathfinder – Scarred Lands 2nd Edition)
Ring of Spiragos (5e – Scarred Lands 2nd Edition)
Pugmire Pan's Guide for New Pioneers (Pugmire)
Scion: Origin (Scion 2nd Edition)
Scion: Hero (Scion 2nd Edition)
Trinity Continuum Core Rulebook (The Trinity Continuum)
GtS Geist 2e core (Geist: the Sin-Eaters Second Edition)
DtD Night Horrors: Enemy Action (Demon: the Descent)
Dragon-Blooded (Exalted 3rd Edition)
WW Manuscript Approval:
Ex Novel 2 (Aaron Rosenberg) (Exalted 3rd Edition)
Editing:
C20 Ready Made Characters

(Changeling: the Dreaming 20th Anniversary Edition)
Post-Editing Development:
W20 Changing Ways (Werewolf: the Apocalypse 20th Anniversary Edition)
Changeling: the Lost 2nd Edition, featuring the Huntsmen Chronicle (Changeling: the Lost 2nd Edition)
M20 Cookbook (Mage: the Ascension 20th Anniversary Edition)
Indexing:
ART DIRECTION FROM MIRTHFUL MIKE:
In Art Direction
W20 Pentex Employee Indoctrination Handbook – Have to double check, but I think all the art is in.

Cavaliers of Mars – Prepping KS.

W20 Changing Ways – AD'd and Contracted.

Ex3 Monthly Stuff

Scion Origins – Art almost all in.

Ring of Spiragos

Ex 3 Arms of the Chosen – Finals are done, just waiting for them to be uploaded. Once those are up and approved, I'll get things over to layout.
Beast PG – Finals in.
VtR Half Damned – Art coming in.
Book of Freeholds – AD'd.

DtD Enemy Action – Fulls contracted.

C20 RMCs 
Marketing Stuff
In Layout
Prince's Gambit – New Cards out for playtesting.

Beckett's Jyhad Diary 
Wraith 20
VDA Jumpstart
Proofing
M20 Art Book – PDF out to KS backers this week.
At Press
Beckett Screen – Shipped to shipper.
Scarred Land PGs & Wise and the Wicked PF & 5e
Dark Eras: God's Own Country
Dark Eras: After the Fall
VTR: Thousand Years of Night – Errors discovered at GenCon, getting fixed.

Changeling: the Dreaming 20th Anniversary Edition (Changeling: the Dreaming 20th Anniversary Edition) – PoD proof ordered…
C20 Jumpstart PDF – Awaiting errata.

CtL Huntsmen Chronicle Anthology PDF
---
TODAY'S REASON TO CELEBRATE: Well, it's good to be back and making stuff after the long, wet, summer.