Media Spotlight: Systematic Understanding of Everything (The Exaltcast)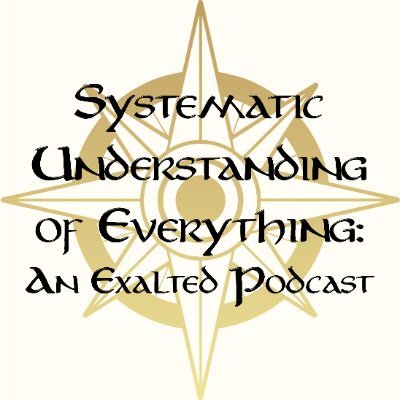 For just over a year, Monica Speca, Chazz Kellner, and Terry Robinson have been diving deep into the world of Exalted, covering everything from setting and rules to playable characters and combat, and everything in between.
What makes Systematic Understanding of Everything so special, is the way the hosts approach the material. Monica is one of our Exalted developers, Chazz is a writer and fan of Exalted, and Terry has (or had) very limited knowledge of Exalted beyond what he's told in the show. This leads to some fantastic approaches to different material, and we really think you'll enjoy listening to it.
The Exaltcast can be found anywhere good podcasts can be found, but the easiest place to locate it, is right on its own website: https://www.exaltcast.com/
Do check it out and let them know your thoughts on the show. We already know it's made converts of some people unsure of Exalted, so this could be your gateway into another one of our games, too.
Don't forget, if you have a review site, actual play, or any other kind of media relating to our games, you can get in touch with me over on matthewdawkins.com and let me know about it, so I can post it on our blog!