Merry Happy and All That! [Monday Meeting Notes]
This week is sort of liminal – a Zone between the build-up to the holidays and the end of the year festivities. Is it Exalted's Calibration? Maybe! Regardless, in this so-called real world, lots of folks take a break during this week, and we at Onyx Path are no exception.
We didn't meet for our weekly Monday Meeting, although certainly a lot of our creators are still active, so today's MMN Blog consists of a smattering of updates, plus I asked our MM crew to share their thoughts on two separate subjects.
First, what was your best memory of this last year? Then, in honor of this being the last week of our Onyx Path 10th Anniversary Celebration, what was your all-time favorite thing about Onyx Path's first decade creating and publishing all the many, many, projects we all love?

These, then, were their responses:
Eddy Webb:
#1: My proudest moment from last year was taking on the role of Executive Producer here at Onyx Path. I admit I was a bit nervous about it, and at times it's been frustrating, but it really seems like communication inside the company has improved, and we're getting better and better about using that information to navigate around the various landmines that have been left lying around over the past couple of years.
#2: There are so many great defining moments with Onyx Path over the past ten years. It would be easy to point to Pugmire, especially since that was a real watershed moment of people realizing we weren't just the same old White Wolf all over again. However, I really feel like the creation of the Storypath system is a bigger defining moment: taking a system that a lot of people loved and reworking it with the modern ideas that Onyx Path has internalized to make a perfect evolution to power the kinds of game we're interested in making.
Ian Watson:
#1: This has been a great year for the Trinity Continuum in general, but I think my proudest moment was the release of the Polyphemus Tasty Bit. It's something I'd been thinking about for a long time, and the Storypath Tasty Bit program (and Dixie's enthusiasm) was the perfect excuse to do something about it. While I'm often the guiding hand behind most TC projects, my own words typically don't end up in the final product. A good percentage of Polyphemus was my writing, and I'm quite happy with the end result.
#2: I'm not sure it's a moment that defines Onyx Path necessarily but at least my involvement with it: when Eddy and Rich saw some videos I'd edited together, they filled me in on what this "Onyx Path" thing was, and asked if I'd be willing to run their website for them. I said yes, and also created the OPP social media accounts. The rest is history.
Danielle Lauzon:
#1: There's been so much stuff I've been involved with that's happened this year. I'm stoked that Adventure! is out to backers and that Scion: Dragon has been fully released. I think the thing I had the most fun with was doing Lunch & Crunch with Eddy earlier this year. It was fun to noodle mechanics and design while talking about our favorite teas over lunch. I kind of miss it.
#2: I don't know that it was really a defining moment, but I am still really super proud of my work on the Trinity Continuum Core rulebook and everything that has come out of Storypath and Trinity since that came out. Also, because we were asked about our favorite moment, no matter how stupid, I'm still really proud of how the team turned a negative AMA Reddit comment into a meme about Rich's jangling silver bell. It makes me laugh every time I think about it.
Travis Legge:
#1: I am really spoiled for choice as 2022 brought so many amazing things to be proud of, but I must say M20 Sorcerer and Dead Man's Rust making their way into the hands of the fans have been my personal highlights. I couldn't be prouder of the work those teams did and how beautifully the books came together. My deepest thanks to all who make them happen.
#2: There are so many fun moments to choose from. Over the course of 2022 I got to revisit 10 years of Onyx Path on the twitch channel, and it's been amazing to be able to explore all these wonderful worlds. Getting to see each game line be celebrated through that lens was fantastic.
Dixie Cochran:
#1: Gosh, there are so many things I'm happy with this year. Seeing two successful Exalted crowdfunding campaigns through has been amazing, and I'm also quite happily digging into the editing on Realms of Pugmire. Seeing Squeaks in the Deep release was wonderful as well, and Scion Demigod in print is also a high moment. Maybe I just like the work we do!
#2: I've only been a part of OPP projects since 2015, but having Rose hire me then filling her role (though we've adjusted and changed a lot over the years!) was a dream come true. I'll also never unhear "Pugmire, Pugmire, where we're going we don't need eyes." So many of my best memories from the past five years involve people I met through or because of Onyx Path, whether at a convention, online, or at a party. The inside jokes are legendary, and of course, the Onyx Pathcast continues to be a bright spot for me almost every week! Just being able to sit down and talk with colleagues about game design and whatever else comes up is always a blast.
Lisa Thomas:
#1: As a noncreative, my favorite project was ordering 10th anniversary t-shirts for the entire family. And occasionally getting a picture with someone wearing one.
#2: For me it's all about the people. Staff meetings are not always fun, but they often are. And sometimes they are downright hilarious! Getting to talk to all of the incredible people who contribute to OPP in various ways makes this a job to enjoy.
Mike Chaney:
#1: Aberrant NWE! Unleashed, TC Assassins, Novas Worldwide, and I'm pretty fond of Adventure! as well.
#2: Favorite OPP moment from the last 10 years:
Hunters Hunted II LtD. It was my first LtD Cover for OPP… and it is still my favorite LtD cover to date. The Ghost Hunters LtD is a close second.
The release of Pugmire and Fetch Quest. I don't get to work on a lot of things that involved doggos and chimkin… and those made me happy.
Ex3 and it's subsequent releases finally rolling out in 2016.
Beckett's Jyhad Diary… my favorite book interior and the reason I won't do artifact books anymore.
Matthew Dawkins:
#1: My favourite thing to have worked on over the last year must be They Came from the Danger Zone! or The World Below… I'm going to go for the latter as it's the one on my desk right now, and really refining the various peoples, settlements, dogmas, callings, and so on in our subterranean fantasy setting has been a huge amount of fun. Expect lots of teasers in the new year!
#2: In the last ten years, the defining Onyx Path moment for me (in particular) was becoming a developer. It really set me off on the path (an onyx one?) I walk today, career-wise, so I need to be grateful to my experiences on the V20 Dark Ages Companion and Pan's Guide for New Pioneers, as they were my first development projects! For the company itself, I think (rather self-centredly) that launching the They Came From line with Beneath the Sea! displayed a willingness to branch out into new gamelines with bold new directions, and They Came From is still going strong today! Keep your eyes open in 2023 for the next chapter in the They Came From saga…
And from RichT:
#1: The best thing about this past year? ALL of it! This past year has been our 10 Year Anniversary Celebration, and it has been a joy to watch everybody get excited about their favorite game lines, take advantage of our special 10th Anniversary sales, and dig into the tidbits released each month as we focused on one of our game lines after another.
For me, personally, it was such a hoot to once again create and design a dungeon for the Crossroads Continent (Down in the Hole) and then get it into publication! All accomplished within the year, as I started rolling it up randomly in the old-school style in February. Which was a lot of fun.
The toughest thing about this question is that the "big picture" stuff that is such a large part of what I do is very early in the creation process and so things like Realms of Pugmire (Pugmire 2nd Edition), which was just announced, are things that I started work on way before the announcement. So maybe next year I'll be talking about a major new game line I set the stage for this last year!
#2: Wow. The highlight of ten years of Onyx Path Publishing? That remains one of those "which one is your favorite child" questions that bedevil me. I'll just fire off some of the things I'm proud of that have no real hierarchical order of importance as they span all of our operations and projects and maybe are just what we do. (I'm sure I'll miss something or another, but please do ask about your favorites in the Comments section!)
One of my reasons for starting Onyx Path in 2012 was to get back to TTRPGs, but also to return to working with a whole raft full of folks I'd worked with during the WW years. Bringing Justin Achilli, Rich Dansky, Ethan Skemp, Phil Satyros Brucato, and others back onto the legendary game lines that they made such impacts on was a true pleasure. As was working once again with Christopher Shy, Melissa Uran, John Cobb, Michael Gaydos, Mike Kaluta, Ron Spencer, Brian LeBlanc, and so many other artists and writers!
But what happened while that was going on was that I was able to provide projects for a new generation of creators, and that was even more invigorating as we made sure to reach out to creative folk who might not have had a chance to be seen and hired back in the day. People who I hired as developers during the last days of White Wolf like Eddy Webb and Rose Bailey hired the writers of their generation, and when those creators became developers they hired an even more diverse crew of creators. A process that continues on!
And while the creators involved have become more diverse, so have the game lines we are publishing. Eddy mentioned the shock and surprise that we heard after announcing Pugmire, and a lot of that was because we were – perhaps rightly – seen as White Wolf, Jr. I believe that that perception has changed, even while I'm certainly proud of the job we have accomplished and continue to accomplish with shepherding new editions of your favorite game lines all these ten years. What has been truly satisfying, and vital for our business, has been the way our community has grown as we've added new, non-licensed, game worlds to our universe.
Pugmire, They Came From!, Cavaliers of Mars, the upcoming The World Below; these are all new worlds with new ideas and ways to play. In a similar way, the metamorphosis of older game lines like Scion and Trinity into what are effectively new game lines also moves Onyx forward conceptually, as they give our community new and different ways to play your old favorites.
It has truly been an honor and a privilege to be able to do these things, with these wonderful people for over a decade and with no end in sight!
I do have some other things I could mention, but now as I look at the above, highlights like finally being able to create a metal cover for W20 with claw marks through the metal, or signing our Scion TV pitch deal with Jenkins & Tate, or having the MST3K gang talk about out company on-air, seem to pale besides the essential truth of what has been amazing and wonderful this last decade with Onyx Path.
It's the people. It's you who read this goofy little blog each week, and the folks who read/play/analyze our game worlds, and the creators who pour so much of themselves into what they do, and our valiant in-house team that navigates the waters of our rapidly changing TTRPG hobby.
It's the people. Without everybody, we simply wouldn't exist, and we wouldn't have been able to say this year-long mantra (that's changing next week):
TEN YEARS, MANY WORLDS, ONE PATH!
---
BLURBS!
---
KICKSTARTER/CROWDFUNDING!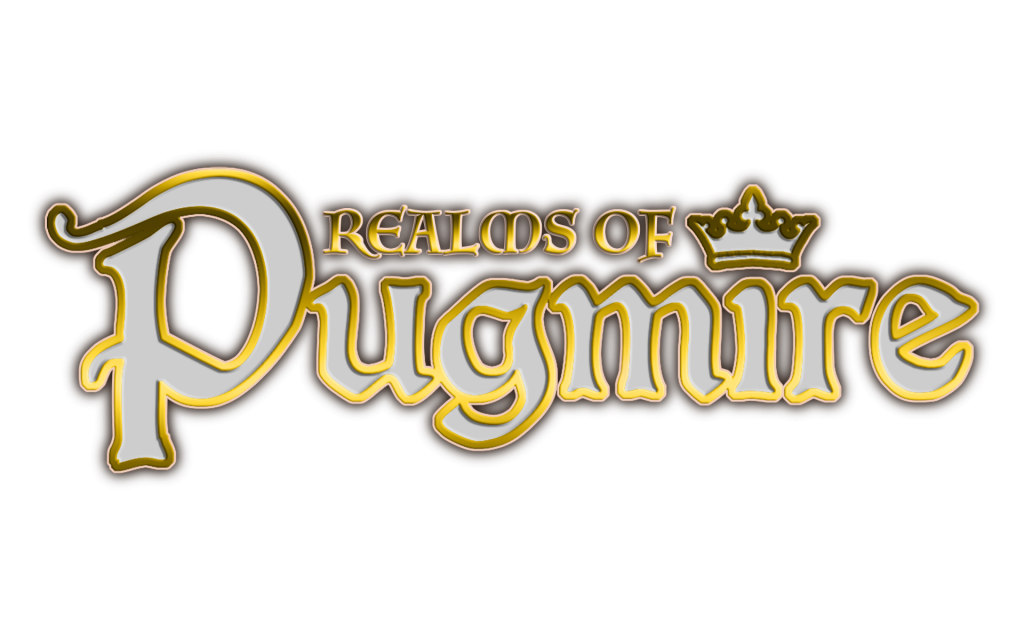 REALMS OF PUGMIRE! Crowd-funding planned for late January.
---
Onyx Path Media!
This week:
The Terrific Trio indulge in their holiday tradition of watching a movie together and providing commentary. This year, it's the Neil Breen epic "Twisted Pair!"
As always, this Friday's Onyx Pathcast will be on Podbean or your favorite podcast venue! https://onyxpathcast.podbean.com/
---
Onyx Path Media now has its own blog on Tuesdays! We'll continue posting our highlight of the week here, but Tuesday will be the day to visit if you want to catch up on actual plays, interviews, deep dives, and other assorted Onyx Path media!
Please check out our attached media schedule for the videos on our Twitch channel this week! In particular, keep those eyes open for our Storypath Showcase, where we give an excellent profile of our various Storypath games and how to play them!
MEDIA HIGHLIGHT OF LAST WEEK:
Our spotlight this week shines on our very own Onyx Pathcast, as last week an interview regarding the hotly anticipated Trinity Continuum: Aegis went live! You can listen to the interview with developer Lauren Roy here: https://onyxpathcast.podbean.com/e/episode-238-trinity-aegis/
The Onyx Path News discusses recent and upcoming releases! You can find it on our YouTube channel (click the bell to be informed when we go live!) but if you missed the last episode, here it is: https://youtu.be/4-kvjiZzi8I
---
Virtual Tabletop!
The Scion: Origin and Scion Hero Compendiums are now available on Roll20!

https://marketplace.roll20.net/browse/publisher/1716/onyx-path-publishing

Scion is just the start! They Came From Beneath the Sea! and other
Onyx Path RPGs are in development for Roll20 virtual tabletop!

The first of our official Scion sheets designed for Foundry VTT are
now available!

Direct Link: https://foundryvtt.co
Looking for more virtual tabletop resources? We have a selection of
Tokens, Encounters, and more available now at DriveThruRPG!

Get 'em here: https://bit.ly/3SnrNJ7

---
Our Sales Partners!
We're working with Studio2 to provide our traditionally printed books out into your local game stores. Game stores can order via their usual distributors, and can also contact Studio2 directly. And individuals can check out our projects via the links below!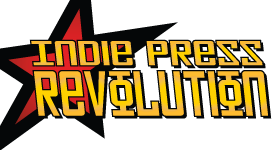 Looking for our Deluxe or Prestige Edition books, dice, and screens? Try this link! http://www.indiepressrevolution.com/xcart/Onyx-Path-Publishing/
End of the year/holiday sale at IPR:https://www.indiepressrevolution.com/xcart/Deals-and-Specials/
As always, you can find Onyx Path's titles in PDF and PoD versions at DriveThruRPG.com!
Classic Trinity Continuum PDFs are 90% off at DriveThruRPG until the end of the month.
Amazon and Barnes & Noble!
You can now read our fiction from the comfort and convenience of your Kindle (from Amazon) and Nook (from Barnes & Noble).
Check out the Trinity Continuum: Aeon novellas Dawn and Meridian in the Kindle store!
---
On Sale This Week!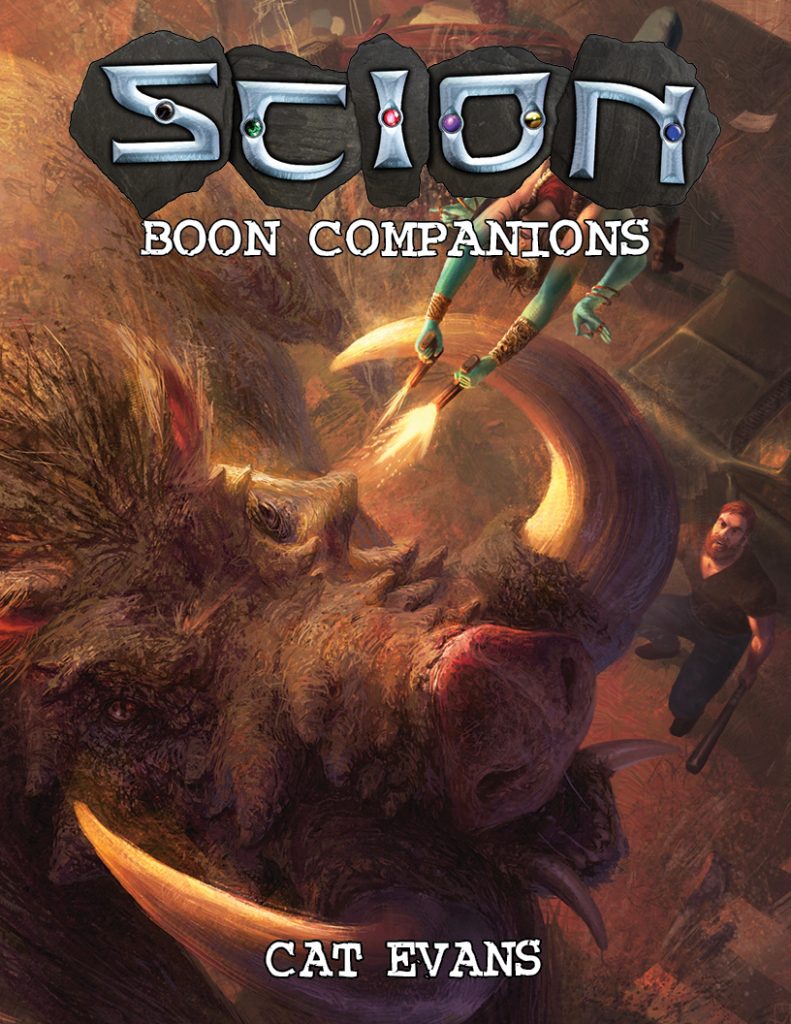 This Wednesday, the last Tasty Bit of 2022: Scion: Boon Companions is available in PDF on DTRPG!
---
Conventions!
Because dates for physical conventions are subject to change due to the current COVID-19 outbreak, we don't yet have a list of upcoming physical conventions. Instead, keep an eye out here for more virtual conventions we're going to be involved with!
Game Night With Onyx Path Publishing at Start.Playing is this Friday, the 30th! Our special focus this coming month will be the Trinity Continuum game lines! (But any of our game lines are welcome!)
Please spread the word about GMing games as much as
possible. Details on how list a game are at the bottom of the page in
the FAQ:

https://startplaying.games/event/game-night-onyx-path
---
And now, the new project status updates!
Our full list of projects will be available monthly on our blog! Check out November's full list report here: http://theonyxpath.com/release-roundup-november-2022/
DEVELOPMENT STATUS FROM EDDY
Here are the projects that moved to the next stage of production:
Manuscript Approval
Trinity Continuum – Community Content Guide
Eddy: Comments on the draft were light, so it's off to be approved!
Post-Approval Development
Exalted – Surface Truths (was Dragon-Blooded Novella 2)
Eddy: Even though it's the holidays, the novella made its way through approvals, so now it's a quick double-check for post-approval development before it goes to layout!
---
ART DIRECTION FROM MIKE CHANEY!
In Art Direction
Ex3 Crucible of Legends – Finishes underway.
DTR  Devoted Companion – Art is all in.
Pugmire 2e – Sketch Revisions en route. Grabbing some refs for Shen Fei.
In Layout
SCION Realms of Magic and Mystery – McEvoy working on finishing his pieces… Rich Ron Thompson just about through initial lay out.
Proofing
Indexing
At Press
TC: Adventure! – Backer PDF out to Backers for errata.
M20 Victorian Age – At Trad Press, reviewing press proofs, and PoD proof on the way.
Scion Dragon Screen – Printing started.
Scion Dragon – At KS fulfiller.
Scion Dragon Wallpaper – Going out to KS backers.
Scion Masks of the Mythos – At KS fulfiller.
Scion Masks of the Mythos Screen – Printing started.
Scion Masks of the Mythos Wallpaper
Contagion Chronicles Global Outbreaks – Out to KS backers for errata.
Ex3 Lunars Novella – Out to KS backers for errata.
TCFBTG Monsters from the Crypt! – PoD proof on the way.
TC: Aberrant – Proteus Nova Compendium – Page XXing.
Ex3 Adversaries – Errata sheet closed down, Lauren going over the errata.
Tasty Bit: Scion: Boon Companions – PDF on sale Weds on DTRPG!
---
Today's Reason to Celebrate!
It's the holiday season! Plus, it's also the last week of 2022 and our Onyx Path 10 Year Anniversary! Celebrate away!