Minding More Q's and A's! [Monday Meeting Notes]
More Q&A – because YOU requested it! Well, maybe not you personally, but we sure did get a great response to last week's blog…So We're Doin' It Again!
"But seriously, why is International shipping so high on the KSs?"
What backers are seeing from us on the Kickstarter pages are the shipping numbers we have received from our fulfillment partners, and no, they aren't inflating them and we aren't inflating them – those are what we are hearing from shippers like Fedex and USPS and others.
The fact is: we are not Amazon. We aren't C'Mon Games or other companies that send out a massive volume of packages. We're in the same boat as a lot of TTRPG companies, many of whom are dropping international shipping entirely. Instead, we made the call to give our backers the up-front info so they can make intelligent decisions, while we continue to search for less costly shipping options.
"Why aren't all Storypath Games the same?"
I'm assuming that this is in reference to the Storypath System, and not the settings for each game line that uses it. Because that's the only way the question makes sense to me.
One of my goals with the Storypath System was that it be flexible enough to work as the basis for any game we care to create with it, and part of that design was that the basic system would then have additional rules attached to it depending on the game line's needs.
Or, here is more from Eddy Webb, who has been overseeing the Storypath games, as well as doing design work on the system. He sez:
Each game takes the core system and tweaks it in a variety of ways to better emphasize what's important in that game. A game about myths like Scion doesn't need comprehensive weapon mechanics, but a game about salvaging equipment like Dystopia Rising does.
Basically, Storypath was never intended to be exactly the same with every line that uses it, like a generic system, but to allow a base level of familiarity so players just need to look into specific, game line intrinsic, additional rules.
"Why won't you publish all the Clan/Tribe/Tradition/etc books again?"
OK, that's a multi-part answer, so let me unpack a bit on this one.
First, and very specifically, we aren't recreating the "Splat books" as we do new editions because those lil' books aren't cost-effective to create with our current publishing model. We do however, love to gather the "splats" into larger books like we've already done with Lore of the Clans, or Lore of the Bloodlines.
Which brings us to the second part of this, which is what I touched on in last week's blog, which is that we don't have carte-blanche to create just any WoD (or CofD or Exalted) books that we want to create. We have to have their pitches approved by our licensor, White Wolf/Paradox, before we can do any work at all on projects.
So what I'm saying is that we wouldn't just recreate the old splat books, but we would do a differently formatted version, and that version still needs to be greenlit by our licensor. And right now, that has not happened.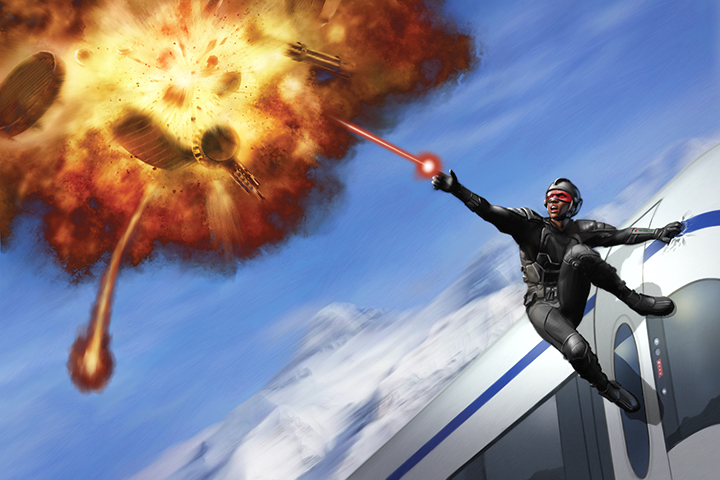 "Why are there approvals stages for Scion or Scarred Lands- don't you own those?"
The business productivity answer is that we try and keep our processes the same in game book creation to make them go through the stages consistently.
The RichT answer is that I want to be able to review, tweak, and fine-tune the game lines my company owns. I mean, I do it with our licensed game lines, so by crackee, I'm doing with my own durn games!
"What stores carry your books?"
Y'know, I don't actually know all of them at this point! What we hear from our sales partners at Studio2 and Indie Press Revolution, is that more and more stores are ordering as they become aware that we are putting select books into the distribution/retail channel.
So the notices I see are focused on which distributors have ordered what, although I do still get a chance to chat with retailers who pledge during our Kickstarters. Some of those folks have been with us since our first KSs, like our friends at Trollune in France, and more come on board with each KS.
Mighty Matt McElroy is a lot more hands-on with stores and retailers, and maybe we're at the point where he'd be willing to pull together some sort of Retailer list we could post on this site. I will ask him very, very, nicely if such a thing could be added to his already massive workload.
But be sure that we truly appreciate each and every order from retailers that our sales partners receive. A Friendly Local Game Store is one of the best places to learn about all sort of games, new and old, and we're glad we were able to figure out a way to once again get books into those shelves!
And if your FLGS doesn't yet know that they can order books from their favorite distributor like Changeling: The Lost 2nd Edition, or Scion: Origin and Scion: Hero, or Pugmire and Monarchies of Mau and others, with even more yet to come like V5 Chicago By Night and the Trinity Continuum books, then please, let them know, let us know, let the world know, that you want them to order our books for you!
"What are YOU excited about that's coming from Onyx Path?"
Scion: Demigod and Titanomancy to continue the core Scion mythological experience, and Dragon and Mythos to show how Scion has potential beyond that experience.

Trinity Continuum: similarly, very excited to bring back Aeon and Aberrant as lines and especially to revisit Adventure! and deliver an exciting game that emulates all the Pulp Genre excitement that I've loved during countless hours reading Doc Savage and The Avenger, but in a way that's compelling for a modern audience. Then, to finally expand from the three original game lines to other time periods and genres with new games that we're working on but haven't announced yet.
Legendlore is another game line I'm really looking forward to. In fact, I think the developed text should be coming my way later this week, or next week, and I can't want to see what Steffie De Vaan and team have done to take this long-established world and bring it up-to-date and relevant like I mentioned about TC: Adventure!
White Wolf gamelines: For CofD, I'm champing at the bit to start sharing Deviant: The Renegades during its Kickstarter. I've loved the concept of the wronged seeking revenge for what was done to them since the project was conceptualized, and Dave and Eric and crew have really delivered on that premise, and more! It's gut-wrenching, horrific, but also empowering!
For Exalted 3rd, I'm really glad we're finally doing the Storyteller's Guide, which combined with another book we're waiting to hear back on from WW, will provide players and prospective Storytellers with a lot of answers and material that fill in some of the blanks in the core EX3 rulebook. Hopefully, these sections will allow even more players to "get" Exalted 3rd, and so they'll all want to GET Exalted 3rd!
And, of course, I really can't expand on much for WoD without the OK from WW/Paradox, but we've been so thrilled by the reaction to the V5 Chicago By Night Backer PDF that I'm really looking forward to the next WoD projects from Matthew Dawkins, as well as finally delivering our outstanding 20th Anniversary projects!
They Came From…!: Speaking of Matthew, he is gravely hard at work digging into new sources of fun and inspiration for the follow-up They Came From game, and I'm such a fan of the whole genre/time period it covers that I can't wait to read it!
Creature Collection 5e: for Scarred Lands looks to be gorgeous! I'm both jealous that Johnny Hodgson was able to pull together so many fantastic artists, and thrilled that our efforts with his Handiworks Games is producing such a fantastic book. Look for its KS soon!
These aren't advertising blurbs here folks! I truly am excited to be able to bring all of these game lines to life, and to be part of bringing them to all of you – as well as those poor misguided souls who don't yet read this scintillating blog, or know of our:
Many Worlds, One Path!
---
BLURBS!
---
Kickstarter!
Keep an eye out in this space as well as on our social media for the Deviant: The Renegades Kickstarter that will be launching after August wraps up!
---
Onyx Path Media!
This Friday's Onyx Pathcast features an interview with one of the unsung new talents of Onyx Path and one of the nicest people working in the TTRPG industry: Meredith Gerber!
Go to https://onyxpathcast.podbean.com/ or to your favorite podcast venue!
No Onyx Path News this week, with Matthew having been away at Tabletop Scotland! But here's a nice photo of his group at that convention enjoying a session of They Came from Beneath the Sea!
Here's our upcoming Twitch schedule, and as you can see, it's getting very full of content! Between Travis Legge's Myths & Matchmakers for Scarred Lands, Near Dark Studios' Chicago by Night, our very own Pugmire: Paws and Claws and Aberrant: Collateral Damage, and more, we think you'll find something to entertain you! Even if you don't, we'd very much appreciate a follow on www.twitch.tv/theonyxpath!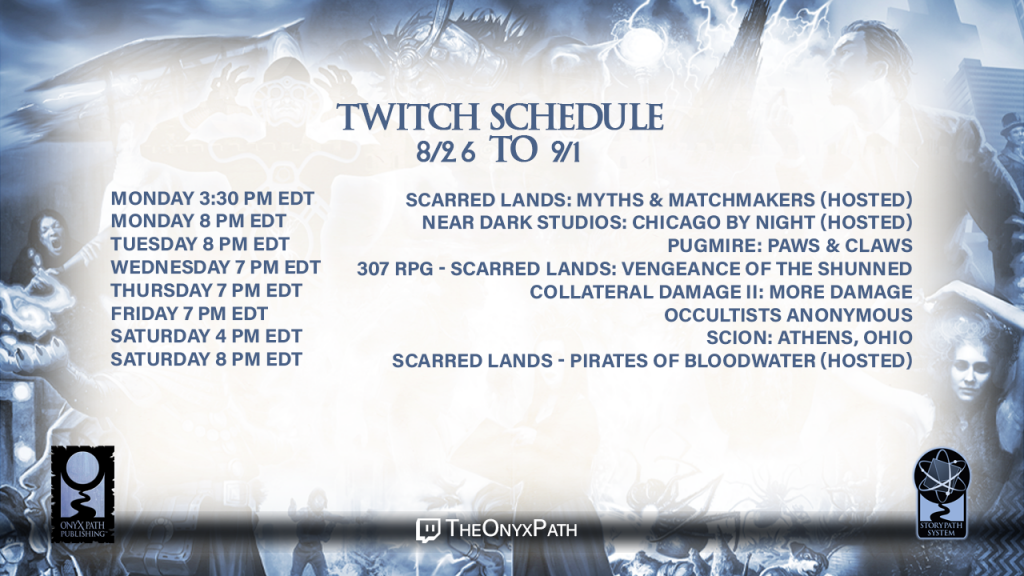 Outside our Twitch channel, the Botch Pit have started up a new chronicle for Geist: The Sin-Eaters 2nd Edition! And if you're not into actual plays, they also do breakdowns of lots of our other games: https://www.youtube.com/channel/UCQfcGvYILEV1vznP5__bOWg
Did you check out the www.gamerstable.com for their actual play of A Slippery Conspiracy? No? Well, now's the time to catch up and give their actual play of They Came from Beneath the Sea! a listen!
Devil's Luck Gaming continues with Pirates of Bloodwater for Scarred Lands right here: https://www.twitch.tv/DevilsLuckGaming Also check them out for an excellent Shadowrun actual play they've started. We know it's not our game, but we're happy to promote such a fine cast of players.
If you're a fan of Scion, check out https://ragnarokandroll.podbean.com/, a podcast that tracks all the way from first edition Scion: Hero to Scion: Ragnarok, but is now looking into the second edition of the game!
We're going through Wraith: The Oblivion character creation over on our YouTube channel here: https://youtu.be/jflNxrN3i6o And part two will be uploaded this week!
Drop Matthew a message via the contact button on matthewdawkins.com if you have actual plays, reviews, or game overviews you want us to profile on the blog!
Please check any of these out and let us know if you find or produce any actual plays of our games!
---
Electronic Gaming!
As we find ways to enable our community to more easily play our games, the Onyx Dice Rolling App is live! Our dev team has been doing updates since we launched based on the excellent use-case comments by our community, and this thing is awesome! (Seriously, you need to roll 100 dice for Exalted? This app has you covered.)
---
On Amazon and Barnes & Noble!
You can now read our fiction from the comfort and convenience of your Kindle (from Amazon) and Nook (from Barnes & Noble).
If you enjoy these or any other of our books, please help us by writing reviews on the site of the sales venue from which you bought it. Reviews really, really help us get folks interested in our amazing fiction!
Our selection includes these fiction books:

---
Our Sales Partners!
We're working with Studio2 to get Pugmire and Monarchies of Mau out into stores, as well as to individuals through their online store. You can pick up the traditionally printed main book, the screen, and the official Pugmire dice through our friends there! https://studio2publishing.com/search?q=pugmire
We've added Prince's Gambit to our Studio2 catalog: https://studio2publishing.com/products/prince-s-gambit-card-game
Now, we've added Changeling: The Lost 2nd Edition products to Studio2's store! See them here: https://studio2publishing.com/collections/all-products/changeling-the-lost
Scarred Lands (Pathfinder) books are also on sale at Studio2, and they have the 5e version, supplements, and dice as well!:
https://studio2publishing.com/collections/scarred-lands
Scion 2e books and other products are available now at Studio2: https://studio2publishing.com/blogs/new-releases/scion-second-edition-book-one-origin-now-available-at-your-local-retailer-or-online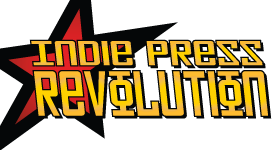 Looking for our Deluxe or Prestige Edition books? Try this link! http://www.indiepressrevolution.com/xcart/Onyx-Path-Publishing/
And you can order Pugmire, Monarchies of Mau, Cavaliers of Mars, and Changeling: The Lost 2e at the same link! And NOW Scion Origin and Scion Hero are available to order!
As always, you can find most of Onyx Path's titles at DriveThruRPG.com!
---
On Sale This Week!
This Wednesday, we're offering our monthly Exalted 3rd Edition PDF for Hundred Devils Night Parade!
---
Conventions!
Save Against Fear: October 12th – 14th
GameHoleCon: October 31st – November 3rd
PAX Unplugged: December 6th – 8th

2020: Midwinter: January 9th – 12th
---
And now, the new project status updates!
DEVELOPMENT STATUS FROM EDDY WEBB (projects in bold have changed status since last week):
First Draft (The first phase of a project that is about the work being done by writers, not dev prep)
M20 Victorian Mage (Mage: the Ascension 20th Anniversary Edition)
Exalted Essay Collection (Exalted)
Dragon-Blooded Novella #2 (Exalted 3rd Edition)
Exigents (Exalted 3rd Edition)
Many-Faced Strangers – Lunars Companion (Exalted 3rd Edition)
Contagion Chronicle: Global Outbreaks (Chronicles of Darkness)
Player's Guide to the Contagion Chronicle (Chronicles of Darkness)
Contagion Chronicle Jumpstart (Chronicles of Darkness)
N!ternational Wrestling Entertainment (Trinity Continuum: Aberrant)
Creating in the Realms of Pugmire (Realms of Pugmire)
Redlines
Tales of Aquatic Terror (They Came From Beneath the Sea!)
Kith and Kin (Changeling: The Lost 2e)
Wraith20 Fiction Anthology (Wraith: The Oblivion 20th Anniversary Edition)
Crucible of Legends (Exalted 3rd Edition)
Lunars Novella (Rosenberg) (Exalted 3rd Edition)
Yugman's Guide to Ghelspad (Scarred Lands)
Vigil Watch (Scarred Lands)
Pirates of Pugmire KS-Added Adventure (Realms of Pugmire)
Second Draft
Tales of Good Dogs – Pugmire Fiction Anthology (Pugmire)
Dragon-Blooded Novella #1 (Exalted 3rd Edition)
Across the Eight Directions (Exalted 3rd Edition)
One Foot in the Grave Jumpstart (Geist: The Sin-Eaters 2e)
Scion: Demigod (Scion 2nd Edition)
Titanomachy (Scion 2nd Edition)
Trinity Continuum Jumpstart (Trinity Continuum Core)
Terra Firma (Trinity Continuum: Aeon)
Monsters of the Deep (They Came From Beneath the Sea!)
Development
M20 The Technocracy Reloaded (Mage: the Ascension 20th Anniversary Edition)
Creatures of the World Bestiary (Scion 2nd Edition)
Heirs to the Shogunate (Exalted 3rd Edition)
Scion Companion: Mysteries of the World (Scion 2nd Edition)
Legendlore core book (Legendlore)
City of the Towered Tombs (Cavaliers of Mars)
TC: Aeon Jumpstart (Trinity Continuum: Aeon)
Mummy: The Curse 2nd Edition core rulebook (Mummy: The Curse 2nd Edition)
Masks of the Mythos (Scion 2nd Edition)
Scion: Dragon (Scion 2nd Edition)
TC: Aberrant Reference Screen (Trinity Continuum: Aberrant)
Manuscript Approval
Creatures of the World Bestiary (Scion 2nd Edition)
Cults of the Blood Gods (Vampire: The Masquerade 5th Edition)
W20 Shattered Dreams Gift Cards (Werewolf: The Apocalypse 20th)
W20 Art Book (Werewolf: The Apocalypse 20th)
Post-Approval Development
Trinity Continuum: Aberrant (Trinity Continuum: Aberrant)
V5 Chicago Screen (Vampire: The Masquerade 5th Edition)
Deviant: The Renegades (Deviant: The Renegades)
Let the Streets Run Red (Vampire: The Masquerade 5th Edition)
WoD Ghost Hunters (World of Darkness)
Scion LARP Rules (Scion)
Geist 2e Fiction Anthology (Geist: The Sin-Eaters 2nd Edition)
Oak, Ash, and Thorn: Changeling: The Lost 2nd Companion (Changeling: The Lost 2nd)
Editing
Night Horrors: Nameless and Accursed (Mage: the Awakening Second Edition)
Lunars: Fangs at the Gate (Exalted 3rd Edition)
TC: Aeon Ready-Made Characters (Trinity Continuum: Aeon)
Hunter: The Vigil 2e core (Hunter: The Vigil 2nd Edition)
Chicago Folio/Dossier (Vampire: The Masquerade 5th Edition)
City of the Towered Tombs (Cavaliers of Mars)
Post-Editing Development
Memento Mori (Geist: The Sin-Eaters 2e Companion)
DR:E Jumpstart (Dystopia Rising: Evolution)
Pirates of Pugmire (Realms of Pugmire)
Indexing
---
ART DIRECTION FROM MIKE CHANEY!
In Art Direction
Contagion Chronicle
Trinity Continuum: Aberrant
Hunter: The Vigil 2e
Ex3 Lunars – Contracted.
They Came from Beneath the Sea! – Contracted. Sketches still coming in.
TCfBtS!: Heroic Land Dwellers
Night Horrors: Nameless and Accursed
Ex3 Monthly Stuff
DR:E Threat Guide – Helnau's Guide to Wasteland Beasties – Contracted.
Deviant (KS) – Contracted. LeBlanc's art already in.
Trinity RMCs – Contracted.
Cults of the Blood God (KS) – Sending out art notes.
Chicago Folio – Art notes going out this week.
Mummy 2 (KS) – Got Matthew's notes.
In Layout
CoM – Witch Queen of the Shadowed Citadel
Dark Eras 2 – Files with Aileen
Trinity Continuum Aeon: Distant Worlds
VtR Spilled Blood – With Josh.
DR:E Jumpstart
Aeon Aexpansion
Proofing
C20 Cup of Dreams
V5: Chicago – Inputting errata.
Geist 2e – XX's and then Indexing.
Signs of Sorcery – Inputting errata.
M20 Book of the Fallen
DR: E – Inputting errata.
At Press
Dragon Blooded – Deluxe at Studio2, shipping wrapping up.
Dragon-Blooded Cloth Map – At Studio2, shipping wrapping up.
Dragon-Blooded Screen – Shipped to Studio2, shipping wrapping up.
Trinity Core Screen – At Studio2.
TC Aeon Screen – At Studio2.
Trinity: In Media Res – PoD proofs coming.
Trinity Core – Printing. PoD proofs ordered.
Trinity Aeon – Printing. PoD proofs ordered.
Shunned By the Moon – PoD proof coming.
---
Today's Reason to Celebrate!
On this date in 1346 – Hundred Years' War: The military supremacy of the English longbow over the French combination of crossbow and armored knights is established at the Battle of Crécy. Thus spawning whole rafts of longbow lovin' moments in gaming! (Also can be seen as a victory for the common man that will echo through history and turn out even more badly for the French nobility 400-some years later).