Monarchies of Mau Kickstarter: 24 Hours Remaining!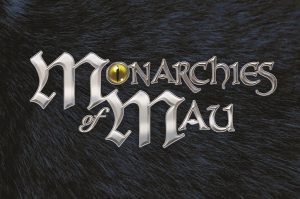 Our Monarchies of Mau Kickstarter has only 24 hours remaining! Act now to help us create a beautiful traditionally printed fantasy game book featuring cat monarchies – and get it into stores.
Monarchies of Mau is a complete tabletop roleplaying game that acts as a companion game to, and is totally compatible with, Eddy Webb's first RPG, Pugmire. The Monarchies of Mau is a nation of cats tenuously comprised of six city-states. They live in the ashes of our world far in the future, seeking danger and mystery. Think Three Musketeers meets Planet of the Apes, but with cats.
We've passed 500% funding, and have achieved a number of amazing stretch goals, including:
Kickstarter shirt
Monarchies of Mau Adventure book, including an adventure from Denis Detwiller (Delta Green, NECROPOLIS)
Fiction Anthology with 5 stories, including tales from Monica Valentinelli (Firefly RPG, Hunter: The Vigil), Joseph D. Carriker Jr. (Vampire: The Requiem, Sacred Band)
Roll of Good Dogs and Excellent Cats: Ready-made characters from Pugmire and the Monarchies
There's only one day remaining, so please join us!