Now Available: 12 Days of Onyx Condition Card Winners!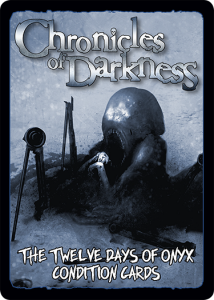 The jingle of bells, the baking of Christmas cookies, the stomping of reindeer hooves outside your bedroom window… These past twelve days have been a lot of fun, and we've really enjoyed all of your entries for our first-ever 12 Days of Onyx holiday-themed Condition Card contest.
Today, we're happy to announce that we've finished sifting through your sugar plums and Santa hats to select the winners and create our gift to you. Congrats and thank you to all who entered!
Enjoy your free download of the holiday-themed Condition Cards. It's our gift to you. Available now on DriveThruRPG.com (PoD cards coming soon).
Our winners:
Alone for the Holidays
Blue Christmas
Earworm
Festive Fury
Following a Star
Gift Card
Holiday Dinner
In the Spotlight
It's A Wonderful Lie
Overly Festive Cultists
Wreath: The Ornamentation
Yipee Ki-Yay
We really enjoyed your holiday-themed Condition Cards and your enthusiasm for the new rules featured in the Chronicles of Darkness rulebook. If you want to take a moment to tell us what you thought about our first-ever 12 Days of Onyx contest, please let us know in the comments.
Happy holidays from all of us at Onyx Path Publishing!