Now Available: Aberrant New Team, and Aberrant CC Assets
Sales, Scarred Lands, Trinity Continuum: Aberrant, Trinity Continuum: Anima
Now available in PDF: Storypath Tasty Bit: Amalgamated Idea Dynamics for Trinity Continuum: Aberrant!
Amalgamated Idea Dynamics (A.I.D.) is a corporation dedicated to the expansion of human knowledge and prosperity through science. Founded by nova philanthropist, inventor, and superhero Yuki Yanagi — a.k.a. Doctor Dynamic — A.I.D. works to push humankind's understanding to new heights while creating innovations that expand the comfort, safety, and prosperity of their partners, clients, and customers. A.I.D. also provides nova security and municipal defense for the city of Madison, Wisconsin, which is home to their corporate headquarters.
Within you will find character sheets and backgrounds for the four members of A.I.D., as well as plot seeds for potential adventures.
This PDF is part of the "Storypath Tasty Bits" program, where every month in 2021 Onyx Path offers a small product that ties into one of its Storypath games.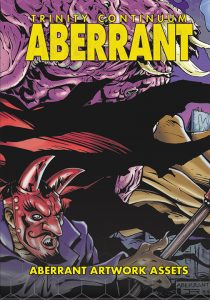 Also available: Would you like to make your own Aberrant material, and sell it? We'll soon be opening Aberrant on the Storypath Nexus (scroll down to see more), and you can use these assets to get started:
Other Recent Releases
Did you miss one of these recent releases?
Sales
Indie Press Revolution has a couple of Onyx Path titles they're trying to clear out, offering 50% off: the Dark Eras Screen, and Lore of the Clans Deluxe Edition.
Crowdfunding Update
Trinity Continuum: Anima, our 2084 cyberpunk/litRPG setting for the Trinity Continuum, launched last week on Kickstarter! We funded to 100% in seven hours, and we're currently at $39,326, or 157% of our $25,000 goal, thanks to our 714 backers. We've got three weeks remaining, and have already unlocked the following stretch goals:
Terra Surge Reference Screen
RedBubble Backer T-Shirt
Did you miss one of our previous Kickstarters? The following Kickstarted products are still open for preorders via BackerKit:
Community Spotlight
The following community-created content for Scarred Lands has been added to the Slarecian Vault in the last week:

The following community-created content for Realms of Pugmire has been added to Canis Minor in the last week:
The following community-created content for Storypath has been added to the Storypath Nexus in the last week: