Now Available: Blood Gods in stores, and Vigil Watch in print!
Exalted, Sales, Scarred Lands, Trinity Continuum: Aberrant, Trinity Continuum: Æon, Vampire: The Masquerade
Now available in traditional print from Studio 2: Cults of the Blood Gods for Vampire: The Masquerade 5th Edition! This is the same traditional print run that Kickstarter backers received. Ask your FLGS to order a copy!
Cults of the Blood Gods is a new style of sourcebook for Vampire: The Masquerade 5th Edition that introduces the pernicious horror of twisted beliefs. Designed for players and Storytellers. An in-character breakdown of the rise of esoteric beliefs among the ranks of the undead and how faith drives many of the major aspects of vampire culture. When you have already experienced death, why have faith? If you accept that you and everyone like you is cursed by God, why cling to His word? When you return from the other side as a blood-drinking monster, what purpose serves belief?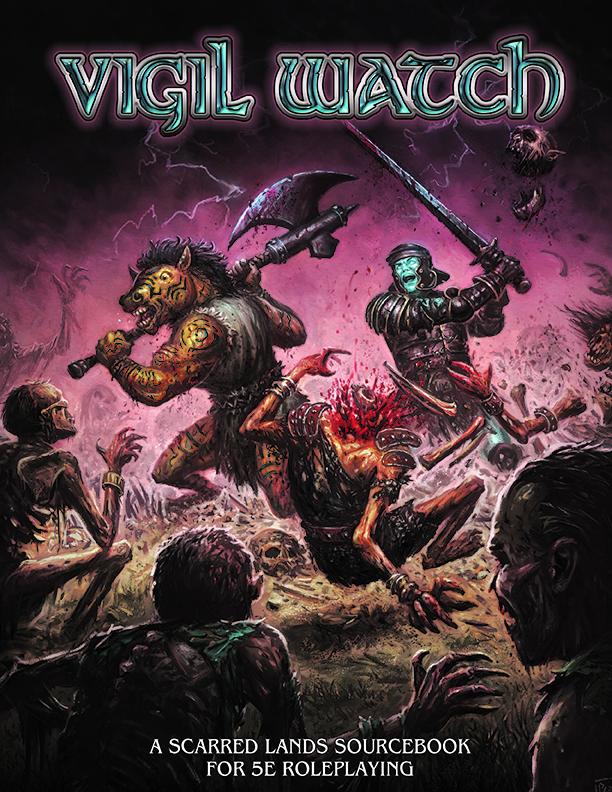 Also available in print-on-demand from DriveThruRPG: The Collected Vigil Watch for Scarred Lands!
Ghelspad Expanded!
Ghelspad is a massive and diverse land. Once a paradise, this continent is now scarred by the ravages of the Titanswar. In the wake of divine bloodshed, and beset on all sides by titanspawn, the people of Ghelspad survive and thrive on this befouled continent. Vigil Watch explores six different locations across Ghelspad.
From the bloody shores of the Toe Islands in the east to the Sweltering Plains of the west, Vigil Watch provides an in-depth look at a variety of locales and cultures.
Vigil Watch contains:
Expanded information on the culture and nomadic home of the ironbred
A detailed view of Leoni, the center of the Manticora Confederacy
The terrifying deadlands of the Festering Fields
An exploration of the Library of Lokil, and much more!
Also also available:
Crowdfunding Update
Exalted: Essence launched on Kickstarter three weeks ago, and hit our funding goal within the first 13 minutes! That makes it our fastest-funding Kickstarter ever, beating Exalted 3rd Edition's previous 18-minute record!
We're currently at $279,113 of our initial $35,000 goal, or an incredible 797%, thanks to our 3278 backers. With just one week to go, we've already hit the following stretch goals:
Essence ST Screen
Pillars of Creation: The Essence Companion: more Universal Charms, Evocations, Hearthstones, warstriders. Scattered Lotus Petals: Martial Arts (Single Point Shining Into the Void, Golden Janissary, Celestial Monkey, more). Enemies of the Chosen: Antagonists, demons, fair folk. Eight Directions Atlas: more locations x2. Creation's Chosen: More Solar, Lunar, Exigent, Sidereal, and DB Charms. Storytelling the Chosen: ST advice and adventure hooks. Beyond Creation's Chosen: More Infernal, Alchemical, Getimian, Liminal, and Abyssal Charms. Games of Divinity: more on the cosmology and deities of Creation. Lintha Expansion. Other Antagonists. Additional Artifacts.
Essence Jumpstart and Ready-Made Characters
Backer T-shirt
Essence Adventure: Two scenarios
Essence Digital Wallpaper
Essence VTT Token Pack
Essence Novella by Lauren Roy
NerdyKeppie bag opportunity
Increased art budget
Essence Charm Cards PDF
Did you miss one of our previous Kickstarters? The following Kickstarted products are still open for preorders via BackerKit:
Community Spotlight
The following community-created content for Scarred Lands has been added to the Slarecian Vault in the last week:

The following community-created content for Realms of Pugmire has been added to Canis Minor in the last week:
The following community-created content for Storypath has been added to the Storypath Nexus in the last week: