Now Available: C20 Journals!
Changeling: The Dreaming, Dystopia Rising, Realms of Pugmire, Sales, Vampire: The Masquerade, Werewolf: The Apocalypse
Now available from our RedBubble store: blank hardcover kith journals for Changeling: The Dreaming 20th Anniversary Edition!
4pm Edit: Also available: Prince's Gambit, our Vampire: The Masquerade social deduction card game, is now available for purchase from Studio 2! You can either order a copy yourself, or you can get your FLGS to order from them!
Kickstarter Update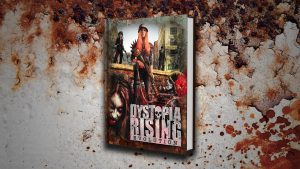 Our Kickstarter for Dystopia Rising: Evolution, the 2nd edition of the Dystopia Rising tabletop RPG, launched two weeks ago today! We hit our goal in under a day, and are currently sitting at $31,059 (155% of the goal), with 554 backers. There are 15 days remaining to join us as we push back the undead hordes!
With your help, we've achieved four stretch goals so far:
Dystopia Rising: Evolution Kickstarter backer T-shirt
The Threat Guide companion has added two sections
Dystopia Rising: Evolution digital wallpaper
Did you miss one of our previous Kickstarters? The following Kickstarted products are still open for preorders via BackerKit:
Community Spotlight
The following community-created content for Scarred Lands has been added to the Slarecian Vault in the last week:
The following community-created content for Realms of Pugmire has been added to Canis Minor in the last week:
The following community-created content for the World of Darkness has been added to the Storytellers Vault in the last week: