Now Available: C20 Novel and W20 Auspice Cards!
Changeling: The Dreaming, Mummy: The Curse, Sales, Werewolf: The Apocalypse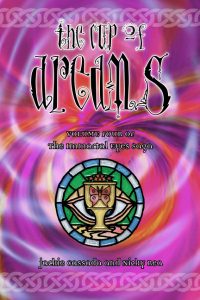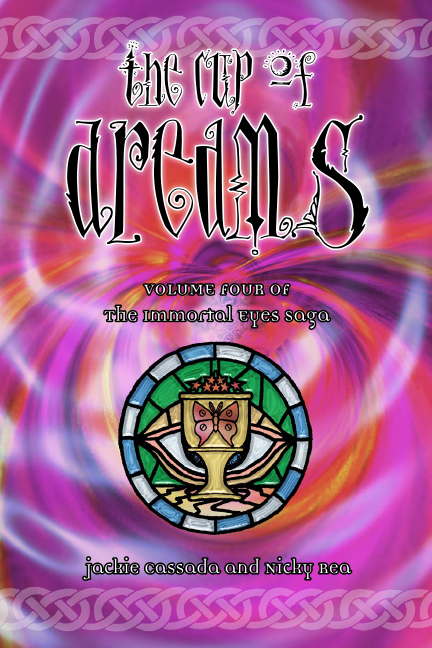 Now Available in PDF and ebook from DriveThruFiction: Immortal Eyes 4: The Cup of Dreams for Changeling: The Dreaming 20th Anniversary Edition!
Two decades ago, sidhe changeling Morgan Daniels watched her oathmates cross through Silver's Gate and enter the faerie homeland of Arcadia. Now no longer a childling, Morgan hears a call, letting her know it is time for her friends to come home. 
In Arcadia, Morgan's oathmates engage in a battle to return to Morgan and the Mortal Realm they left behind. A new quest awaits them, one for the elusive and mystical Cup of Dreams.
In the meantime, drawn to San Francisco by a mysterious call, another group of changelings gathers at the Toybox Coffee Shop. Their task: defend the freehold from a series of incursions by servants of the changelings' ancient enemies.
Combining Celtic lore with old ballads, this sequel to the Immortal Eyes Trilogy reunites old friends and brings together new ones in a tale of adventure, romance, trust and betrayal that is both timely and timeless.
The Cup of Dreams is a sequel to the classic Immortal Eyes trilogy: The Toybox, Shadows on the Hill, and Court of All Kings.
Also available: Auspice Gift Cards for Werewolf: The Apocalypse 20th Anniversary Edition!
It's hard to carry a book in your hands when you're charging into battles, claws and spurs popping through your skin. Frankly, who wants to get the Wyrm's blood on their rulebook? Thankfully, the Auspice Gift Cards exist to alleviate your hardships.
Now, the powers of all Auspices are available at your fingertips, in an easy-to-handle format! 
This set of Gift Cards contains all the Auspice Gifts present in Werewolf: The Apocalypse 20th Anniversary Edition and its accompanying sourcebooks. Each card contains the rules and description of a single Gift.
Sales
DriveThruComics is serving up two bundles in support of ConTessa: the ConTessa Bundle of Comic Awesome includes a copy of Exalted: Tale of the Visiting Flare, while the ConTessa Bundle of RPG Awesome includes a copy of Aberrant 1st Edition.
Scarred Lands products for Pathfinder (the Scarred Lands Players Guide and The Wise & The Wicked 2nd Edition) are upwards of 90% off from Indie Press Revolution! Both products are an incredible $5 each!
Kickstarter Update
The Kickstarter for Mummy: The Curse 2nd Edition launched last week, and hit its $25,000 funding goal in just 10 hours! We're currently at $44,051, or 176%, with three weeks to go. Thanks to our 878 backers! So far we've hit the following stretch goals:
Did you miss one of our previous Kickstarters? The following Kickstarted products are still open for preorders via BackerKit:
Community Spotlight
The following community-created content for Scarred Lands has been added to the Slarecian Vault in the last week:

The following community-created content for Realms of Pugmire has been added to Canis Minor in the last week:
The Storypath Nexus is now open! So far Scion content has been unlocked. The following community-created content for Scion has been added to the Storypath Nexus in the last week: