Now Available: Children of the Blood!
Sales, Scarred Lands, Vampire: The Masquerade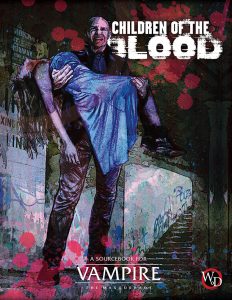 Now available in PDF and print-on-demand from DriveThruRPG: Children of the Blood for Vampire: The Masquerade 5th Edition!
Do you know who considers faith among the dead a trivial concept — or worse, a new one?
Dullards and con artists.
These vampires want you to believe that religion is a new phenomenon among Kindred. They want you to believe only vampires on the periphery subscribe to the worship of higher powers or seek a greater cause.
They want you to believe this, because they want you to feel alone, without purpose, and disconnected from our true, spiritual — no, God-given — heritage and destinies. They'll make you feel this way, and then they'll be your friend, your only confidante, and they'll have one hand in your pocket while the other measures your ribcage for the stake.
Do not trust these people. Trust us. Trust me. I didn't survive for as long as I have through mundane means, through lack of conviction, or by fooling myself into believing there is nothing greater than myself in the world. Join me, and I can show the truth. I can be your friend and your confidante. There may be sacrifices along the way, but I promise, it will lead to your enlightenment.
Children of the Blood includes:
A broad selection of new SPCs to introduce into your stories as antagonists and supporting characters, with many linked to strange and dangerous cult organizations — some new for Children of the Blood, others expanding concepts introduced in Cults of the Blood Gods and Forbidden Religions.
Ready-made characters for players, along with coteries for them to form, allowing you to take material from this book and immediately play with it.
New Bloodlines, Loresheets, Merits, and Flaws, all available to help expand your playable options in a chronicle of Vampire: The Masquerade.
Sales
We're running a Scarred Lands Sale! Get discounts up to 50% from Studio 2, Indie Press Revolution, and DriveThruRPG on select Scarred Lands material until May 24!
The D&D Setting Sale includes 60% off the collected Yugman's Guide to Ghelspad for Scarred Lands! Just about everything Scarred Lands which isn't in the above sale is in this one!
Crowdfunding Update
Did you miss one of our previous Kickstarters? The following Kickstarted products are still open for preorders via BackerKit:
Community Spotlight
The following community-created content for Scarred Lands has been added to the Slarecian Vault in the last week:

The following community-created content for Realms of Pugmire has been added to Canis Minor in the last week:
The following community-created content for Storypath has been added to the Storypath Nexus in the last week: