Now Available: Chronicles of Darkness!
Now available in PDF on DriveThruRPG: The Chronicles of Darkness Revised Storytelling System Rulebook!
Keep walking.

Eyes straight ahead.

Don't look back.

In the shadows and between the cracks of our everyday lives hide the Chronicles of Darkness. Here lurk creatures of ancient myth and urban legend. Here lie the graves of angels and the bunkers of secret government programs. Here every malformed horror you've ever seen out of the corner of your eye has a home. And they've seen you.

Don't look back!

Chronicles of Darkness RPG rulebook contains:

A guide to creating characters to explore a world of modern horror, from hopes and fears to psychic powers.
Dramatic rules for investigation, social manipulation, and bone-crunching violence.
Over a dozen monsters straight out of weird fiction and urban legend… plus complete rules for creating your own.
The God-Machine Chronicle, a massive collection of sample characters and techgnostic adventures.
Formerly titled the World of Darkness Rulebook 2nd Edition.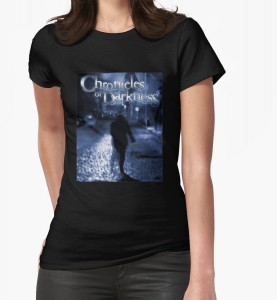 And to celebrate, we've also got a few new CofD shirt designs on our RedBubble store!
Don't forget, our 12 Days of Onyx contest is still running. Get your submissions in for CofD Condition Cards while you can!