Now Available: Deluxe Beckett's, Deluxe Changeling20, and more
Changeling: The Dreaming, Sales, Vampire: The Masquerade
Now available for order from our partners at Indie Press Revolution: Beckett's Jyhad Diary Deluxe Edition!
It's ever been a loaded word among vampires. Jyhad is in force everywhere from lofty, perfumed Elysium to cloying, smoke-filled blood feasts. Jyhad's the eternal game played by elders, Methuselahs, and worse — it's the agenda of beings so utterly beyond humanity, one such as yourself could scarcely understand its movements.
Luckily for you, you've picked up a copy of my diary. With my help you may just take a step on the first rung of understanding. Information worth having is information you must earn through blood, and oh, how I've bled for what's contained within these pages.
— Beckett
Beckett's Jyhad Diary serves as the definitive book of setting and plot for Vampire: The Masquerade, containing 30 chapters spanning different geographical regions, encountering vampires of every clan, profiling obscure and profound segments of the mythology, and providing countless story hooks on every page.
Masterfully written by the likes of Neall Raemonn Price, Joshua Alan Doetsch, Myranda Sarro, Steffie de Vaan, Malcolm Sheppard, Alan Alexander, Renee Knipe, and Matthew Dawkins, Beckett's Jyhad Diary is as fascinating to read as to use for your game Chronicles.
---
Also available for V20: Beckett's Jyhad Diary V20 Storyteller's Screen and Vampire: The Masquerade 20th Anniversary Edition Dice! The screen is a sturdy three-panel foldout with pertinent charts and quick-reference information for V20 games. The dice are, made by Q Worshop, are elegant grey-and-black featuring the numbers 1 through 9 in the familiar Vampire title font, and the V20 ankh taking the place of the 10, surrounded by thorned rose vines.
---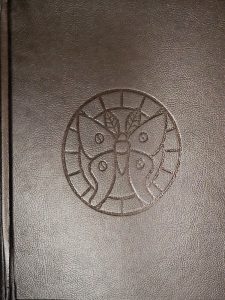 Also available: Changeling: The Dreaming 20th Anniversary Edition Deluxe Edition!
Judge us not by our seemings for we are never what we appear.
Come hither, changelings and join the dream-dance,
lest the winter come and the Dreaming pass into memory.
Recall your heritage! Let the games begin!
Twenty years ago, White Wolf published Changeling: the Dreaming, the fifth of their promised five game-lines that together comprised the World of Darkness. Seen by some as a lighter, more fantasy-based setting in the modern-day, and by others as the darkest game White Wolfhad yet created, players had to face the question of what happens once creativity and magic fades from their world.
This 20th Anniversary Edition of Changeling: the Dreaming returns to that deceptively bright yet terrifying world and both compiles and completes the concepts of the previous two editions. Led by veteran White Wolf and Onyx Path developer "Blackhat" Matt McFarland, our writing team consists of longtime Changeling creators like Ian Lemke, Jackie Cassada, Nicky Rea, and Peter Woodworth, as well as familiar names such as Holden Shearer, John Snead, Maggie Carrol, Matthew Dawkins, and Krister Michl. One and all are dedicated to making Changeling: the Dreaming Twentieth Anniversary Edition the most playable edition yet – while not losing the wonder, awe, and majesty that Changeling is known for.
A revised and up to date look at the World of Darkness through the eyes of the Kithain – what has happened to the Dreaming in the last 20 years, and what is the state of Glamour and dreams?
Rules for all of the kiths including in 2nd ed, plus fan favorites from other books: selkies, piskies, clurichaun, and both Arcadian and Concordian sidhe.
Rules for the Gallain: The inanimae, the hsien, the Nunnehi, and others!
An overhauled and reimagined system for fae magic, including new Arts and the powerful but dangerous practice of Unleashing!
New full-color beautiful artwork as well as classic Changeling illustrations including remastered full page pieces of the kiths by Tony Diterlizzi.
---
Also available for Changeling: Changeling: The Dreaming 20th Anniversary Edition Storyteller's Screen and Changeling: The Dreaming 20th Anniversary Edition Dice! Like the screen above, this is a sturdy three-panel foldout with useful reference information for Changeling Storytellers. The Q Workshop dice display the numbers 1 through 9 (with the signature Changeling luna moth on the 0 face) placed in a stained glass motif.
For more about our partnership with IPR, please see Rich's recent Monday Meeting Notes.
Kickstarter Update
Our next Kickstarter is going to be Lunars: Fangs at the Gate for Exalted 3rd Edition, coming up on February 12 at 2pm Eastern!
Did you miss one of our previous Kickstarters? The following Kickstarted products are still open for preorders via BackerKit:
Community Spotlight
The following community-created content for Scarred Lands has been added to the Slarecian Vault in the last week (to be updated once DTRPG is back up):
The following community-created content for Realms of Pugmire has been added to Canis Minor in the last week: