Now Available: Earth Orbital Habitat, plus Scion Hero on Roll20!
Exalted, Realms of Pugmire, Sales, Scion: Hero, Trinity Continuum: Aberrant
Now available in PDF and print: Storypath Tasty Bit: The Earth Orbital Habitat, for Trinity Continuum: Aberrant!
As the station nears completion, and several modules have been finished and are in the process of being fully staffed, the Earth Orbital Habitat is now humanity's largest space station. Once finished, it will be home to humanity's largest space-based telescope, the first orbital hotel, facilities for testing manufacturing in space, representatives from more than a dozen national governments and international organizations like Project Utopia, and a space dock capable of constructing ships able to visit any part of the solar system. 
Earth Orbital Habitat offers more material for space-faring Trinity Continuum: Aberrant chronicles. Within you will find details of the habitat itself, a look into the politics and intrigue of the Earth Orbital Council, new technology, and writeups of key characters.
Also available: Scion 2nd Edition – Book Two: Hero is now available from roll20!
The ancient powers never fully went away. They wander our roads and cities, mingling with the teeming masses of humanity. You are one of their children, born to the magic of yesterday and the promise of tomorrow. Now begins the war against the Titans, elder beings who rage against the human world and its wayward gods. Commanding the push and pull of Fate, you will ride into battle and work wonders, the better to prove yourself worthy of legends.
Scion is a contemporary game of modern myth and epic heroism. Its first edition was published in 2007, and it quickly gained an enthusiastic following, winning the ENnies Game of the Year award. Originally slated as a simple three-book series, its fervent following merited an expansion beyond those original limits, resulting in a series of books and PDFs released over the next several years. Onyx Path is proud to oversee the publishing of an entirely new edition of the game.
Find your destiny. Live the myth. Embrace your Fate.
Scion is a game about Gods and humanity, and everything in between. It's a game about mythic Deeds and the reasons people talk about those mythic Deeds. Scion: Origin details the Scions when they're still (mostly) human, before the Visitation that introduces them to the divine World — they're exceptional humans, perhaps, blessed with luck and skill or cursed with ill fortune and strange trials in their lives, but humans nonetheless.
This book includes:
Knacks and Boons, the incredible miracles wielded by Scions, powered by the Storypath system.
Character-creation systems for Heroes, the first step of a Scion's evolution towards divinity.
Ten pantheons: the Algonquian, Aztec, Chinese, Egyptian, Japanese, Greek and Roman, Hindu, Irish, Norse, and Yoruban Gods, all suitable for parentage of your Scion.
Advanced information on the World, the setting of Scion, complete with fearsome enemies to oppose your Scion.
Fully drag & crop compatible with the Official Scion Character Sheet.
Other Recent Releases
Did you miss one of these recent releases?
Sales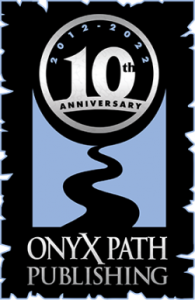 It's currently the May D&D Sale on DTRPG, and Onyx Path has a number of Scarred Lands, Legendlore, and Realms of Pugmire releases on sale.
It's Onyx Path's 10th Anniversary! Every month in 2022, we'll be celebrating another one of our published game lines.
May is Scion month! For the second half of the month, a selection of our Scion PDFs are available at 90% off!
Indie Press Revolution is additionally offering 50% off Scion physical stock!
Stay tuned for more OPP10 sales the rest of this year!
Crowdfunding Update
Our crowdfunding campaign for a deluxe edition of Exalted 3rd Edition's Exigents: Out of the Ashes launched yesterday on Indiegogo! It funded to 100% in 40 minutes, and 200% only nine hours in! Exalted fans are amazing. We're currently at $82,254, or 236% of our original $35,000 goal, thanks to our 847 backers.
We've hit the following stretch goals:
Exigents Companion: Miracles of the Divine Flame (extra Charm content for our four playable Exigents), Chosen of Masks (a design seed for an Exigent upon which you can build your own Charm set), Bearers of the Spark (a list of gods who might serve as patrons to Exigents)
Exigents Jumpstart: Great Forks
Did you miss one of our previous Kickstarters? The following Kickstarted products are still open for preorders via BackerKit:
Community Spotlight
The following community-created content for Scarred Lands has been added to the Slarecian Vault in the last week:

The following community-created content for Realms of Pugmire has been added to Canis Minor in the last week:
The following community-created content for Storypath has been added to the Storypath Nexus in the last week: