Now Available: Ex3 Monthly and Dragon-Blooded House Journals
Now available in PDF from DriveThruRPG: Hundred Devils Night Parade part 24: White Robes.
An echo of professional mourners such as Sijan's famed sorrowers, white robes are empty garments radiating grief, endlessly wandering in a funeral procession to nowhere. The vast burden living mourners carry creates powerful emotional imprints from which white robes spawn. These sublime, hollow robes are inscribed with beautiful, ever-changing symbols in gray and bronze; those who can decipher the writings learn secrets from the Underworld's forgotten reaches. Though pale and ethereal, white robes are plasmic creations of emotion and Underworld Essence, rather than ghosts.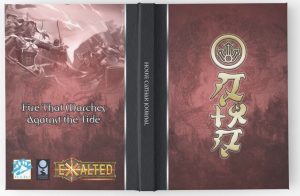 Now available from our RedBubble store: Dragon-Blooded House Hardcover Journals for Exalted 3rd Edition!
These hardcover journals are filled with your choice of fully-blank, lined, or grid paper, for you to fill with character notes or drawings or maps at your leisure.
Dragon-Blooded: What Fire Has Wrought is currently available from DriveThruRPG.
Sales
World of Darkness 20th Anniversary Edition deluxe edition stock from IPR is 25% off!
Also: Scarred Lands products for Pathfinder (the Scarred Lands Players Guide and The Wise & The Wicked 2nd Edition) are upwards of 90% off from IPR and Studio 2! Both products are an incredible $5 each!
Kickstarter Update
Our Kickstarter for a prestige version of the upcoming Contagion Chronicle crossover chronicle for the Chronicles of Darkness is coming into the home stretch, with under 24 hours left on the clock!
We currently have $70,067 of our $50,000 goal, or 140%, with 1407 backers. We've hit ten stretch goals thus far, including:
Contagion Player's Companion: Supplement containing crossover interaction rules. "Death," "War," "Famine."
Contagion Chronicle: Global Outbreaks: Additional locations and Contagion manifestations. "Alarming Outings," "Deadly Jaunts," "Fatal Forays," "Perilous Tours."
Kickstarter backer T-shirt
New Contagion Scout tier
New Plague Bearer tier
Did you miss one of our previous Kickstarters? The following Kickstarted products are still open for preorders via BackerKit:
Community Spotlight
The following community-created content for Scarred Lands has been added to the Slarecian Vault in the last week (to be updated once DTRPG is back up):
The following community-created content for Realms of Pugmire has been added to Canis Minor in the last week: