Now Available: God's Own Country and Fiction Wave 4
Chronicles of Darkness, Geist: The Sin-Eaters, Mummy: The Curse, Sales, Scarred Lands, Vampire: The Masquerade, Vampire: The Requiem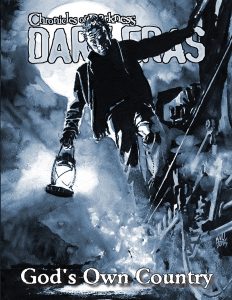 Now available in PDF and print: Dark Eras: God's Own Country, a Dark Era for Geist: The Sin-Eaters.
World War II is over and a new age of technology is coming, but a hidden storm threatens to overwhelm both the Maori and the European New Zealanders, flooding the world with the restless dead. The Bound are the last line of defense between a spirit-world gone mad and a sleepy island nation concerned with the advent of rock and roll and mourning their lost soldiers.
Unless I miss my guess, this is the final chapter from Chronicles of Darkness: Dark Eras to be released as a standalone product. Thank you to all of our Dark Eras Kickstarter backers who helped make this possible!
Fiction Wave 4
Our next wave of fiction releases is now live on Amazon's Kindle store and B&N's Nook store:
Storytellers Spotlight
The following community-created Vampire: The Masquerade products have been released in the last week via the Storytellers Vault: