Now Available: Helnau's Guide and Distant Worlds in print!
Dystopia Rising, Sales, Scion, Trinity Continuum: Æon
Now available in PDF and print from DriveThruRPG: Helnau's Guide to Wasteland Beasties for Dystopia Rising: Evolution!
No one knows how long it's been since the world was blasted with nuclear radiation and became infested with the undead. The survivors of the Fall were the first strain of deviation of the human condition and were able to make it through the rapidly spreading epidemic. Animals mutated to become monstrous creatures that spread across now-empty forests and plains. That's exactly where Helnau and her crew come in.
Traveling across the wasteland and dealing with all manner of beasties isn't an easy job, but someone's got to do it. Using their wits, their strength, and a whole lot of luck, they manage to tame, kill, and drive off creatures that threaten areas of newly built civilization.
Some highlights of Helnau's Guide to Wasteland Beasties include:
Details on some of the terrain and mutated animals you will find in the post-apocalyptic wasteland.
Rules for presenting six distinct creatures in your series, and also for customizing your own.
Stories about Helnau and her beast-hunting crew as they travel across deserts, through forests, and deal with some of the worst the wastelands have to offer.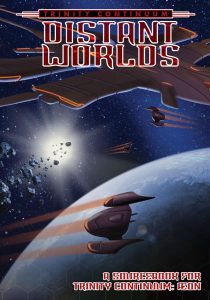 Also available in print via DriveThruRPG: Distant Worlds for Trinity Continuum: Æon.
New Mysteries, New Worlds, New Aliens, and Alien Heroes!
Distant Worlds expands the setting of Trinity Continuum: Æon with new worlds, new alien mysteries, and rules for playing actual aliens, the secretive telepathic Qin.
Distant Worlds requires both Trinity Continuum: Æon and the Trinity Continuum Corebook to play. Inside, you will find:
Further information about the eight extrasolar worlds described in Trinity Continuum: Æon, including new dangers and new opportunities for adventure.
Detailed write-ups of 10 new planets, including one that is home to a recently contacted intelligent alien species.
New technologies for interstellar travel and colonization, as well as a wealth of new devices created by aliens, and new Edges and Paths specifically for interstellar explorers and settlers.
The secrets of humanity's alien allies, the mysterious Qin. This section includes descriptions of four Qin interstellar colonies as well as rules for creating and playing Qin characters and for designing and using custom-made Qin biosuits.
Sales
The Grand Exalted Sale continues until the end of the month on Indie Press Revolution, with up to 25% off the price of physical books!
IPR also has a number of other great bundle deals up until May 24th, or while supplies last!
Kickstarter Update
Coming April 28th to Kickstarter: Technocracy: Reloaded for Mage: The Ascension 20th Anniversary Edition!
Did you miss one of our previous Kickstarters? The following Kickstarted products are still open for preorders via BackerKit:
Community Spotlight
The following community-created content for Scarred Lands has been added to the Slarecian Vault in the last week:

The following community-created content for Realms of Pugmire has been added to Canis Minor in the last week:
The following community-created content for Storypath has been added to the Storypath Nexus in the last week: