Now Available: Lunars: Fangs at the Gate!
Dystopia Rising, Exalted, Sales, Scarred Lands, Trinity Continuum: Æon, World of Darkness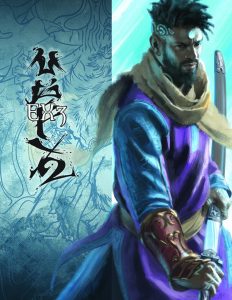 Now available in PDF and printfrom DriveThruRPG: Lunars: Fangs at the Gate for Exalted 3rd Edition!
Shapeshifters, monster-heroes, divine apex predators — the Lunar Exalted are all these and more.
Once they reigned over the First Age alongside the Solars, but in this fallen era, ten thousand Dragon-Blooded sit upon Creation's stolen throne. The Lunars of the Silver Pact wage war against the Realm, stemming the tide of its imperialist expansion and bleeding away its strength.
This Exalted 3rd Edition sourcebook provides everything players and Storytellers need to introduce Lunars into their story.
It details the Silver Pact, its ancient vendetta, and the Lunar dominions spread throughout Creation. It also contains Lunar character creation, Charms, and rules for shapeshifting, as well as new Merits, spells, martial arts, and artifacts that can be included in any game.
Also available: Frostlands of Fenrilik: Preview 1
Adventure Awaits in the Frozen North
Frostlands of Fenrilik is an expansion for Scarred Lands 5e OGL that explores the frozen continent of Fenrilik. Known as the Roof of the World, Fenrilik is a massive frozen tundra filled with unique creatures, dangerous weather and deadly Titanspawn.
Frostlands of Fenrilik is created through the Slarecian Vault Community Content program will not only permit your party to take their adventures to Fenrilik, but also to allow you to create your own Fenrilik content for release via the Slarecian Vault!
Frostlands of Fenrilik Preview One includes:
 A sneak peek at the continent of Fenrilik
 A new playable race: the eschek
 A new Ranger Archetype: the Ice Walker
Frostlands of Fenrilik is coming soon to the Slarecian Vault!
Kickstarter Update
The Kickstarter for World of Darkness: Ghost Hunters launched yesterday! We funded to 100% in just over three hours, and are currently at 160% of our $20,000 goal, or $32,047, thanks to our 536 backers! We've hit our first stretch goal:
World of Darkness: Ghost Hunters Storytellers Screen
Did you miss one of our previous Kickstarters? The following Kickstarted products are still open for preorders via BackerKit:
Community Spotlight
The following community-created content for Scarred Lands has been added to the Slarecian Vault in the last week:

The following community-created content for Realms of Pugmire has been added to Canis Minor in the last week:
The following community-created content for Storypath has been added to the Storypath Nexus in the last week: