Now Available: Mage20 Hardcover Journals!
Geist: The Sin-Eaters, Mage: The Ascension, Sales, Vampire: The Masquerade, Werewolf: The Apocalypse
Now available on RedBubble for Mage: The Ascension 20th Anniversary Edition: Mage20 Hardcover Journals!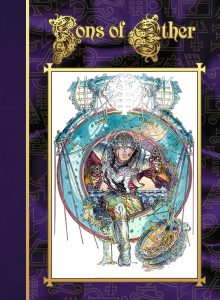 The Nine Traditions join the rest of our current run of hardcover journals, with stylish covers in the Mage20 style. To paraphrase what Mirthful Mike said about the V20 journals, if we had done individual Tradition Books for M20, this is what they'd look like.
Journals include:
Previous journals include:
Kickstarter Update
Early this month we launched the Geist: The Sin-Eaters 2nd Edition prestige Kickstarter!
We funded in just under 10 hours, and have since raised $91,392 of our $50,000 goal, or 183%
We've got 1529 backers
We've passed eight stretch goals:

The Memento Mori Companion will contain sections on Mementos, Krewe Regalia & Ceremonies, and Dominions
A new Geist Ready Made Characters
God's Own Country and Three Kingdoms of Darkness are added to the Underworld Reflections 1e PDF bundle
A Geist 2e Kickstarter backer shirt
A Geist 2e digital wallpaper
Geist 2e dice added to the Onyx Dice dicerolling app
Did you miss one of our previous Kickstarters? The following Kickstarted products are still open for preorders via BackerKit:
Community Spotlight
The following community-created content for Scarred Lands has been added to the Slarecian Vault in the last week:
The following community-created content for Pugmire has been added to Canis Minor in the last week:
The following community-created content for the World of Darkness has been added to the Storytellers Vault in the last week (actually the Werewolf SV resources weren't previous flagged in my usual search, so they may be a few weeks old. Mea culpa.):