Now Available: Mau Fiction and Adventures
Realms of Pugmire, Sales, Scion
Now available in PDF and print from DriveThruRPG: Adventures for Curious Cats for Monarchies of Mau!
Adventures for Curious Cats is a collection of three adventures for Monarchies of Mau, ranging from an introductory story, "Murder Most Foul," wherein players unravel a possible conspiracy threatening to undermine the monarchies, to "The Lost Library of Amosen," an eldritch tale of mystery and Unseen abominations, to "A Lizard's Tale," in which players accompany a gecko companion to ruins of the Old Ones for treasures, glory, and allegiances. 
Adventures for Curious Cats includes: 
Also available in ebook and print format from DriveThruFiction: Tales of Excellent Cats, a fiction anthology for Monarchies of Mau. Ebooks also available from Barnes & Noble and Amazon!
Before we were six. Now we are one. We differ on many points, but on these we agree: Always trust our instincts, always reward loyalty, and always pounce upon minions of the Unseen. Without these tenets, we are no longer worthy of the adoration of Man.
— Monarch Trillani Persian von Mau, deceased
Cats have inherited the world, unifying their six fractious monarchies after untold centuries. These cats have been uplifted to use tools and language, and they seek to rediscover the ruins of the Old Ones.
Some have learned to use the leftover technology of humanity, but they believe it to be magic given to them by their lost worshippers. Others seek to create a cohesive nation, using Precepts of Mau agreed to after years of political conflict.
The world is dangerous and mysterious, but over the course of these 14 stories, the instincts of a good cat will always prove to be true.
Tales of Excellent Cats is a fiction anthology set in the world of the Monarchies of Mau RPG and was made possible by the backers of the Monarchies of Mau Kickstarter.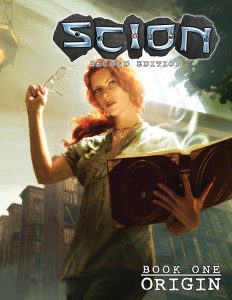 Last week we released Scion, and you reacted in a big way: Origin and Hero have been on DriveThruRPG's #1 and #2 top seller list for the whole of last week, with Origin having hit Gold status, and Hero at Electrum! We can't thank you enough.
Our Scion landing page is now live over at Studio 2 Publishing, so you or your friendly local game store can order a traditionally-printed copy through their distribution network!
Sales
Scarred Lands products for Pathfinder (the Scarred Lands Players Guide and The Wise & The Wicked 2nd Edition) are upwards of 90% off from IPR and Studio 2! Both products are an incredible $5 each!
Kickstarter Update
Pirates of Pugmire, a supplement for both Pugmire and Monarchies of Mau, has one week to go! With 618 backers, we're already at $33,845, or 85% of our $40,000 goal! Spread the word as much as you can; lets get these good dogs and excellent cats funded!
Did you miss one of our previous Kickstarters? The following Kickstarted products are still open for preorders via BackerKit:
Community Spotlight
The following community-created content for Scarred Lands has been added to the Slarecian Vault in the last week:
The following community-created content for Realms of Pugmire has been added to Canis Minor in the last week:
Coming soon: The Storypath Nexus for all your Storypath System needs: starting with Scion, and eventually the Trinity Continuum, They Came from Beneath the Sea!, and Dystopia Rising: Evolution!