Now Available: Monthly Cavalcade of Exalts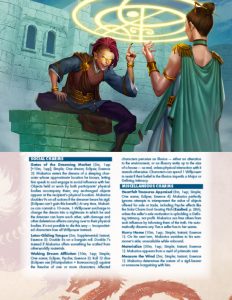 Now available in PDF from DriveThruRPG: Hundred Devils Night Parade: Makarios, the Sigil's Dreamer!
From the frozen North to the burning South, and all directions in between, there are creatures that stalk Creation. Demons, spirits, monsters and even creatures who live alongside mankind are in every region.
In this collection you will find new foes, encounter old enemies, and learn the secrets of these denizens of Exalted 3rd Edition's wondrous world.
Merch
Now available from our RedBubble store: The Realm Journals! These journals can be filled with your choice of lined, grid, or blank pages for you to fill with whatever your heart desires.
Sales
Scarred Lands products for Pathfinder (the Scarred Lands Players Guide and The Wise & The Wicked 2nd Edition) are upwards of 90% off from IPR and Studio 2! Both products are an incredible $5 each!
Kickstarter Update
Keep an eye out for our next Kickstarter, for Deviant: The Renegades!
Did you miss one of our previous Kickstarters? The following Kickstarted products are still open for preorders via BackerKit:
Community Spotlight
The following community-created content for Scarred Lands has been added to the Slarecian Vault in the last week:
The following community-created content for Realms of Pugmire has been added to Canis Minor in the last week:
The Storypath Nexus is now open! So far Scion content has been unlocked. The following community-created content for Scion has been added to the Storypath Nexus in the last week: