Now Available: Monthly Ex3 Adversaries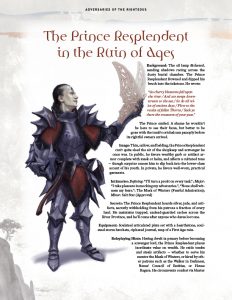 Now Available in PDF from DriveThruRPG: Adversaries of the Righteous: The Prince Resplendent and Gleaming Gneiss for Exalted 3rd Edition!
From the bustling streets of Nexus to the savage western seas, Creation is ripe with threats to mortals and Chosen alike. Crooked traders, vile occultists, and even zealous protectors of the Realm can be found in every city, satrapy, and region waiting for unsuspecting targets or standing their ground as they prepare for the inevitable.
In this collection, you will meet new foes, encounter old enemies, and learn the inner workings of several different factions and societies dedicated to criminal activity, nefarious plotting, and more.
Sales
Time's running out for DriveThruRPG's Halloween Sale! Almost 200 Onyx Path digital products from across the World of Darkness and Chronicles of Darkness are now on sale for 25% off!
Scarred Lands products for Pathfinder (the Scarred Lands Players Guide and The Wise & The Wicked 2nd Edition) are upwards of 90% off from Indie Press Revolution! Both products are an incredible $5 each!
Kickstarter Update
Our next Kickstarter is for Mummy: The Curse 2nd Edition, and we start next week!
Did you miss one of our previous Kickstarters? The following Kickstarted products are still open for preorders via BackerKit:
Community Spotlight
The following community-created content for Scarred Lands has been added to the Slarecian Vault in the last week:

The following community-created content for Realms of Pugmire has been added to Canis Minor in the last week:
The Storypath Nexus is now open! So far Scion content has been unlocked. The following community-created content for Scion has been added to the Storypath Nexus in the last week: