Now Available: Monthly Ex3 for September, Scarred Lands at Studio 2!
Exalted, Mage: The Ascension, Realms of Pugmire, Sales, Scarred Lands, Vampire: The Masquerade
Now available in PDF via DriveThruRPG: Hundred Devils Night Parade part 17: Gravehound and Tiger's Eye for Exalted 3rd Edition!
From the frozen North to the burning South, and all directions in between, there are creatures that stalk Creation. Demons, spirits, monsters and even creatures who live alongside mankind are in every region.

In this collection you will find new foes, encounter old enemies, and learn the secrets of these denizens of Exalted 3rd Edition's wondrous world.

Hundred Devils Night Parade: Gravehound and Tiger's Eye

The grim Gravehound and the bejeweled Tiger's Eye are fantastic additions to your Exalted game.
Also available: Adversaries of the Righteous part 12: Meimuna Kyree:
From the bustling streets of Nexus to the savage western seas, Creation is ripe with threats to mortals and Chosen alike. Crooked traders, vile occultists, and even zealous protectors of the Realm can be found in every city, satrapy, and region waiting for unsuspecting targets or standing their ground as they prepare for the inevitable.

In this collection you will meet new foes, encounter old enemies, and learn the inner workings of several different factions and societies dedicated to criminal activity, nefarious plotting, and more.

Adversaries of the Righteous: Meimuna Kyree

Kyree knows much regarding the habits, likes, and dislikes of numerous Eastern spirits… along with all the gossip regarding Nechara's noble houses and grandees.
Scarred Lands material for both Pathfinder and 5e — including the Player's Guide, Wise & the Wicked, the Spiragos trilogy, and Scarred Lands dice — is now available for order via Studio 2 Publishing! If you'd like your FLGS to carry Scarred Lands material, please let them know they can order from Studio 2!
Sales
There are four and a half days remaining on DriveThruRPG's massive 75% off sale for Vampire: The Requiem, Werewolf: The Forsaken, and Mage: The Awakening PDFs from every edition! Grab those PDFs while you can!
Kickstarter Update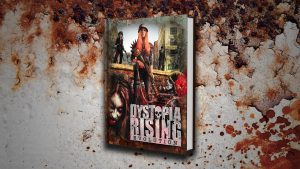 Our Kickstarter for Dystopia Rising: Evolution, the 2nd edition of the Dystopia Rising tabletop RPG, is now over! Thanks to intrepid survivors like you, we hit our goal in under a day, and achieved a total of at $39,608 (198% of the goal), with 736 backers.
With your help, we achieved eight stretch goals:
Our next Kickstarter will be for Vampire: The Masquerade 5th Edition's Chicago by Night. Keep an eye out!
Did you miss one of our previous Kickstarters? The following Kickstarted products are still open for preorders via BackerKit:
Community Spotlight
The following community-created content for Scarred Lands has been added to the Slarecian Vault in the last week:
The following community-created content for Realms of Pugmire has been added to Canis Minor in the last week:
The following community-created content for White Wolf games has been added to the Storytellers Vault in the last week: