Now Available: Monthly Ex3 Releases
Exalted, Realms of Pugmire, Sales, Scarred Lands
Now available from DriveThruRPG in PDF: Adversaries of the Righteous: Isabet Maken, the Master of Cauldron Valley
Born to a life of muck and toil among nomadic horse breeders, Isabet left a trail of human misery on her path to the Guild's highest echelons. She apprenticed with some of the greatest merchant princes of the age: Alhomzira, the Indigo Queen; Lindyana Calaho, master of the qat trade; Nine Stars in Song, whose smuggling fleet they say outsails the Realm's own biremes.
Despite her prestigious education, Isabet found herself stonewalled as a lesser Guild factor, disdainful of and unsuited to the empty pleasantries of politics. Only discovering Cauldron Valley, a lush jungle-demesne on the fringe of the River Province, and her own thaumaturgic talents saved her from a life of mediocrity.
Nearing 60, Isabet has reforged herself into a master geomancer, using the Valley's powers to produce unique slaves. Instead of earning a place on the Directorate, Isabet helped found a secret cabal (see The Gouged Eye Society, Conspiracy of Savants) to further her mastery of geomantic lore. Beyond this, her only concern is for her sons, Imri and Sabet; she would move the Imperial Mountain itself to secure their futures.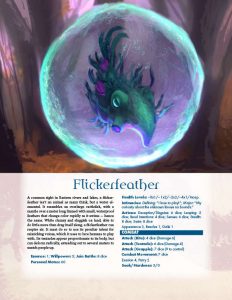 Also available in PDF: Hundred Devils Night Parade: Flickerfeather and Grelidaka.
From the frozen North to the burning South, and all directions in between, there are creatures that stalk Creation. Demons, spirits, monsters and even creatures who live alongside mankind are in every region.
In this collection you will find new foes, encounter old enemies, and learn the secrets of these denizens of Exalted 3rd Edition's wondrous world.
Kickstarter Update
Our Kickstarter for a deluxe version of the upcoming Lunars: Fangs at the Gate for Exalted 3rd Edition is halfway over! Exalted fans managed to hit our goal in a mere 39 minutes!
We're currently sitting at $199,792 of our $60,000 goal, or 333%, with 1816 backers. This means we've hit our first nine stretch goals:
Lunars-themed Storyteller Screen
Many-Faced Strangers: 5000 words of additional Charms, 5000 words of quick character stat blocks (~7 animals), Heroes of the Silver Pact (Leviathan, Aum-Ashatra, Aqadar, and Smiling Zamisha), Martial Arts (Toad style, Bear style, Monkey style, Rat style), chapter fiction
Lunars backer T-shirt
Art budget increase
Digital wallpaper
Did you miss one of our previous Kickstarters? The following Kickstarted products are still open for preorders via BackerKit:
Community Spotlight
The following community-created content for Scarred Lands has been added to the Slarecian Vault in the last week (to be updated once DTRPG is back up):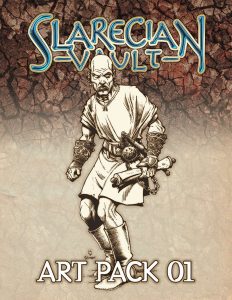 The following community-created content for Realms of Pugmire has been added to Canis Minor in the last week: