Now Available: Monthly Exalted Devils and Soundtrack
Now available in PDF from DriveThruRPG: Hundred Devils Night Parade: Sky Titan and Storm Serpent!
From the frozen North to the burning South, and all directions in between, there are creatures that stalk Creation. Demons, spirits, monsters and even creatures who live alongside mankind are in every region.
In this collection you will find new foes, encounter old enemies, and learn the secrets of these denizens of Exalted 3rd Edition's wondrous world.
Also available in mp3 format: Dreams of the Second Age: An Exalted 3rd Edition Music Suite!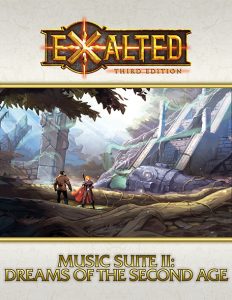 Dreams of the Second Age includes inspiring soundtrack themes inspired by the adventure, locations, and beings of the world of Exalted 3rd Edition, and can be played to set the tone as you adventure through Creation in your games or are seeking inspiration for new stories.
This soundtrack was made possible by the backers of the Exalted 3rd Edition Kickstarter.
About the composers:
Composed by James Semple, David Coscina and Mirela Nita. James Semple is a composer for media (tv, video games, websites and films) specialising in ultra-realistic digital orchestration. He has created soundtracks for the Trail of Cthulhu, 13th Age, Unknown Armies 3rd Edition, Esoterrorists, and now Exalted 3rd Edition RPGs.
Guitar by James Semple, solo violin by Mirela Nite and solo cello by Roxane Genot.
Please see our previous Exalted 3e Music Suite, Fanfare for the Chosen.
Sales
Scarred Lands products for Pathfinder (the Scarred Lands Players Guide and The Wise & The Wicked 2nd Edition) are upwards of 90% off from IPR and Studio 2! Both products are an incredible $5 each!
It's Indie Press Revolution's Dog Days of Summer, with 50% off select World of Darkness and Exalted deluxe editions!
Kickstarter Update
The Kickstarter for Trinity Continuum: Aberrant finished up yesterday with $125,098 of our original $40,000 goal, or 313%, funding after only 16 hours and 40 minutes! Wow! We wrapped up with the following stretch goals:
Aberrant Storyguide Screen
Comic compilation: You Are Not Alone
N!WE: N!nterational Wrestling Entertainment supplement featuring professional nova wrestling
Backer T-shirt
1e's Aberrant Worldwide: Phase I, Aberrant: Project Utopia, and Aberrant: ReignofEvil.com to be scanned, uploaded to DriveThruRPG, and added to PDF bundles
Proteus Nova Compendium x3: Stat blocks for many of the character bios from the rulebook, a master list of all novas from 1e, short bios for all the novas on the master list that don't otherwise appear in TC: Aberrant
Aberrant digital wallpaper
Aberrant digital dice on the Onyx Dice app
Two Aberrant novellas
Novas Worldwide: Three scenarios to jumpstart a chronicle
Appendix Backer Preview
Art budget increase
Creator pay bonus
Duke Rollo in-game fiction
Did you miss one of our previous Kickstarters? The following Kickstarted products are still open for preorders via BackerKit:
Community Spotlight
The following community-created content for Scarred Lands has been added to the Slarecian Vault in the last week:
The following community-created content for Realms of Pugmire has been added to Canis Minor in the last week:
The Storypath Nexus is now open! So far Scion content has been unlocked. The following community-created content for Scion has been added to the Storypath Nexus in the last week: