Now Available: Monthly Exalted Releases
Exalted, Geist: The Sin-Eaters, Sales, Vampire: The Masquerade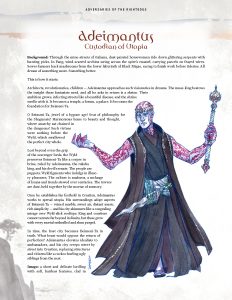 Now available on DriveThruRPG in PDF: Adversaries of the Righteous part 10: Adeimantus for Exalted 3rd Edition!
From the bustling streets of Nexus to the savage western seas, Creation is ripe with threats to mortals and Chosen alike. Crooked traders, vile occultists, and even zealous protectors of the Realm can be found in every city, satrapy, and region waiting for unsuspecting targets or standing their ground as they prepare for the inevitable.

In this collection you will meet new foes, encounter old enemies, and learn the inner workings of several different factions and societies dedicated to criminal activity, nefarious plotting, and more.

Adversaries of the Righteous: Adeimantus

Adeimantus is a condescending sophisticate who only wants the best for Beimeni-Ta, and regards other civilizations as mere echoes. Creation's inhabitants are all citizens-in-waiting, and he delights in meeting those of refinement — such arts are jewels for Beimeni-Ta's crown, so he obsessively courts sages, courtesans, and martial artists.

Adeimantus does not lower himself to fighting unless he must, appealing to reason when defied and expressing pity for those he considers blind to the virtue of his cause. His death would banish Beimeni-Ta for a time — but his heir, chosen by quarreling raksha senators, would be free to claim it for themselves. Beimeni-Ta was dangerous enough when it aspired to perfection; what form might the parasitic dollhouse take when remade in a new devil's image?
Also available: Hundred Devils Night Parade part 15: Aurochs and Walkure!
From the frozen North to the burning South, and all directions in between, there are creatures that stalk Creation. Demons, spirits, monsters and even creatures who live alongside mankind are in every region.

In this collection you will find new foes, encounter old enemies, and learn the secrets of these denizens of Exalted 3rd Edition's wondrous world.

Hundred Devils Night Parade: Aurochs and Walkure

From the forests and plains of Creation comes the massive Auroch and from the Northern Battlefields comes the ghastly Walkure. Both would make fantastic additions to your Exalted 3rd Edition game.
Kickstarter Update
Only five days remain on the Geist: The Sin-Eaters 2nd Edition prestige Kickstarter!
We funded in just under 10 hours, and have since raised $97,843 of our $50,000 goal, or 196%
We've got 1639 backers
We've passed ten stretch goals:

The Memento Mori Companion will contain sections on Mementos, Krewe Regalia & Ceremonies, Dominions, and Haunts
A new Geist Ready Made Characters
God's Own Country, Three Kingdoms of Darkness, The Wolf and the Raven, and Foreboding Lands have been added to the Underworld Reflections 1e PDF bundle
A Geist 2e Kickstarter backer shirt
A Geist 2e digital wallpaper
Geist 2e dice added to the Onyx Dice dicerolling app
Did you miss one of our previous Kickstarters? The following Kickstarted products are still open for preorders via BackerKit:
Community Spotlight
The following community-created content for Scarred Lands has been added to the Slarecian Vault in the last week:
The following community-created content for Pugmire has been added to Canis Minor in the last week:
The following community-created content for the World of Darkness has been added to the Storytellers Vault in the last week (actually the Werewolf SV resources weren't previous flagged in my usual search, so they may be a few weeks old. Mea culpa.):