Now Available: More W20 Shirts!
Sales, Werewolf: The Apocalypse
In honor of the last few days of the Shattered Dreams Kickstarter, we've got some of the lost Fera.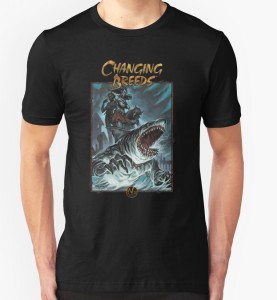 A number of people have asked for some shirts with logos as well as art, feeling that they give a touch more context to the pieces. So we're going to try it out and see how it works out. In that vein:
The Shattered Dreams Kickstarter has fewer than three days left!  Now's your chance to pledge for a stunning deluxe edition of this great peek into the early history of the Garou and other breeds. If you're not sure about it, the 95% complete text is available to read right from the Kickstarter front page. Time's running out!