Now Available: Oak, Ash & Thorn, plus DRE on Storypath Nexus
Changeling: The Lost, Dystopia Rising, Mage: The Ascension, Sales, Scarred Lands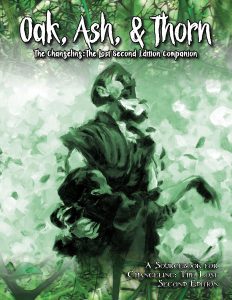 Now available in PDF and print from DriveThruRPG: Oak, Ash, & Thorn: The Changeling 2nd Edition Companion!
So, you're home. What now?
Gonna run and hide for the rest of your life to make sure They never find you again?
Screw that. Don't let Them scare you.
Take up space. Make noise. Write your name across the sky and let Them know you're not going anywhere without a fight. You brought the fairy tale to your home turf, and you make the rules here.
Your words have power now,
so use them. Build a community.
Bargain with gods. Defy traditions.
Choose a role to play, and write your own script.
Bring dreams to life and grasp immortality.
Nothing will ever be the same again.
And that's a promise.
– Pretty Penny, Summer Court Elemental
Oak, Ash, and Thorn is a companion book to Changeling: The Lost 2nd Edition, expanding on what's in the core book. It contains:
Expanded rules for freeholds and a selection of seeds for sample freeholds in four international locations.
Rules for creating new court Bargains and an introduction to non-traditional Mantles, including free companies, traveling bands, and Lost dynasties, with a playable example of each.
Entitlements, the titles of nobility that changelings assume to inherit mystical legacies from the Lost who came before them, including three full examples with accompanying tokens and Merits.
Expanded rules for tokens, including two new types with examples, guidelines for creating your own, and a system for ripping out one's heart to become unkillable.
Also available: Dystopia Rising: Evolution assets are now available on the Storypath Nexus (see below)! Welcome to the Evolution. Let's see some of your excellent creations.
Sales
A Light Extinguished (the Scion jumpstart) and The Secret of Vinsen's Tomb (the Pugmire jumpstart) are both part of the massive Shelter in Play bundle, supporting Child's Play and Extra Life.
Scion: Origin is one of dozens of products available in this COVID-19 charity bundle from DriveThruRPG! All proceeds go to the World Food Programme.
Indie Press Revolution has a number of great bundle deals up until May 24th, or while supplies last!
Kickstarter Update
Our Technocracy Reloaded Kickstarter for Mage: The Ascension 20th Anniversary Edition has under a week to go! We hit our $35,000 goal in just 45 minutes! We're currently at $153,590, or 438% of our original goal, thanks to our 1,852 backers. Wow!
We've hit a bunch of stretch goals already, including:
Technocracy Reloaded ST Screen
Technocracy Player's Companion: Constructs and Symposiums Expanded, Digital Web 3.0.2, Technomancer's Toybox 20: Q Division, Unlikely Allies III, Mission Briefings
Technocratic Union PDF bundle
Backer T-shirt
Technocracy Digital Wallpaper
Mage20 Cookbook PDF added to rewards
Art of Mage20 PDF added to rewards
Art budget increase
Did you miss one of our previous Kickstarters? The following Kickstarted products are still open for preorders via BackerKit:
Community Spotlight
The following community-created content for Scarred Lands has been added to the Slarecian Vault in the last week:

The following community-created content for Realms of Pugmire has been added to Canis Minor in the last week:
The following community-created content for Storypath has been added to the Storypath Nexus in the last week: