Now Available: Prometheus Unbound, plus it's Dystopia Rising month!
Dystopia Rising, Mage: The Ascension, Sales, Scarred Lands, Scion, Trinity Continuum: Æon
Now available in advance PDF: Prometheus Unbound for Trinity Continuum: Æon!
Psions united for humanity's future! 
Prometheus Unbound expands the Trinity Continuum: Æon setting by diving into the inner workings, goals, and attitudes of the psi orders. Headed by proxies with powerful visions of the future, the psi orders are united in ensuring humanity's prosperity but differ on the details.
Inside, you will find:
Detailed information on all eight psi orders, including their structure, organization, politics, projects, and goals. 
An overview of the important people within the orders, their allies and enemies, how they relate to each other, and what threats each order must overcome.
Guidance for running campaigns focusing on specific psi orders, how such stories interact with other organizations, and the challenges players will face.
Deeper examination of psi powers, their potential and limitations, including flexible systems to allow players to generate their own spectacular effects!
Rules and descriptions of new technologies used by each psi order.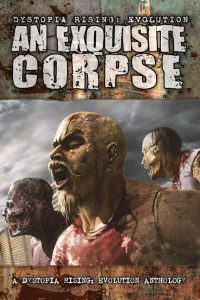 Also available in eBook and print: An Exquisite Corpse: A Dystopia Rising: Evolution Anthology.
No one knows how long it's been since the world was blasted with nuclear radiation and became infested with undead. The survivors of the Fall were the first strain of deviation from the human condition and were able to make it through the rapidly spreading epidemic. Finding a community of decent size in this world is rare; finding one with any concept of equality or morality is rarer still. 
Oh, and people have the unnerving ability to come back from the dead, regrown from the very virus that destroyed the world. Over the course of these 16 stories, learn what it's like to live in a devastated world populated with the undead. Welcome to the Evolution.
An Exquisite Corpse is a fiction anthology set in the world of the Dystopia Rising: Evolution RPG and was made possible by the backers of the Dystopia Rising: Evolution Kickstarter.
Read the Sales section below for DR:E discounts as we celebrate Onyx Path's 10th Anniversary!
Other Recent Releases
Did you miss one of these recent releases?
Sales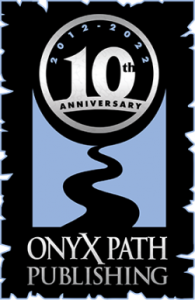 It's Onyx Path's 10th Anniversary! Every month in 2022, we'll be celebrating another one of our published game lines.
January is Dystopia Rising: Evolution month, so to celebrate our 10th anniversary, the Dystopia Rising: Evolution core rulebook is only 10% of its regular price! You read that right: that's not "10% off," that's 90% off.
Studio 2 also has the traditionally-printed physical copies of the DR:E core rulebook and screen for 50% off!
Stay tuned for more DR:E sales this month, and for more sales the rest of this year!
Crowdfunding Update
The Kickstarter for M20 Lore of the Traditions launched yesterday at 2pm EST, and funded in only 62 minutes! We're currently at $72,433 of our $30,000 goal, or 241%! Thank you to our 839 backers. We've so far hit the following stretch goals:
Faces of Magick: A book of magickal NPCs
RedBubble backer T-shirt
Forgotten Ones & Forbidden Orders: Other extra-Traditional organizations, from the Ahl-i-Batin to the Ngoma
Digital Wallpaper
Did you miss one of our previous Kickstarters? The following Kickstarted products are still open for preorders via BackerKit:
Community Spotlight
The following community-created content for Scarred Lands has been added to the Slarecian Vault in the last week:

The following community-created content for Realms of Pugmire has been added to Canis Minor in the last week:
The following community-created content for Storypath has been added to the Storypath Nexus in the last week: