Now Available: Scarred Lands Dead God Trilogy in print!
Dystopia Rising, Exalted, Mage: The Ascension, Sales, Scarred Lands, Vampire: The Masquerade
Now available in print via DriveThruFiction: the Scarred Lands Dead God Trilogy! The classic Scarred Lands trilogy from 2002 is back in print!
To Resurrect a God

The Divine War, the great conflict between gods and titans, shattered the world of Scarn and transformed it into the Scarred Lands.

It also claimed many casualties, including the god of the elves of Termana. With his death, the elves lost their immortality, their purpose and their future. They became forsaken. Vladawen, the forgotten god's high priest, has not given up hope, however. He struggles to return his people to greatness in the only way he knows how: by bringing their god back from the dead.

But resurrection is a tricky business, full of pain and sacrifice. To gain worshipers, Vladawen manages to start a religious war in the land of Darakeene and gains the dubious patronage of Belsameth, Goddess of Lies and Murder. Now, Vladawen's only chance to secure his fledgling religion is to find the lost relics of his god-and forsake those he loves the most.
Our friends at White Wolf have also released The Monsters: A Vampire 5th Edition Quickstart, as a PDF on DriveThruRPG. If you're looking to get into V5, this is a great place to start!
Sales
A huge sale on all Vampire: The Masquerade, Werewolf: The Apocalypse, and Mage: The Ascension PDFs from every edition begins very soon on DriveThruRPG! Keep an eye on this blog for more details when it goes live!
Kickstarter Update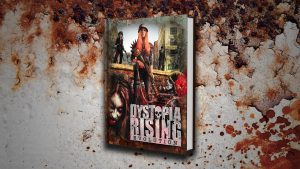 Our Kickstarter for Dystopia Rising: Evolution, the 2nd edition of the Dystopia Rising tabletop RPG, launched three weeks ago today! We hit our goal in under a day, and are currently sitting at $33,221 (166% of the goal), with 596 backers. There are 8 days remaining to join us as we push back the undead hordes!
With your help, we've achieved five stretch goals so far:
Dystopia Rising: Evolution Kickstarter backer T-shirt
The Threat Guide companion has added two sections
Dystopia Rising: Evolution digital wallpaper
A Dystopia Rising: Evolution community content portal will be created on DriveThruRPG
Did you miss one of our previous Kickstarters? The following Kickstarted products are still open for preorders via BackerKit:
Community Spotlight
The following community-created content for Scarred Lands has been added to the Slarecian Vault in the last week:
The following community-created content for Realms of Pugmire has been added to Canis Minor in the last week:
The following community-created content for the World of Darkness has been added to the Storytellers Vault in the last week: