Now available: Scarred-stravaganza!
Exalted, Mage: The Ascension, Sales, Scarred Lands, Vampire: The Masquerade, World of Darkness
We've got a ton of Scarred Lands content for you this week. Starting with the Scarred Lands DM Screen for 5e, available in PDF and print from DriveThruRPG. I think this is the first time we've done a GM screen in print, albeit as inserts for a customizable screen, like this one.
A Land Where Legends Walk

Drawing enthusiastically on Greek mythology, the revised and re-imagined Scarred Lands nonetheless retains its place as a modern fantasy RPG setting. This is a world shaped by gods and monsters, and only the greatest of heroes can expect to be counted among them. The most populous continent of Scarn, Ghelspad, plays host to vast unexplored regions, hides unsolved riddles from ancient cultures, and taunts adventures with the promise of undiscovered riches hidden among the ruins of older civilizations. 

Yet the myths of the Scarred Lands are relatively recent events. The effects of the Titanswar still ripple through the world, and the heroines and villains of many of these stories are part of living memory, if not still living.

A useful reference tool for all Scarred Lands GMs, whether printed out or kept on a computer or tablet!

A four-panel GM screen features all of the tables a Scarred Lands GM needs in one place for handy reference.
See the Slarecian Vault section below for related material!
Also available in ebook and print from DriveThruFiction: Vigilant: Through Shadows and Dreams, Book One! This book is also available via Amazon Kindle and B&N Nook.
Eochaid Lenahr is dying… 

… having given everything to protect one of Scarn's most dangerous artifacts. But how did the young son of a Venirian farmer ever come to be fighting on the side of the enemy, the nation of Vesh?

Meet the brave, driven Veshian vigilants who stand between a recovering nation and the poisoned, half-mad wilds of Ghelspad. Learn the story behind the Scarred Lands' dramatic Serpent saga, one of the most significant events of the post-war era.

On a world as devastated as Scarn, what does it cost to become a hero?

Vigilant is set in the fantasy world of the Scarred Lands campaign setting, currently available in both Pathfinder and 5e OGL editions from Onyx Path Publishing.
Indie Press Revolution now has the full selection of Scarred Lands Kickstarter products, including:
And finally: Our RedBubble store now has a Map of Ghelspad available for posters, canvas prints, and more!
Kickstarter Update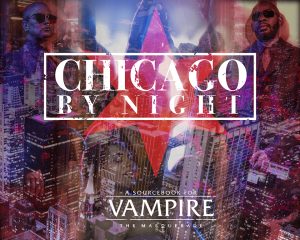 The Kickstarter for a prestige traditional print run of Chicago by Night for Vampire: The Masquerade 5th Edition has two weeks remaining! We funded in about 15 hours! So far we have 1121 backers pledging $79,643 — 199% of our $40,000 goal. Closing in on 200%! So far we've unlocked nine stretch goals:
Chicago Folio: Includes the Camarilla Record and the Anarch Accounts
Old Traditions PDF bundle add-on: Chicago Chronicles vol 1, Chicago Chronicles vol 2, Chicago Chronicles vol 3
Let the Streets Run Red: A Chicago chronicle featuring characters absent from CbN, and rampaging across Chicago, Indianapolis, Milwaukee, and the rural Illinois, Wisconsin, and Indiana areas. A second chronicle, set in weird, rural Illinois.
Discounted Backer T-shirt
Digital Wallpaper
Beckett's Jyhad Diary PDF add-on
Beckett's Jyhad Diary Digital Wallpaper
Did you miss one of our previous Kickstarters? The following Kickstarted products are still open for preorders via BackerKit:
Community Spotlight
The following community-created content for Scarred Lands has been added to the Slarecian Vault in the last week:
The following community-created content for Realms of Pugmire has been added to Canis Minor in the last week:
The following community-created content for White Wolf games has been added to the Storytellers Vault in the last week: