Now Available: Scion Companion and Æon Jumpstart
Sales, Scarred Lands, Scion, They Came From Beneath The Sea!, Trinity Continuum: Æon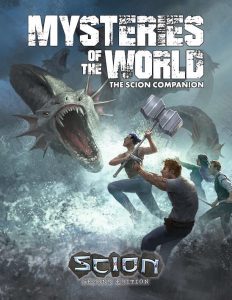 Now available in PDF and print from DriveThruRPG: Mysteries of the World: The Scion 2nd Edition Companion
Though knowledge, wisdom, and the ability to see the unseen are many Scions' birthrights, the World holds infinite secrets. Gaze deep into Tezcatlipoca's mirror or the eyes of an avian bringer of omens, and no matter how sagacious you imagine yourself to be, you'll learn something new — or something older than time.
Scion: Mysteries of the World presents optional rules and new pantheons, expands upon setting elements and systems, and gives Storyguides and players both a leg up in not only understanding Scion's particular brand of the Storypath system, but fine-tuning it to meet their table's needs. You don't need this book to play a game of Scion, but if you want to explore the World and its many mysteries in more depth, it's got you covered.
This book includes:
A system and advice for dialing elements of the game setting up and down to uniquely suit your game;
An expansion of cults, crafting, and relics;
Three new pantheons — the Loa of Haiti, the Nemetondevos of Gaul, and the Yazata of Persia — as well as the optional Atlantean pantheon, as an example that comes with advice and rules for how to create your own custom Purviews and pantheons;
A guide for converting Scion 1st Edition characters and stories to 2nd Edition.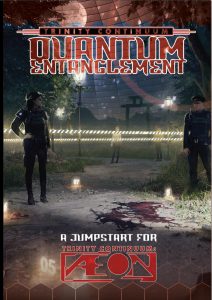 Also available in print from DriveThruRPG: Quantum Entanglement: A Jumpstart for Trinity Continuum: Æon
Humanity has begun settling on planets circling other suns. Teleporters like myself and the new Leviathan jump ships can take anyone across the galaxy in a few hours, so the stars are at last within our reach. However, we have found dangers as well as wonders out there, and only by working together can we overcome them and take our place on the galactic stage.
– Bolade Atwan,
Proxy of Upeo wa Macho, November 2122
The Stars Await!
This jumpstart has everything you need to start playing an adventure in Trinity Continuum: Æon, including:
All the rules you need from Trinity Continuum, as well as specific rules for Trinity Continuum: Æon
A full adventure, "Quantum Entanglement," ready to run
Five ready-made characters for players to pick up and play
Sales
The Dog Days of Summer sale continues on Indie Press Revolution until the end of August, or while supplies last. Get 50% off your favourite WoD deluxe editions!
Kickstarter Update
Our latest Kickstarter, They Came from Beyond the Grave!, has one week remaining, and funded in under five hours! We're currently at $42,966 of our $20,000 goal, or 215%, thanks to our 804 backers, and we've hit several stretch goals:
Director's Screen
Monsters from the Crypt!: x2
Backer T-Shirt
Digital Wallpaper
Tales of Depravity!: Supplemental scenarios x2
Did you miss one of our previous Kickstarters? The following Kickstarted products are still open for preorders via BackerKit:
Community Spotlight
The following community-created content for Scarred Lands has been added to the Slarecian Vault in the last week:

The following community-created content for Realms of Pugmire has been added to Canis Minor in the last week:
The following community-created content for Storypath has been added to the Storypath Nexus in the last week: