Now Available: Technocracy Reloaded journals
Mage: The Ascension, Realms of Pugmire, Sales, Scion
Now available from our RedBubble store: Technocracy blank journals!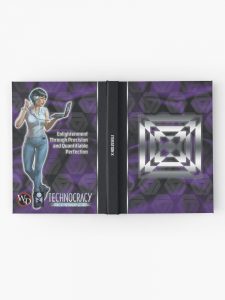 Since the recent release of Technocracy: Reloaded, we thought we'd put the spotlight on some of our favorite Conventions, now in journal form. These are blank hardcover journals, with your choice of fully blank, lined, or grid paper.
Sales
It's the Dog Days of Summer sale on Indie Press Revolution! Until August 29th, a selection of Onyx Path products are 40% off! This includes Cavaliers of Mars, Changeling: The Dreaming 20th Anniversary Edition, Changeling: The Lost 2nd Edition, Cavaliers of Mars, Scion, and more!
Indie Press Revolution carries our Kickstarted releases, whether they're deluxe editions, prestige editions, or simply traditionally-printed regular editions. These are not the same products you get when ordering print-on-demand from DriveThruRPG.
Crowdfunding Update
Squeaks in the Deep launched three weeks ago on Kickstarter! Squeaks brings the Underground, and its mice and rat species, to the Realms of Pugmire. We funded to 100% in under four hours! We're currently at $37,862, or 252% of our $15K goal, and have one week to go.
We've reached the following stretch goals:
Squeaks Guide Screen
Squeaks T-shirt
Rabbits setting supplement, with PC rules
Squeaks digital wallpaper
Squeaks VTT token pack
Squeaks VTT map pack
Additional Underground Settings
Did you miss one of our previous Kickstarters? The following Kickstarted products are still open for preorders via BackerKit:
Community Spotlight
The following community-created content for Scarred Lands has been added to the Slarecian Vault in the last week:

The following community-created content for Realms of Pugmire has been added to Canis Minor in the last week:
The following community-created content for Storypath has been added to the Storypath Nexus in the last week: