Now Available: the Onyx Path 2021-2022 Brochure!
Sales, They Came From Beneath The Sea!, Trinity Continuum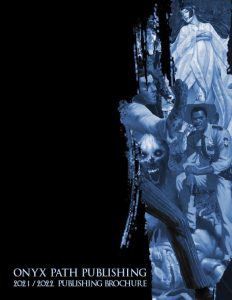 Our annual free brochure is now available in PDF on DriveThruRPG: Onyx Path 2021-2022 Publishing Brochure!
Dare To Walk The Onyx Path
This brochure contains:
An intro letter from Rich Thomas, founder of Onyx Path Publishing, that describes the Onyx Path business model and how the company is moving forward with new projects.
A look at the Onyx Path Publishing projects by game line.
Art previews from upcoming books and more!
An Onyx Path Con Update
We're currently in the middle of this year's Onyx Path Virtual Gaming Con! Check that site for more information on this weekend's panels and actual plays.
While we normally make announcements during the "What's Up With Onyx Path?" panel later today, Matthew is not going to be able to make it, so Rich gave him permission to spill some beans about projects he's working on during the Opening Ceremonies.
The full name of the upcoming "They Came From [CLASSIFIED]" is…. They Came From [CLASSIFIED]. It brings the unique style of the They Came From! games to the 1960s spy genre. More information can be found in the brochure.
The next game in the Trinity Continuum is Trinity Continuum: Aether. War of the Worlds, Sherlock Holmes, extraordinary gentlemen exploring strange other realms.
Let the speculation commence!
Those seeking more information might want to join us for the Trinity Continuum panel later today at 4:30 pm EDT, or the They Came From! panel on Sunday at 10:00 am EDT, both on our Twitch channel.